Found April 15, 2012 on Kukla's Korner:
from Elliotte Friedman of CBC, Tell you a quick story. Just before Crosby suffered his first concussion in January 2011, I was scheduled to do an interview with him. As part of the preparation, I asked a few Flyers for their opinions. They were complimentary—even Mike Richards, who hated him the most. They said he'd really decreased his complaining on the ice and just played hard. That's why it was so stunning to watch him in Game 3. Undoubtedly, the Flyers were telling each other, "We've got him. He's totally unglued." Swatting the glove away from Jakub Voracek was so…high school. If I was a Flyer, I'd have wanted to rip into anything in a white jersey after James Neal's hit on Sean Couturier. It was dirty and made Aaron Rome/Nathan Horton look like a tickle fight. Crosby was on the ice and getting involved. This is not about protecting Sidney Crosby or the Pittsburgh Penguins or having any issue with what was going on or cheering for a particular team or anything that myopic pe...
Original Story:
http://www.kuklaskorner.com/index.php...
THE BACKYARD
BEST OF MAXIM
RELATED ARTICLES
'AN ABSOLUTE JOKE'
It's OK for hockey fans to express their hatred toward Penguins captain Sidney Crosby, but when an opposing broadcaster does it in the middle of a game, that's the definition of trouble. In Game 3 of the Penguins-Flyers series on Sunday, Crosby continued to add more fuel to the fire of this already intense rivalry. Philadelphia radio broadcaster Chris Therien called Crosby...
Sunday's violent Flyers-Penguins Stanley Cup playoff game resulted in a lot of vicious reactions from all across the internet, with Penguins fans throwing racist insults towards Wayne Simmonds of the Flyers, Flyers fans complaining about the Penguins being dirty whiners, and the mainstream media freaking out about every Sidney Crosby stereotype coming true in one series. Former...
I have no idea what's gotten into the Philadelphia Flyers as they've taken a commanding 3-0 lead over the Pittsburgh Penguins by scoring a mind-boggling eight goals in each of their last two wins, but at this point, you've got to believe the Flyers have a very realistic chance of bringing home Philly's first hockey title since way back in 1975 (my God, it's been that long...
Sidney Crosby got too caught up in his hatred for the Philadelphia Flyers to recall that one of his best friends wears the orange and black. No worries, though. Max Talbot isn't going to delete Crosby's number from his cell phone. ''He's definitely a great friend,'' Talbot said Tuesday. ''He was heated up in the moment and that's OK. It&...
Former ex Philadelphia Flyers defenseman Chris Therien, color commentator on Philadelphia Flyers radio broadcasts on Sports Radio 94 WIP, is not a big Sidney Crosby fan: "You know what, Crosby is... Full story at Bob's Blitz ~ http://www.bobsblitz.com
WHATCHA GONNA DO?
Let's be honest. Game 3 on Sunday between the Flyers and Penguins isn't going to be known for the hockey was that was played. The numerous, ugly skirmishes that took place on the ice overshadowed the scoring barrage the Flyers unleashed on the Pens and surely will fuel the arguments of hockey's biggest critics. It was, cliche as it sounds, like the WWE out there at times....
Today, the entire hockey world got to witness what we in Philly have seen in the Pittsburgh Penguins organization since the likes of Crosby and his lackeys entered the league: Completely classless, cheap shotting, cowards that are catered to by the referees and the NHL. The Flyers are obviously in their heads, and today's 8-4 win and 3-0 series lead was a direct result of that...
Sid the Kid could use a new nickname. How about, ''Sugar'' Sid Crosby. Or ''Bonecrusher'' or ''Marvelous.'' Sidney Crosby needs the kind of name that conjures up the image of the most iron-fisted of pugilists now that he's willing to scrap his way through the postseason if that's what it takes to help the Pittsburgh Penguins...
If the Philadelphia Flyers and Pittsburgh Penguins weren't going to engage in a few line brawls in the series, then this series would have been seriously overhyped. Claude Giroux and Sidney Crosby stare down each other during Sunday's Game 3 of the Stanley Cup Playoffs.The fact that Max Talbot and Jaromir Jagr are in orange sweaters alone had all the makings for...
In their bloodlust, Arabs and Jews have nothing on the Flyers and Penguins. (Isn't it grand!) Really, in a relative sense, what transpired on the ice in Philadelphia yesterday made the Middle East seem one big, happy, if diverse, family. Yesterday's matinee jihad in the City of Brotherly Love was all consuming — it enveloped even Sidney Crosby. There were thugs aplenty in...
Coming into the first round of the Stanley Cup Playoffs, there was a league wide consensus that the series between the Pittsburgh Penguins and Philadelphia Flyers would be one of the best series that the opening round had to offer.Even with all the lead up, what has unfolded in the first three games could not have been seen by anyone.Through three games there has been 32 goals scored...
NHL News

Delivered to your inbox

You'll also receive Yardbarker's daily Top 10, featuring the best sports stories from around the web. Customize your newsletter to get articles on your favorite sports and teams. And the best part? It's free!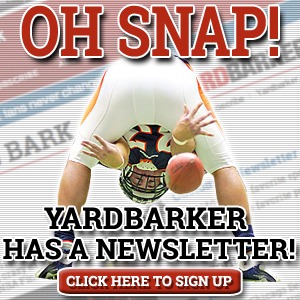 Latest Rumors
Best of Yardbarker

Today's Best Stuff

For Bloggers

Join the Yardbarker Network for more promotion, traffic, and money.

Company Info

Help

What is Yardbarker?

Yardbarker is the largest network of sports blogs and pro athlete blogs on the web. This site is the hub of the Yardbarker Network, where our editors and algorithms curate the best sports content from our network and beyond.