Found June 26, 2012 on Blue Seat Blogs:
For a while in early December it seemed like realignment was a done deal and the NHL landscape would look dramatically different for the 2012-2013 season.
The players ended up vetoing a plan passed by the owners that would have reshaped the league, but realignment will again be a topic of discussion as collective bargaining negotiations get underway. It's a good bet that the previously approved plan will be a close match to what is eventually agreed upon between the owners and players as part of the new CBA.
It's a silly exercise, because A) it doesn't matter and B) so many other circumstances would have been different, but let's take a look at what might have been in 2011-2012 if the most popular realignment plan was already in effect.
For reference, here's how the divisions would have been constructed:
The Atlantic Division would also feature Washington and Carolina in addition to the Rangers, Devils, Flyers, Islanders and Penguins.
Montreal, Ottawa, Boston, Toronto, Buffalo, Tampa Bay and Florida
Winnipeg, Minnesota, Detroit, Chicago, St. Louis, Nashville, Columbus and Dallas
Edmonton, Calgary, Vancouver, Colorado, San Jose, Los Angeles, Anaheim and Phoenix
*Four teams from each of the four divisions make the postseason and play each other in a "divisional round" before seeing other opposition.
Washington would have been the fifth seed in the revised Atlantic division, meaning the fourth seed in the revised Northeast, Buffalo, would have made the playoffs instead of the Capitals.
New York would have clashed with New Jersey in the first round instead of in the Conference Finals.
You might look at this differently depending on if you believe the Rangers were exhausted and thus couldn't outlast the Devils, or if you think the Rangers/Devils series was simply a mismatch.  If you're of the first camp, then it's interesting to note that the Rangers would have likely played the Flyers (assuming they beat Pittsburgh again) or perhaps Ottawa in round two.  If you're more pessimistic, then you might believe the Rangers would have been quickly eliminated in the first round after a monster regular season.
Again, this is all meaningless, but it's interesting to imagine how different we might be viewing things right now.  If the Rangers had been quickly dispatched from the playoffs at the hands of the rival Devils, then the optimism currently felt by Rangers fans would likely not exist and the organization might be preparing for a much more dramatic overhaul this summer.
Just for the record, the top-four division standings would have looked like this:
Boston 102
Florida 94
Ottawa 92
Buffalo 89
St. Louis 109
Nashville 104
Detroit 102
Chicago 101
Vancouver 111
Phoenix 97
San Jose 96
Los Angeles 95
So we would have seen first round playoff matchups of:
New York vs. New Jersey
Philadelphia vs. Pittsburgh
Boston vs. Buffalo
Florida vs. Ottawa
St. Louis vs. Chicago
Nashville vs. Detroit
Vancouver vs. Los Angeles
Phoenix vs. San Jose
Original Story:
http://www.blueseatblogs.com/2012/06/...
THE BACKYARD
BEST OF MAXIM
RELATED ARTICLES
The New York Rangers will be holding their annual prospect development camp beginning today and on through Friday, in which a large group of the organization's prospects attend to be analyzed by the coaching staff and management.  Below is the 2012 roster for the camp.... Forwards: Andy Bathgate, Luke Esposito, Jesper Fast, Ben Foster, Dane Fox, Barclay Goodrow, Marek Hrivik...
This past year the Rangers took another step towards their goal of challenging for the Cup with a core built upon homegrown talent. Some of those core players continued their development and showed us all the great promise of what's to come, while others left us wanting a little more. Despite a few media reports saying otherwise, we probably won't see any major roster upheaval...
Whether the 'sophomore curse' in hockey is a form of fictional imagination or an actual disease that lingers into the games of second-year players, Derek Stepan was a victim of the curse in his 2011-12 campaign. It didn't hit him hard or substantially lower his value to the franchise by any means, but it was there and it had its effects. As just a 22-year-old, however...
Over the weekend, New York Post mentioned that New York Rangers' general manager Glen Sather said that the team is unlikely to re-sign forward Brandon Prust. Sather said the following about Prust: "I don't think we're going to get that one done," said Sather during the first round of the NHL Draft on Friday. "I like him, the team likes him, everybody likes him ... but...
Mike Rupp's first season with the New York Rangers was an adventurous one that left fans with mixed emotions when it comes to the big number 71. He has his positives and negatives, as every player does, but when you analyze his game as a whole, the negatives far outweigh the positives. But is that how an enforcer should be judged? Should he be compared to himself? That's...
STATEMENT FROM HOWARD BALDWIN, SR. Hartford, CT, June 26, 2012 - Howard Baldwin, Sr. confirms that he and the New York Rangers have agreed to end their existing marketing agreement for the AHL Connecticut Whale at this time and transition operational responsibilities back to MSG. Baldwin's partnership, Hartford Hockey Club LLC, re-invigorated the local hockey market in 2010...
Jess Rubenstein of The Prospect Park was kind enough to take time out of his busy schedule to give us his thoughts on how the New York Rangers did at the 2012 NHL Entry Draft. PH: With their first pick in the 2012 NHL Entry Draft, the Blueshirts took defenseman Brady Skjei. Tell us what you know about him and if you think this was a good pick or not? JR: Good skater and is a product...
The New York Rangers were embarrassed in the Eastern Conference Finals at the hands of the New Jersey Devils. The offense was anemic, to say the least. But while general manager Glen Sather may have some big plans on what he would like to add to the Blue Shirts through free agency and/or blockbuster trades, could a new CBA alter what actually happens in The Big Apple...
Though we suggested Shane Doan as a possible free agent target for the Rangers, no one really believed the team had a shot at signing him. That's because the consensus for months, even years, was that Doan was a life-long Coyote, solely loyal to the Phoenix/Winnipeg squad that originally drafted him back in 1995. But in a surprising turn of events, Phoenix GM Don Maloney admitted...
from Larry Brooks of the NY Post, While the Rangers will join tomorrow in the courtship of 21-year-old University of Wisconsin free agent defenseman Justin Schultz, the club will continue negotiations with Martin Biron aimed at keeping the backup netminder on Broadway and off the free agent market. "We have had several positive discussions with the Rangers that are hopefully headed...
from RIA, TThe Russia-based KHL is to challenge the NHL on its home territory for the first time by playing two regular-season games in New York, league vice-president Vladimir Shalaev said Tuesday. Reigning champion Dynamo Moscow will face off against big-spending SKA St. Petersburg at the newly built Barclays Center in Brooklyn on January 19 and 20. The Barclays Center easily...
Rangers News

Delivered to your inbox

You'll also receive Yardbarker's daily Top 10, featuring the best sports stories from around the web. Customize your newsletter to get articles on your favorite sports and teams. And the best part? It's free!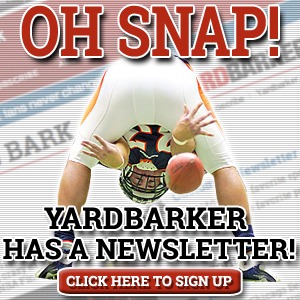 Latest Rumors
Best of Yardbarker

Today's Best Stuff

For Bloggers

Join the Yardbarker Network for more promotion, traffic, and money.

Company Info

Help

What is Yardbarker?

Yardbarker is the largest network of sports blogs and pro athlete blogs on the web. This site is the hub of the Yardbarker Network, where our editors and algorithms curate the best sports content from our network and beyond.