Found May 15, 2012 on Fox Sports:
As Washington Capitals players were collecting their belongings from their practice facility Monday, they were dealt another blow just two days after their season-ending loss to the New York Rangers. General manager George McPhee made the announcement that coach Dale Hunter had stepped down. Hunter made the choice to return to his family -- and his major junior team -- in London, Ontario. McPhee was disappointed, but ultimately not surprised. "If we have our priorities right in this life, family comes first," McPhee said. "Dale needs to go home." The announcement was so sudden that some players only found out about Hunter's departure when the media asked them about it during their exit interviews. One such player caught by surprise was Joel Ward. "It sucks, actually," Ward said when a reporter broke the news to him. Most players agreed. "I like the way we play. I really wanted to see him back," Nicklas Backstrom added. "It was a surprise because he did a great job here," forward Jay Beagle wrote in a blog entry with the Washington Post. "To hear your coach say he's not going to be back next season was a little bit of a shock." Hunter's system, a defense-first philosophy, caught a lot of flak during the regular season. After Hunter's hiring, the Capitals' record didn't improve as immediately as most had hoped and some thought that offensive players like Backstrom and Alex Ovechkin would never respond to the system. But in the playoffs, the entire team seemed to come together in front of Hunter. Ovechkin led the team in scoring with nine points in 14 games. Backstrom wasn't far behind, with eight points in the same span. Ovechkin confirmed that he found it difficult to adjust to Hunter's system at first, but later found his stride, particularly once the postseason began, saying he "learned a lot" from Hunter. "He morphed this team into a very respectable team," defenseman Karl Alzner said. "Other teams give us more credit than they had in the last few years. He was a bit of an architect himself the way he taught the game. All he taught us was to be honest and work hard." Hunter not only changed the team's systems, but also shaped new roles for the players. Hunter was open to working with his players and tried to use them in a way that would allow them to play to their strengths. It was Hunter's role as a confidence-booster that made it harder for some players to say goodbye. Matt Hendricks, a defensive forward, particularly thrived under Hunter, and felt his role change made him more confident. "(Hunter) gave me that confidence, he gave me the ability to play more, and the opportunity to play more," Hendricks said. "I was looked at as a shut-down guy, where I was given the opportunity to play against the other team's top forwards. Without him giving me that chance, I'd still be looking at myself as a fourth-line guy that fights and scores a little bit. But now I feel like I have a better role and a bigger role." What happens now? For the moment, Hunter is the only change being made to the coaching staff. Assistant coach Jim Johnson, who came on board at the same time as Hunter and is responsible for the defense, is remaining at that position. If the Capitals have not hired a new coach by the draft, Hunter said he would be available to help the organization however he can when it comes to drafting prospects. McPhee may have to take him up on that offer, saying, "We're going to take our time and get the right person." As for the players, the Capitals are going to be responsible for taking into next season what they learned from Hunter and the momentum earned from the postseason progress they made. There will be changes this offseason as several players will have unrestricted free-agent status, and trades are possible and expected. But the way Hunter brought the team together into a more cohesive unit has to continue on without him. "It was the best team I played with," Ovechkin said of the team under Hunter. In his final meeting with the players Monday afternoon, Brooks Laich said Hunter closed with one last instruction: "It's in your hands now."
Original Story:
http://msn.foxsports.com/nhl/story/da...
THE BACKYARD
BEST OF MAXIM
RELATED ARTICLES
Alexander Semin and Tomas Vokoun are reportedly following Dale Hunter out the door. Semin and Vokoun will not return to the Washington Capitals next season, according to separate reports, which means more changes for the team that saw its head coach step down on Monday. Semin's agent told ESPN.com that his client has no intentions of signing a contract extension with the Caps...
Dale Hunter is finished as coach of the Washington Capitals after less than one full season, telling the team he wants to return to his family in Canada. Hunter says: ''It was the right thing to do.'' He told general manager George McPhee of the decision Monday, two days after the Capitals were eliminated from the playoffs by the Rangers in Game 7. Hunter was hired...
Dale Hunter told Washington Capitals GM George McPhee during a meeting this morning that he will not be returning to the Caps next year as head coach. The decision comes shortly after the Capitals early exit from the NHL Playoffs. According to the Washington Post: "Dale and I met about 10 o'clock and he let me know that he will not be able to return as the coach," McPhee...
On Saturday, June 2nd Capital Sports & Decor (formerly PS Game Gear) will be hosting Washington Capitals goaltender Braden Holtby for an autograph event. The "super star goalie" (and our Conn Smythe Trophy winner) will be available from 1:00-3:00 PM at their Dulles Town Center Mall location in Dulles, VA. Autograph Tickets ($40) are available for purchase in the store...
from Craig Custance of ESPN The Magazine, There's change coming to the Washington Capitals this summer and it's not just their head coach. Barring a complete change of heart, forward Alexander Semin won't be back in Washington next season. According to Semin's agent Mark Gandler, the skilled forward has no intentions of signing a contract extension with the Capitals and plans...
I like to keep track of the players in hockey who i think should make the Hall of Fame regardless of what they do in the rest of their careers.  When these players retire I like to write a career retrospective.  Today I am writing about Sergei Fedorov who announced this weekend that he would retire to become the GM of CSKA Moscow in the KHL. Fedorov was born on December 13th,...
The Capitals entered the regular season as a Stanley Cup favorite, entered the playoffs as a disappointing dark horse and enter the off-season somewhere in between. In what will be remembered as a roller coaster ride with wild swings of emotion, the Capitals' 2011-12 season ended with the team falling one win short of the Eastern Conference Finals. It also ended with them...
Following the Capitals' loss in game seven of the Eastern Conference semifinals last Saturday, the thoughts of many people immediately turned to Washington head coach Dale Hunter.  Would he be back?  Would he choose to come back, or would General Manager George McPhee make the decision for him? Monday morning at Kettler Capitals Iceplex, we all found out.  McPhee announced...
For the record, CSKA Moscow's website is confirming that their Board of Directors met yesterday, and have appointed newly-retired Red Wing Sergei Fedorov the club's general manager. As stated a few days ago, Fedorov's retirement and the questions as to whether his number should be retired by the Red Wings…aren't black and white, let's put it that way.\ Update: Fedorov...
As the Washington Capitals' post season hopes ceased Saturday night with a loss in Game 7 of the Eastern Conference Semi Finals at the hands of the New York Rangers, many fans looked back on the 2011-12 NHL season with frustration. We here at Rock the Red want to celebrate the successes and unheralded efforts throughout the Caps' past year, and will be presenting several...
Last year we got the pleasure of euglogizing the Montreal Canadiens. This year we get to eulogize the Washington Capitals. Head over to PuckDaddy to read it. Can't wait to see how many times we're called classless, not funny, or have people wish DGB wrote it.  
While some of the Capitals started their off season by heading out on exotic beach vacations, Joel Ward, John Carlson, Brooks Laich, and Mathieu Perreault headed to RFK Stadium last night to watch the D.C. United defeat the Colorado Rapids 2-0. It's good to see the Caps are returning some of the hometown love they were recipients of during their playoff run. Each of the members...
NHL News

Delivered to your inbox

You'll also receive Yardbarker's daily Top 10, featuring the best sports stories from around the web. Customize your newsletter to get articles on your favorite sports and teams. And the best part? It's free!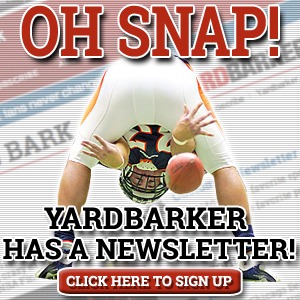 Latest Rumors
The Backyard

Today's Best Stuff

For Bloggers

Join the Yardbarker Network for more promotion, traffic, and money.

Company Info

Help

What is Yardbarker?

Yardbarker is the largest network of sports blogs and pro athlete blogs on the web. This site is the hub of the Yardbarker Network, where our editors and algorithms curate the best sports content from our network and beyond.