Found July 08, 2013 on Shutdown Line:
PLAYERS:
Jim Rutherford
,
Elias Lindholm
,
Zac Dalpe
,
Riley Nash
,
Zach Boychuk
,
Drayson Bowman
,
Jeremy Welsh
,
Valeri Nichushkin
,
Eric Nystrom
,
Mason Raymond
,
Nik Antropov
,
Dustin Penner
,
Mikhail Grabovski
,
Ryan Murphy
,
Brett Bellemore
TEAMS:
Carolina Hurricanes
,
Dallas Stars
,
Vancouver Canucks
,
Winnipeg Jets
,
Los Angeles Kings
,
Toronto Maple Leafs
Over the last few days, the Hurricanes did well with the limited cap space they had remaining by filling two roster spots for a combined $1.5 mil. Jim Rutherford did great work by making this happen, but there are still a couple of roster spots to be filled and the Hurricanes have some cap space to work with. The question is who should the Hurricanes use this remaining cap space on. Looking at their depth chart, they still have to fill at least two bottom-six spots and the position doesn't really matter since they have plenty of guys within the organization who can play both center and wing. With a little under $6 mil. in cap space remaining, the Canes should be able to fill those two spots without much trouble if they can find a good bargain. However, things get a little dicey if they decide to splurge, which is very possible. There were some rumblings about the Hurricanes looking to bring in a "big" free agent on a one year deal for about $3-3.5 mil. and that opens the door for some bigger names possibly coming to Carolina. There aren't any spots currently open in the top-six, but I don't see that being too much of an issue because there are plenty of suitable third-liners still available. Secondary scoring was something the Canes lacked last season, so paying a little extra for a skilled third liner is a gamble that they might be willing to take. Acquiring someone who can play in the top-six in the event of an injury also makes a lot of sense. However, there are a lot of other factors to consider here, as well. The Hurricanes still have a few RFAs to sign as well as their first round draft pick, Elias Lindholm. The RFA's shouldn't take up that much space, but Lindholm's deal could be anywhere from $1.5-3 mil. per season after bonuses, so that is going to play a big role in how much money the Canes have to spend this summer. Whether or not Lindholm makes the team is unknown, but he will probably get the 7-10 game tryout at the very least, so the team will need to make room for his cap hit. This might hamper some of the team's plans in free agency and prevent them from bringing in a player with a relatively high salary. However, there are some ways that they can get around this and have some cap flexibility without moving too many important pieces. We'll explore those options after the jump.  Thanks to Capgeek's cap calculator, we can easily look at the Hurricanes cap situation and see what moves are available to them. They currently have 10 forwards, 6 defensemen in 2 goaltenders under contract and $58,875,000 of their cap space taken, which leaves them with $5,435,000 to sign two players. Going by the players they have under contract now, their depth chart looks something like this.  So that's leaves a little under $5.5 mil. to sign a third line center and a depth forward. The "easy" thing for Carolina to do here is to sign Zac Dalpe, Riley Nash and Zach Boychuk to their RFA deals and hope they can fill out those bottom two spots. However, this may not be the best way to go because the Canes tried a similar method last year and it didn't work out. They hoped Drayson Bowman, Jeremy Welsh, Zac Dalpe & Zach Boychuk could stick in the NHL full-time and Bowman was the only one who was able to do so. You eventually want your prospects to make the NHL, but something tells me the Hurricanes might want to add a more "proven" player to their bottom-six. Howver, adding Lindholm to the fold could make things difficult depending on how much his ELC pays him. Seeing how Jonathan Droun's cap hit is $3.2 mil. and Valeri Nichushkin's is $2.175 mil., I would expect Lindholm's to be somewhere in the middle. Let's say that his ELC has a cap hit of $2.7 mil., how much room would that give Carolina to work with? Note: the lines & defense pairings are a bit out of whack here so ignore them. Factor in Lindholm and you are left with $2,735,000 to fill one depth forward spot. The Hurricanes aren't in a bind in this situation, but they don't have a ton of flexibility either, so that's going to make it tough to bring in another free agent. In theory, they should be able to land a decent third liner for about $1-2 mil., but in a summer where players like Eric Nystrom are getting four-year, $10 mil. deals, finding bargains might be difficult. Still, it isn't impossible and the Canes might be able to sign someone like Mason Raymond, Nik Antropov or Dustin Penner without breaking the bank. Bigger names like Mikhail Grabovski is probably out of their price range, though. Whoever makes the Hurricanes out of camp is also going to play a role in how much cap flexibility the team has. Even though Bowman and Welsh are under one-way contracts, I don't think their spots are fully guaranteed and someone like Nash or Dalpe could make the team over them in training camp. Should this happen, it could save the Hurricaens a couple thousand dollars in cap space depending on how much their new contracts are. It isn't a lot, but it's something to consider. Bowman being traded actually would not surprise me at all if someone else is brought in because the Canes really need to upgrade their third line. At least $600k-$1.4 mil. will need to make room for Ryan Murphy or Brett Bellemore regardless, so the Canes may have to cut corners somewhere. All in all, the Canes have some options available to them but they can't really go after any of the bigger names remaining unless someone from the top-six is on the way out, which is just going to create another hole for them to fill next season. In the end, I see Carolina signing someone for the third or fourth line while relying on at least two forwards from Charlotte to round out the bottom-six. If this approach doesn't work, then I think a trade could be in the works to help bolster this team's depth.
Original Story:
http://www.shutdownline.com/hurricane...
THE BACKYARD
BEST OF MAXIM
RELATED ARTICLES
First, as I have said before, what I express here is speculation, intuition, opinion, etc. I do NOT have access to any inside information nor do I have any contacts that get me access to legitimate rumors. So yesterday the Canes Twittersphere heated up following a spot by Canes GM Jim Rutherford on 99.9 The Fan yesterday afternoon. The summary version is that the Canes are reasonably...
The Hurricanes came to terms with one of their five restricted free agents today, signing center Riley Nash to a two-year, two-way contract. Nash spent most of the latter half of the season as the Hurricanes third line center, recording four goals & nine points over 32 games. This deal will pay Nash $550,000 in the NHL this year and $600,000 in next year while paying him $150...
via Don Brennan of the Ottawa Sun, The Senators have answered their desire for a veteran defenceman with a blast from the past. The team has come to terms with Joe Corvo, an unrestricted free agent who played for Ottawa from 2006-2008. Corvo, who scored six goals and 11 assists in 40 games with the Carolina Hurricanes last season, was signed to a one-year deal. He is...
Unless we get surprised by a trade for a higher-end defenseman, I think the Canes roster is pretty set on the back end and in goal. To kill time in the summer until we get ice at PNC Arena, we could debate pairings for hours, but order aside the 6 are Andrej Sekera/Justin Faulk, Joni Pitkanen/Tim Gleason, Jay Harrison/Mike Komisarek. Brett Bellemore and Ryan Murphy would provide...
The Ottawa Senators have signed UFA D-man Joe Corvo to a one year contract. Corvo, who scored six goals and 11 assists in 40 games with the Carolina Hurricanes last season, returns to Ottawa where the reception may not be so big for the former Senator.   Not considered to be very strong in his own zone, he's expected to start [...]
As per Doni B the Sens have brought back Joe Corvo for his second stint in the nation's capital on a one-year, $900,000 deal. Corvo's 2 years here weren't exactly glamorous as his dumb turnovers and poor defensive play never went unnoticed among fans, and didn't get along well with the media, earning himself the nickname "Uh-Oh" Corvo. He didn't really...
Make sure to follow Travis on Twitter! -- The Ottawa Senators signed Joe Corvo to a one-year, $900k deal on Monday afternoon. Bryan Murray spoke about the veteran Corvo as a nice add for a blue-line in need of a right-handed shot. It seems to me the main reason why the team chose Corvo over the departed Andre Benoit, who signed with Colorado at the same price. And that'...
NHL News

Delivered to your inbox

You'll also receive Yardbarker's daily Top 10, featuring the best sports stories from around the web. Customize your newsletter to get articles on your favorite sports and teams. And the best part? It's free!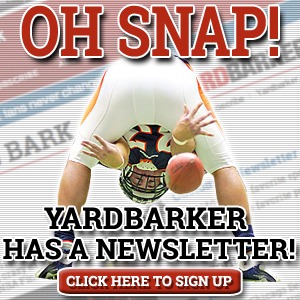 Latest Rumors
The Backyard

Today's Best Stuff

For Bloggers

Join the Yardbarker Network for more promotion, traffic, and money.

Company Info

Help

What is Yardbarker?

Yardbarker is the largest network of sports blogs and pro athlete blogs on the web. This site is the hub of the Yardbarker Network, where our editors and algorithms curate the best sports content from our network and beyond.