Found October 28, 2013 on Shutdown Line:
PLAYERS:
Cam Ward
,
Kevin Westgarth
,
Jordan Staal
,
Eric Staal
,
Nathan Gerbe
,
Tuomo Ruutu
,
Elias Lindholm
,
Radek Dvorak
,
Jiri Tlusty
,
Riley Nash
,
Drayson Bowman
,
Alexander Semin
,
Brett Sutter
,
Jeff Skinner
,
Andrej Sekera
,
Tim Gleason
,
Ryan Murphy
,
Justin Faulk
,
Jay Harrison
,
Ron Hainsey
,
Brett Bellemore
TEAMS:
Carolina Hurricanes
There's only two games to recap for the Canes this week and neither of them were anything to write home about, as they were both losses and ones that the Hurricanes played poorly in. To add to that, they also sustained a few injuries to key players, the biggest of which being goaltender Cam Ward, so the morale of the team has crashed back of Earth after a three-game point streak. The injuries to Ward, Skinner, Khudobin and Dwyer make the future very uncertain, especially if Khudobin can't return soon, but Carolina losing to both Minnesota & Colorado last week wasn't very surprising. Why? Because Carolina has struggled nightly against the Western Conference this season. The Canes are now winless in five games against the West this year and they have been outscored 15-9 during that time. They have also been "outshot" 236-211 during five-on-five play against the West and when you compare that to their 52.7% Corsi percentage in six games against the East, it isn't a surprise to see that they lost to both Minnesota & Colorado last week. This isn't meant to be an excuse because Carolina will be seeing more of the West this year, but it does reveal that most of Carolina's problems are coming against teams they aren't overly familiar with. So should we expect the Canes to rebound once they have more intra-division games? Possibly, but they still have a lot of games to play against the West this year and can't continue to get outplayed and leave points on the table, especially if they have playoff aspirations. We've seen the Canes play well enough to at least get to overtime against top-tier teams like Los Angeles & Chicago, so they have the ability to keep up with them. Unfortunately, none of that was present when they took on Minnesota & Colorado on the road this past week. A closer look at both of those games is coming after the jump. Team Performance (Five-on-Five) Game CF CA SCF SCA Minnesota 41 41 7 8 Colorado 49 50 13 16 Overall 90 91 20 24 As a whole, it doesn't look like the Hurricanes played too badly last week, but the overall numbers are skewed a little because they were playing from behind for the majority of both games. Yes, they outshot the Wild when they were within one goal, but they were also trailing by two for most of the game and could not generate many scoring chances. They had only ten for that entire game and seven at even strength. When you are playing from behind, that isn't good. Sadly, this is slightly better than their performance against the Avs, where they were outshot 20-8 while the game was within a goal and let the Avs run all over them for most of the first period. The Canes didn't have much trouble with creating offense that game, but their defensive performance was poor to say the very least. Hopefully games like this won't be the case every time they have to play in a different time zone. Individual Performance (Five-on-Five) Forwards   # Player CF CA SCF SCA OZ/DZ% 8 Kevin Westgarth 7 12 1 3 100.0% 11 Jordan Staal 30 19 7 5 27.3% 12 Eric Staal 31 23 5 9 58.3% 14 Nathan Gerbe 30 18 9 3 16.7% 15 Tuomo Ruutu 32 42 8 9 12.5% 16 Elias Lindholm 8 12 2 5 80.0% 18 Radek Dvorak 19 23 4 5 15.4% 19 Jiri Tlusty 22 16 4 4 68.2% 20 Riley Nash 27 37 7 8 10.0% 21 Drayson Bowman 18 25 5 6 41.2% 28 Alexander Semin 29 26 6 9 58.3% 42 Brett Sutter 10 11 1 3 71.4% 53 Jeff Skinner 7 6 1 3 100.0% Positives - Jordan Staal continues to be a beast at driving the play in tough situations. He had only one assist, but his line was much better offensively than it was the previous week. Just goes to show that being able to get the puck into the offensive zone and keep it there has its advantages in the long-run. If the coaches ever decide to put a scorer on his right wing, then he could be in store for a pretty big week. Jordan has done everything well this year, except score and I am confident that it will change soon. - Nathan Gerbe was attached at the hip to Jordan Staal this past week and his stats reflect that. Although, it's good to see that he is not hampering this line at all and is actually contributing well with how much he shoots the puck. It will be interesting to see how he does on the first line tonight. He may not be as talented as Jiri Tlusty, but he shoots the puck more than anyone else on the team not named Jeff Skinner, so he might fit in nicely there. - I've considered Radek Dvorak a pleasant surprise for the Canes this year and he continued to be that last week. He had a bad penalty at the end of the Minnesota game, but overall he was solid. The Canes were only outchanced by one with him on the ice despite him being deployed in brutal situations. Unfortunately, he was also injured in the Colorado game but Patrick Dwyer should be returning to fill in for him. -  The first line won the territorial battle yet again and produced two goals for the Hurricanes this past week. Semin in particular has looked very good these last few games. Negatives - Even though they outshot their opponents, the first line was also on the losing end of the scoring chance battle with Eric Staal having some bad defensive gaffes in both games. I think the first line will be fine in the long run, as Muller is still sheltering them and they are outshooting their opponents, but they definitely aren't in last season's form yet. Hopefully adding Gerbe in place of Tlusty, who has been one of the team's worst territorial players this year, will help give them a spark. - With Jeff Skinner out of the lineup on Friday, Muller decided to use the third line in a defensive role and they ended up getting crushed as a result. Since Muller moved Jordan to the first line with Lindholm taking over his spot as the 2C, I can understand why he chose to bury the third line but I have no clue why he kept Tuomo Ruutu on this unit. The team was trying to make a comeback and using one of your better offensive players in a super defensive role seems counter-productive. - Brett Sutter & Kevin Westgarth continue to be liabilities at even strength and I have no idea why Elias Lindholm had to start the Colorado game centering these two. Thankfully, this wont be the case tonight against Pittsburgh, as Lindholm will be moving to the wing and playing on the 2nd or 3rd line, which makes more sense if he is going to stay on the team. Defensemen # Player CF CA SCF SCA OZ/DZ% 4 Andrej Sekera 29 29 9 6 40.0% 5 Mike Komisarek 8 11 3 5 33.3% 6 Tim Gleason 18 21 2 4 83.3% 7 Ryan Murphy 37 48 4 11 70.0% 27 Justin Faulk 28 21 8 6 37.5% 44 Jay Harrison 11 21 1 4 77.8% 65 Ron Hainsey 32 29 9 9 26.1% 73 Brett Bellemore 17 10 4 3 22.2% Positives - Andrej Sekera & Justin Faulk continue to be excellent and Sekera had a productive two-point night against Colorado. These two are not only doing a fine job of keeping the play in front of them at even strength, but they are shutting down some of the opposition's best forwards. It might be just my home-team bias speaking, but I really think they are one of the most underrated shutdown pairs in the league. - Ron Hainsey had his worst weak defensively, being on the ice for a lot of chances & shot attempts. However, the Hurricanes still outshot their opponents with him on the ice and his was with him starting the bulk of his shifts in the defensive zone. He played alongside Ryan Murphy for some of Friday's game, so that might be where most of his offense came from but he has shown some decent puck-moving skills early in the year. - Bellemore had another solid performance against Minnesota and unfortunately, he is now on IR with an undisclosed injury. Negatives - Ryan Murphy giveth and Ryan Murphy taketh away. The Hurricanes rookie defenseman had another high-event week, being on the ice for a high number of Carolina shot attempts along with a lot of the oppositions. The Hurricanes gave up 91 total shot attempts during five-on-five play last week and Murphy was on the ice for over half of them. Murphy still has a lot of value on the power play and for leading breakouts, but he should not be playing this many minutes at even strength. He is getting sheltered and the Canes are still getting crushed territorially whenever he is on the ice. If he stays on the third pair, this isn't a big deal but the coaches have been increasing his usage to give the team's offense a spark and while that has worked, the trade-off on defense almost negates it. - Playing on the road contributed to Murphy's struggles, as the Wild had a lot of instances where they got their first line out against him and Jay Harrison. The numbers do a good job of illustrating how that turned out. Harrison's likely going back in the lineup tonight and hopefully the coaching staff can do a better job of sheltering him at home. - Mike Komisarek was on the ice for five even strength chances and 11 shot attempts despite playing under 10 minutes. Nothing more needs to be said here.  
Original Story:
http://www.shutdownline.com/hurricane...
THE BACKYARD
BEST OF MAXIM
RELATED ARTICLES
RALEIGH, N.C. -- Pittsburgh (8-4-0) had lost three games in a row coming into a matchup with the beat-up Carolina Hurricanes (4-5-3). And the Penguins aren't the type of team that loses that many games in a row. It seemed like the Hurricanes were on the cusp of putting something together with two straight wins over the Maple Leafs and Islanders -- and then the injury bug struck...
There should be two grumpy, antsy, emotionally charged teams in PNC Arena on Monday night. The Carolina Hurricanes have lost their past two games. The Pittsburgh Penguins have lost the past three. "We're striving to be one of the top teams in the East," Canes captain Eric Staal said after practice Sunday. "We didn't come in happy today." But as much...
Somehow the Carolina Hurricanes are second in the Metropolitan division. After watching the game tonight, one can conclude that the Metro division is very bad after the Penguins. It wasn't their best game, but the Pens got off the schneid with a 3-1 victory against a Canes team who was missing their best offensive weapon…
Some notes and team line combinations for tonight as the Penguins visit Carolina. Rob Scuderi is still out of action, which is bad news for the Pens.  Also bad news is the Penguins' power play. It's been 1-for-15 in the last three games. Clearly James Neal is missed. Pittsburgh Penguins lines via Penguins.NHL.com: Chris Kunitz ...
Pittsburgh Penguins (7-4-0) @ Carolina Hurricanes (4-4-3) Root Sports, FS-CR - 7:00 pm/et  PNC Arena, Raleigh, NC [Image via Venues Today] The Pens bring their three-game losing streak into Carolina to play the Hurricanes. Scuderi, Bennett and Neal are still out for the Pens. Basically everyone not named Staal is injured for Carolina.  Double J, Jussi...
With Cam Ward weeks away from returning and Anton Khudobin's availability in doubt and the Rick DiPietro experiment underway with the Charlotte Checkers, the Canes' goaltending job belongs to Justin Peters. Canes coach Kirk Muller said Monday that Peters has "the ball." For now he's the No. 1 goalie, the best option. Against the Pittsburgh Penguins on Monday...
The Pittsburgh Penguins have had plenty of shots on goal in the last three games but not too many have gone in the net. A lack of goals hasn't been an issue for Pittsburgh in recent matchups with the Carolina Hurricanes. The Penguins will try to snap a three-game losing streak Monday night by continuing their success against a Hurricanes team that's missing top goaltender...
The Penguins come limping into this week with a three-game losing streak. After starting out 7-1 against a ton of terrible hockey teams, the Pens faltered last week against some better teams. The Pens have four games this week, all against decent clubs: Carolina - All of Sudden Carolina has moved into second place in the Metro. Cam Ward is hurt though. Boston - First...
Hurricanes News

Delivered to your inbox

You'll also receive Yardbarker's daily Top 10, featuring the best sports stories from around the web. Customize your newsletter to get articles on your favorite sports and teams. And the best part? It's free!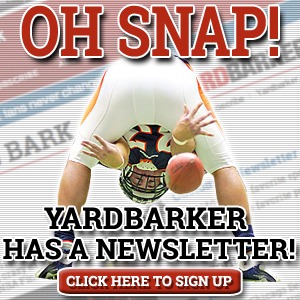 Latest Rumors
Best of Yardbarker

Today's Best Stuff

For Bloggers

Join the Yardbarker Network for more promotion, traffic, and money.

Company Info

Help

What is Yardbarker?

Yardbarker is the largest network of sports blogs and pro athlete blogs on the web. This site is the hub of the Yardbarker Network, where our editors and algorithms curate the best sports content from our network and beyond.