Found November 01, 2013 on Shutdown Line:
PLAYERS:
John Tortorella
,
Jordan Staal
,
Nathan Gerbe
,
Ron Hainsey
,
Ryan Murphy
,
Eric Staal
,
Jiri Tlusty
,
Joni Pitkanen
,
Andrej Sekera
,
Justin Faulk
TEAMS:
New York Rangers
,
Carolina Hurricanes
Something you may have noticed is that I've expanded my game recaps this year and have included analysis of both zone entries and zone exits. Why? Because hockey analytics are growing and there are enough tools out there for us to look at the game beyond just goals, points and stats that are tracked at arenas. I've always had kind of an obsessive personality and would rather have a good idea of everything that happened on the ice before I analyze a game, so I've been taking my stat tracking to a new level the last couple of seasons by charting both zone entries and zone exits. If you haven't been following my recaps or need a refresher on the importance of zone entries, the basic gist of it is that more offense is created off entries that are done with control of the puck compared to ones that are done through dump-ins. Previous work done by Eric Tulsky, Bob Spencer and Geoffrey Detweiler illustrates this point well. However, there are still only a limited number of games tracked and we are hoping that more things can be revealed about neutral zone play in the coming years. In my analysis of the Hurricanes last year, I noted that the Hurricanes were strong in the neutral zone early in the season, but began to play more of a dump-and-chase style game in the second half and saw their possession numbers decline with that. Injuries played a pretty big role in that, but I also believed some of it had to do with Kirk Muller's system. When Muller first arrived, he was all about getting the Hurricanes to play a more up-tempo game and usually gave defensemen the green light to jump into the play if they wanted to. As time went on, injuries and losses began to pile up and the Hurricanes reverted to playing a more "conservative" game with the defense & bottom-six mostly playing dump-and-chase. The Hurricanes were still a positive possession team, but it was only because they were able to enter the zone more than their opponents during five-on-five play, and they were treading water in that department by the end of the season. Carolina had more overall entries than their opponents, but they were entering the zone with control only 48-49% of the time and allowing their opponents to carry the puck in regularly. Had that continued, they would likely be a sub-par possession team in a full-season if previous analysis on zone entries stayed true. So how have the Hurricanes been in the neutral zone this year? Have they improved or have they gotten worse from last season? After the jump, we'll look at their performance through one month. Team Level   Entries Shots/Entry Control% Shots/Carry Shots/Dump-in Hurricanes 621 0.520 46.5% 0.692 0.370 Opponents 689 0.509 50.1% 0.710 0.308 Overall, the Hurricanes performance in the neutral zone hasn't been very good. They have fewer entries than their opponents and when they do enter the zone, they are dumping the puck in a lot. This partially explains their mediocre possession numbers this year, as their overall shot attempt percentage has hovered around the 48-50% mark. To make things worse, the Canes are allowing a lot of shots off their opponents controlled entries, which doesn't bode well for them at all. However, an interesting observation here is that the Hurricanes are creating more shots off their own entries than their opponents, which is odd considering they dump the puck in a lot. The reason for this is because the Hurricanes are creating a decent amount of shots off their own dump-ins compared to their opponent's. They are creating twice as much offense the times they do carry the puck in, but the Hurricanes aren't exactly being completely shut down when they do not. Muller seems to be emphasizing dump-and-chase play more this year, so I guess this isn't too surprising but I didn't expect Carolina to be outshooting their opponents overall. I'd still like to see the Hurricanes try to carry the puck in more since they have enough skilled forwards to be a better possession team than they are now.  Speaking of which, another interesting thing to look at is how much of the team's dump-ins are coming from defensemen. Some coaches instruct their defensemen to simply "get the puck deep" any chance they can get (John Tortorella & Claude Noel come to mind), which might drag down the team's numbers in some instances. I mentioned earlier that Muller encouraged his defensemen to jump into the play earlier in his coaching tenrue, is that true now?   Entries Shots/Entry Control% Forwards 483 0.54 51.6% Defense 138 0.46 29.0% It appears the answer is no, as Carolina's defensemen have had control on only 29% of their five-on-five zone entries. I'm not sure how this compares to other teams but overall, that's pretty low. Their forward average is also pretty low when you consider that they are more likely to carry the puck in on a regular basis. That said, the amount of shots the Hurricanes are creating off entries by their defensemen isn't drastically lower even though they are dumping the puck in a lot. So, as a whole, Carolina's neutral zone play looks pretty mediocre. Now it's time to look at how each player has performed. Player # of entries Shots generated from player's entries Shots per entry % of entries with control Dwyer 43 31 0.72 35% Sutter 13 9 0.69 38% Hainsey 22 14 0.64 14% Murphy 30 19 0.63 63% Semin 45 27 0.60 71% J. Staal 55 31 0.56 65% Dvorak 27 15 0.56 33% Gerbe 55 30 0.55 47% E. Staal 54 29 0.54 70% Tlusty 47 25 0.53 43% Nash 32 16 0.50 34% Skinner 50 24 0.48 54% Ruutu 15 7 0.47 60% Sekera 23 10 0.43 35% Faulk 32 13 0.41 25% Lindholm 10 4 0.40 50% Westgarth 3 1 0.33 33% Bowman 34 11 0.32 44% Bellemore 18 5 0.28 6% Harrison 11 2 0.18 9% Komisarek 1 0 0.00 0% Gleason 1 0 0.00 0% Well this is odd to say the very least. We are told that controlled entries are what leads to more offense yet, Carolina's top three players in terms of shots per entry are all guys who dump the puck in a lot. This could be just small sample size magic, but some of this does make sense. Take Patrick Dwyer for instance. He leads the team in shots per entry despite dumping the puck in a lot and his linemates play a large part in this. For the most part, he has been playing with Jordan Staal & Nathan Gerbe, two of Carolina's best players along the board and frequently win battles to loose pucks. So if anyone is going to be playing dump-and-chase, Dwyer should be one of them. The Canes producing a lot of shots off Ron Hainsey is also interesting at first glance, especially since they are mostly dump-ins, but this isn't as surprising when you consider that he is usually playing behind Jordan Staal's line. These has been, by far, Carolina's best territorial unit this season and while it has yet to translate to points, they have creating a lot of zone time for the Canes thus far. In other words, Hainsey & Dwyer's strong numbers here are more reflective of their teammates play than anything because of how much they dump the puck in. Ryan Murphy is another story. The young defenseman has always been criticized for his high-risk style of play and this chart does a good job of showing his value to the Hurricanes. Murphy has more carry-ins than any other defenseman and the Canes have been able to translate it into a decent amount of offense. His play in his own end is obviously a concern but Murphy is dynamic with the puck and the offensive side of his game was on full display during October. Performance vs. Workload Forwards This chart is pretty similar to last year's, as the Staal brothers & Semin are taking on a big workload in the neutral zone and have been able to carry the puck in frequently despite that. The only difference this year is that Eric Staal appears to be doing more heavy-lifting there than he did last season. He, and the rest of the first line, have taken a lot of heat for their "slow" start but he and Semin should be fine if they continue to win the battle in the neutral zone. Unfortunately, the same can't be said for Jiri Tlusty, who looks like a complete passenger this season. Both Jordan Staal and Nathan Gerbe have accounted for approximately 20% of Carolina's forward zone entries and it appears that Jordan is the one making that line go. Although, Gerbe's performance hasn't been bad when taking his workload into consideration. I'd like to see him carry the puck in a little more often, though. This statement can be applied to the rest of the team's forwards. Aside from the Staal brothers, Semin, Skinner, Ruutu & Lindholm, every Carolina forward has dumping the puck in a lot this year and I suppose some of it relates to Muller's system. He seems to want the bottom-six to just "get it deep" and play more of a puck retrieval game instead of carrying it in and risking a turnover at the blue-line. I don't have much of a problem with that, but I think players like Tlusty and Bowman should be carrying the puck in more, as they have a decent amount of skill and are capable of making plays on their own. Defensemen Going into the year, my hope was that Murphy could take over Joni Pitkanen's role in the neutral zone and well...he's done that and more so far. I can't remember the last time the Hurricanes had a defenseman who jumped into the play as often as him and while it has led to some scary moments, Murphy really adds another element to this team. With so many forwards dumping the puck in, it's nice to have a high-risk defenseman like Murphy on your roster. If anyone has been more comparable to Pitkanen, it's Andrej Sekera. He is no Ryan Murphy, but his control entry rate is around the same as Pitkanen's last season and has been very solid as a mobile defenseman early in the season. As for his partner, Justin Faulk, his neutral zone performance is about the same as it was last year, although he is playing a bigger role now. The rest of the defensemen have been dumping the puck in on over 85% of their entries, which isn't too surprising when taking their skillsets into account. There are some positives with Carolina's neutral zone play, mostly concerning their top players, but there is definitely room for improvement overall. Hopefully things start trending in the right direction tonight against Tampa Bay.
Original Story:
http://www.shutdownline.com/hurricane...
THE BACKYARD
BEST OF MAXIM
RELATED ARTICLES
Jim Rutherford, President and General Manager of the National Hockey League's Carolina Hurricanes, today announced that the team has agreed to terms with center Manny Malhotra (mal-HOH-truh) on a one-year, two-way contract. The deal will pay Malhotra $600,000 at the NHL level, or $125,000 at the American Hockey League (AHL) level, with a guarantee of $250,000. "Manny brings...
According to the Raleigh News & Observer's Chip Alexander, Jeff Skinner will not play this weekend for the Carolina Hurricanes, which would mean two games, at the very least. In his place though, Radek Dvorak may be back in the lineup. The 21 year old Skinner is suffering from an upper body injury. The good news is, it is most likely not a concussion. Sometimes the NHL teams...
RALEIGH, NC – Jim Rutherford, President and General Manager of the National Hockey League's Carolina Hurricanes, today announced that the team has agreed to terms with center Manny Malhotra (mal-HOH-truh) on a one-year, two-way contract. The deal will pay Malhotra $600,000 at the NHL level, or $125,000 at the American Hockey League (AHL) level, with a guarantee of $250,000. ...
from Luke DeCock of the News & Observer, Long before they lost both Cam Ward and Anton Khudobin to injuries in the space of 10 days, the Hurricanes lost Frederik Andersen to a contract squabble. They had taken the Dane with the 187th pick of the 2010 draft, and he looked like one of those rare late-round picks who might actually pan out. But Andersen refused to sign...
During the summer I clamored for the Canes to sign at least 1 higher-end 4th-line player to anchor that line and ideally eat up some penalty kill minutes. The team sort of did when it added Radek Dvorak to a tryout contract and ultimately signed him. Nathan Gerbe has obviously also worked out as an incredibly good depth signing who so far is fulfilling a much bigger role. ...
A signing that went relatively unnoticed a few weeks ago was the Charlotte Checkers signing veteran center Manny Malhotra to a professional tryout contract. A former first round pick, Malhotra has been in the league for 14 years and while he has never lived up to his draft status, he has built a reputation as a solid defensive center. He spent the last three seasons with the Vancouver...
Slow starts aren't anything new to the Carolina Hurricanes. They've been known for having an underwhelming record during the month of October for years now and it always seems to take their best players awhile to get into top form. We seem to go through this every season, so the Canes posting a 4-5-3 record through October could end up being not that big of a deal in the...
Halloween may have been on Thursday night, but the Hurricanes decided to celebrate it a day later and showed up to last night's game disguised as the 2012-13 team. By that, I mean they were essentially the same "fragile" team  that buckled under adversity and collapsed whenever their game plan was disrupted. The Canes showed signs of breaking out of this mold early...
DURHAM, N.H. – The regulation 60-minutes weren't enough for the UMass Lowell River Hawks and New Hampshire Wildcats to decide a winner on Saturday night. It took an extra 3:17 into the overtime period for UMass Lowell forward Derek Arnold to tally the game-winning-goal, downing New Hampshire, 3-2. "I saw a ton of room, and I had to take the shot," Arnold said. "I got it...
What is the difference between the Tampa Bay Lightning and the Carolina Hurricanes in terms of points in the standings. A quick check of the standings yields a simple answer of 5 points. But when you dig a bit deeper, the only real difference is overtime. In non-overtime games, the Lightning is a modest 4-4. In non-overtime games the Carolina Hurricanes are a pretty similar 4...
For the first time in a long time, the Tampa Bay Lightning and Carolina Hurricanes will face each other as non-division rivals tonight at the PNC Arena. The Lightning, who did not lose in the Old North State last season, will be looking to get back on the winning track following a disappointing loss to the New Jersey Devils on Tuesday. After opening the 2013-14 season strongly...
Photo: Anthony Gruppuso-USA TODAY Sports The Carolina Hurricanes are in town tonight as the Rangers look to extend their winning streak to three games. Having already won two in a row and three of four, this Rangers club looks like one that is finally starting to click. On the other side of the coin, the Hurricanes have lost four in a row after a good start to the season. Losing...
NHL News

Delivered to your inbox

You'll also receive Yardbarker's daily Top 10, featuring the best sports stories from around the web. Customize your newsletter to get articles on your favorite sports and teams. And the best part? It's free!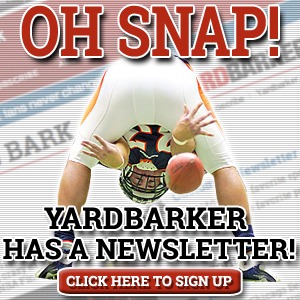 Latest Rumors
The Backyard

Today's Best Stuff

For Bloggers

Join the Yardbarker Network for more promotion, traffic, and money.

Company Info

Help

What is Yardbarker?

Yardbarker is the largest network of sports blogs and pro athlete blogs on the web. This site is the hub of the Yardbarker Network, where our editors and algorithms curate the best sports content from our network and beyond.