Found November 23, 2011 on Red Light District Hockey:

Coming into Monday night's game against the Phoenix Coyotes, Alex Ovechkin was in a funk. He hadn't had a point in four games, matching his longest drought, set in February 2007. Thankfully for the Capitals, in the third period Monday, he ended the streak by notching an assist on Nicklas Backstrom's goal. But opinions continue to run rampant that Ovechkin is playing some of the worst hockey of his career.

Despite the rumors, Ovechkin isn't exactly being a slouch. He's second on the Capitals in points at 15 (he leads the team in goals with 7), behind only Nicklas Backstrom (22 points), who is experiencing a renaissance after a lackluster 2010-11 campaign. He still is among the NHL's Top 20 shooters with 68 shots on goal.

However, Ovechkin has also missed 33 shots, 5th most in the league. Further adding to the rumors, Ovechkin is currently seeing the lowest ice time in his career, averaging 18:44 a game this season after spending his entire career averaging over 20 minutes per game.

But is he seeing less ice time because he isn't producing, or is he not producing because he's on the ice less?

As Capitals senior writer Mike Vogel points out, times have changed since Alex Ovechkin first came to the team in 2005. At that time, the argument could be made that Ovechkin was the most productive player on the team. But now, Ovechkin is surrounded by new talent, some with the capability to produce just as much as he can. In comparison, Ovechkin might be seen as slumping, but the team around him is spending their own increased ice time scoring.

For example, the Capitals' third line of Jason Chimera, Brooks Laich, and Joel Ward have been one of the most effective combinations in the line-up, responsible for 31 points in 19 games. Brooks Laich is averaging 18:43 this season, just one second less than Ovechkin. Laich's time on ice is higher than his linemates due to his role on the power play, but Joel Ward and Jason Chimera each hover around 14 minutes per game. Last season, a third-liner might be lucky to see 13 minutes in a game. Because the Capitals are rolling four lines that are capable of producing points, Ovechkin (and the rest of the top line) has been given less ice time so that others may have more.

Coach Bruce Boudreau has also looked to the Boston Bruins championship team for inspiration and has tried to equalize playing time among all lines. "If you look at the model of say, Boston winning the Cup last year, they used their fourth line an awful lot and their best lines very rarely played 20 minutes," Boudreau said.

Fellow first-liner Nicklas Backstrom has gotten behind Boudreau's shift length changes. "Last year, we used to have longer shifts but we can't do that anymore; it leads to mistakes," Backstrom said. "There's good energy in our team right now and that comes from when you have shorter shifts, you get everybody involved."

At the same time, Ovechkin's decline in production hasn't escaped the notice of Boudreau, who famously benched Ovechkin in the final minute of regulation against the Anaheim Ducks earlier this month. Instead, he sent Backstrom onto the ice to try to tie the game and send it into overtime. Backstrom did just that, leading the Caps to a 5-4 overtime victory by scoring the game-tying and game-winning goals.

Of the benching, Boudreau said, "I thought other guys were better than him and I thought there was just a chance that other guys might score the goal. I've got to put out the guys that I think are going to score the goal and 99 percent of the time Alex is the guy I think is going to score the goal. I just didn't think Alex was going to score the goal at that time tonight." But it is important to note that while Ovechkin was on the bench for Backstrom's game-tying goal, he was on the ice for -- and assisted -- Backstrom's game-winner.

Despite that incident, Boudreau appears to have every confidence that his captain will sort himself out soon, and Ovechkin's linemates have to help him shoulder some of the load. "Ask Ovie if there's anything wrong -- I don't think there is," Boudreau said. "When he touches the puck, there's five guys on him. They're not giving him a lot of room to breathe and when that happens, his linemates have got to come through and help him out a little bit."

Many are still left wondering what happened to the former scoring title champion, but Ovechkin now looks to the bigger picture. "Everybody always thinks I have to score 60 goals and have a ton of points," Ovechkin said. "We're not here to win the Art Ross, we're here to win the big thing. I do my best and I try to do what I have to do. I try to score goals ... and sometimes I just can't score."

Photo credit: Getty Images
Original Story:
http://www.rldhockey.net/2011/11/is-s...
THE BACKYARD
BEST OF MAXIM
RELATED ARTICLES
Defenseman Dmitry Orlov is making his NHL debut for the Washington Capitals tonight against the Phoenix Coyotes, and News From The Nosebleeds decided to commemorate the occasion … by doctoring up an Alex Ovechkin T-shirt. OK, so they needed the 'O' and the '8'. Still, the sight of this thing at a time when Alex Ovechkin is getting criticized for his lack of production...
ARLINGTON, Va. - Washington Capitals captain Alex Ovechkin will meet with Ellie Carney, 18, after the Capitals game against the New York Rangers at Verizon Center on Friday, Nov. 25. Ellie was born with Oral-Facial-Digital Syndrome Type 1 (OFD1) a...
from Mike Wise of the Washington Post, The Washington Capitals have mortgaged their strong start to the season with passion-less play over the past month, exemplified by Saturday night's listless effort in Toronto. The Caps have lost seven of their last 11 games, mixing in the occasional stand with mucho malaise, so naturally, all the tired cliché are being dragged out for Coach...
The Capitals aren't going to trade slumping winger Alex Ovechkin. If push game to shove, that franchise would hire a new coach while hoping to revive Ovechkin's formerly explosive game.But forward Alexander Semin is a different matter. He moved under the spotlight this week for all the wrong reasons. Beleaguered Washington coach Bruce Boudreau relegated him to the press box....
Since the locked out season of 2004-05, the NHL has been defined by two superstar players: Sidney Crosby and Alexander Ovechkin. This season could be the best the NHL has seen in a long time, especially ratings-wise, with the NBA locked out for the entire season. Yet, it seems like something has been missing in NHL play to date this season. And that something has been star power...
WASHINGTON — Alex Ovechkin broke a four-game pointless streak with an assist in Monday night's Washington Capitals win over Phoenix. Meanwhile, in Pittsburgh, Sidney Crosby closed to within 11 points of Ovechkin's season total over 19 games in just his first game of the season. Oversaturation of the Sidney vs. Ovi rivalry acknowledged, they remain inexorably linked on a...
ANALYSIS/OPINION For a team that dreams of cavorting with the Stanley Cup, the Washington Capitals sure have a lot of drama. First it's Alex Ovechkin being passed over for a power play. Then it's a four-game losing streak and a road trip that went from bad to worse to indefensible. ...
NHL News

Delivered to your inbox

You'll also receive Yardbarker's daily Top 10, featuring the best sports stories from around the web. Customize your newsletter to get articles on your favorite sports and teams. And the best part? It's free!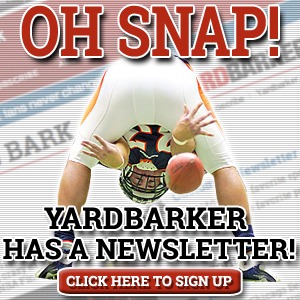 Latest Rumors
The Backyard

Today's Best Stuff

For Bloggers

Join the Yardbarker Network for more promotion, traffic, and money.

Company Info

Help

What is Yardbarker?

Yardbarker is the largest network of sports blogs and pro athlete blogs on the web. This site is the hub of the Yardbarker Network, where our editors and algorithms curate the best sports content from our network and beyond.