Found January 04, 2012 on Red Light District Hockey:

Times are tough for the Anaheim Ducks. Trade rumors seem to be swirling around their top players on a daily basis. The latest rumor involves captain Ryan Getzlaf. Is trading him the answer to get the Ducks back on track?

This season has been a trying one for GM Bob Murray and the Anaheim Ducks. After making the postseason on the back of MVP Corey Perry, the club has battled injuries, inconsistency and downright poor play. Their goaltending hasn't been there and neither has their defense. Worst of all, their offense has been atrocious – ranking 28th in the League.

Due to their scoring deficiency the Ducks are constantly looked at as a club in need of a facelift. Bobby Ryan was reportedly placed on the market in late November while the speculation over Teemu Selanne's destination is starting to grow legs.

Yet there may be another name on the market as we approach this year's February 27th trade deadline.

Last night, Jeff Miller of The OC County Register broached the subject of trading team captain Ryan Getzlaf. His arguments were many but mainly to shake up the core of Getzlaf's Anaheim Ducks.

While we agree that the Ducks needs a shake-up, trading away a captain, Olympic Gold Medalist and Stanley Cup winner is a bold move—one that is not frequently made in the salary cap era.

In the post-lockout era, only a few names with the caliber and pedigree of Getzlaf have hit the trading market. Even less players boast a résumé as long or as successful which is obviously a trait every GM in hockey covets.

Getzlaf currently caries a $5.325 million cap hit which is certainly reasonable for a player capable of centering your top line. But in Anaheim it represents a top-heavy detriment to the club that allocates roughly 53 percent of their cap space to seven players. Removing Getzlaf's burden would free up some space, as would the expected departures of Jason Blake and Teemu Selanne. But the Ducks would be remiss to get fair value.

The last time a marquee centerman was traded was this past offseason, when both Mike Richards and Jeff Carter were jettisoned from Philadelphia. Flyers GM Paul Holmgren was able to get fair value for both players mainly because of his timing – a period where teams take gambles in order to strengthen their position on opening night.

Contending teams are typically looking to add to their current roster and certainly not subtract a few young assets at this juncture in the season which makes the market for an all-world pivot not only likely exorbitant but also limited. As Miller noted in his column, the Ducks would need to find a suitor which is certainly easier said than done.

Furthermore, Getzlaf has been a gross underachiever this season which could put his trade value at an all-time low. His six goals and 25 points through 37 games projects for 55 games – his lowest totals since his rookie campaign.

Despite playing with Perry for his entire monumental run last season, Getzlaf hasn't helped the right wing fill the net this year. In addition, three-time 30-goal scorer has only 13 tallies at the 37-game mark. To say they have been ineffective is definitely an understatement.

But is trading the team's captain really the answer? The team definitely needs a change but gritty franchise centers with size don't necessarily grow on trees. Do the ends justify the means or would the Ducks be wise to avoid any panic moves until an inevitable shake up during the offseason.

These questions and more should continue to surround the team through the end of February.
Original Story:
http://www.rldhockey.net/2012/01/is-t...
THE BACKYARD
BEST OF MAXIM
RELATED ARTICLES
from Helene Elliott of the LA Times, Angered by his team's continued wretched play, Ducks General Manager Bob Murray said he's prepared to make dramatic changes and underscored his point by saying only Teemu Selanne and Saku Koivu are not available in trades. Both veteran forwards have no-trade clauses. But if Selanne were to ask to be traded to a Stanley Cup contender Murray...
The Ducks have reassigned left wing Jean-Francois Jacques to the Syracuse Crunch, Anaheim's primary development affiliate in the American Hockey League (AHL).   Jacques ...
Maybe it's a motivation technique. Maybe he really doesn't mean everyone save for two players are available. Or, perhaps, Anaheim Ducks GM Bob Murray has actually placed nearly his entire roster on the auction block this season. Helene Elliott of the LA Times spoke with Murray on Wednesday night ahead of the Ducks' game against the San Jose Sharks and gleaned the following...
ANAHEIM, Calif. (AP) -- Brad Winchester and Benn Ferriero scored 27 seconds apart in the second period, and the San Jose Sharks beat the Anaheim Ducks for the first time in four tries this season, 3-1 Wednesday night. Joe Pavelski also scored and Antti Niemi made 26 saves in his 13th consecutive start for the Sharks, who were inexplicably mastered in their first three meetings with...
The Ducks will hold S.C.O.R.E. Night on Sunday, January 8th at Honda Center, raising awareness for the award-winning Anaheim Ducks S.C.O.R.E. (Scholastic Curriculum of Recreation & Education), the primary program of the Anaheim Ducks Foundatio...
The internet is ABLAZE tonight with a MASSIVE TRADE rumor going around. The Ducks Get Mason Raymond, Cody Hodson, and Keith Ballard and a 3rd The Canucks Get Corey Perry When we know more we'll post it here or on the blog.
The latest edition of Off the Ice with host Steve Carroll will be at ESPN Zone Anaheim and aired on AM 830 tonight from 5 to 7 p.m.   Guests will include Ducks head coach Bruce Boudreau, forward Andrew Cogliano and defenseman Francoi...
(01-04) 21:36 PST Anaheim, Calif. (AP) -- Brad Winchester and Benn Ferriero scored 27 seconds apart in the second period, and the San Jose Sharks beat the Anaheim Ducks for the first time in four tries this season, 3-1...
SHARKS AT ANAHEIMFaceoff: 7 p.m. at Honda CenterTV/Radio: CSNCA, 98.5, 102.1, 92.1Ducks update: With Anaheim struggling, future Hall of Famer and former Shark RW Teemu Selanne is already being asked if he'd ask for a trade to a Stanley Cup contender in what is likely to be his final season in the
Hockey fans owe a debt of gratitude to Anaheim Ducks GM Bob Murray. Weeks before the trade deadline, his everything-must-go-but-not-you-Saku-or-Teemu stance ignited a cottage industry of speculation. On the venerable HF Boards, there's a thread dedicated to Ducks proposals that's crossing 30 pages this morning. Maybe we exhausted all the Bobby Ryan scenarios back in November...
NHL News

Delivered to your inbox

You'll also receive Yardbarker's daily Top 10, featuring the best sports stories from around the web. Customize your newsletter to get articles on your favorite sports and teams. And the best part? It's free!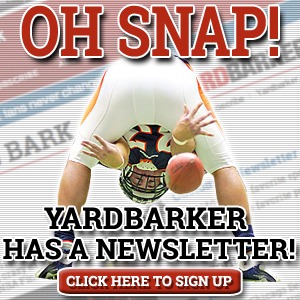 Latest Rumors
Best of Yardbarker

Today's Best Stuff

For Bloggers

Join the Yardbarker Network for more promotion, traffic, and money.

Company Info

Help

What is Yardbarker?

Yardbarker is the largest network of sports blogs and pro athlete blogs on the web. This site is the hub of the Yardbarker Network, where our editors and algorithms curate the best sports content from our network and beyond.