Found April 05, 2013 on Fox Sports Ohio:
Chapter TwoWhen last we left Dalton Prout, the Columbus Blue Jacketsrookie defenseman had jumped out of a cab into his first NHL game of theseason. You may remember the story. It was March 1st, and Prout hadreceived word hed been recalled by the Blue Jackets, who were about to play inChicago against the hottest team in the league.After his inbound plane went to the wrong gate at theairport in Hartford, CT, the trip became part panic, part anticipation forProut. Once he finally arrived inChicago, he had to cajole his way to the front of the taxi line, but the angstdidnt stop there. When the taxi pulledup to the United Center, the player entrance was blocked by two largeSUVs. While Prout was trying toconvince security he really was a player late for the game, Todd Richardscalled him. The head coach of the BlueJackets told the young d-man to get into the arena and forget paying for thecab or dragging his equipment with him; they were both being handled by theteam.Before the end of the first period, Prout finally joined theteam for that game in Chicago, playing nearly nine very composed minutes in anovertime loss.So, how has the plot turned since that eventful travel dayfor the native of Ontario? Its turnedinto one of the most compelling stories in the NHL, actually. In the 16 games following his 2013 debut inChicago, Prouts time on ice has more than doubled, to just over 18 minutes agame. Hes been an even- or plus- playerin 16 of his 17 games played this season, including a 4 in Calgary on March 29ththat set an all-time record for Blue Jackets rookies.Most importantly, in his 17 games with the team, Columbushas gone 11-2-4 with Dalton Prout patrolling the back line. Certainly, a ton of that credit goes to thegoaltending work of Sergei Bobrovsky and the teams collective effort ingeneral. But make no mistake: Prout has had a major impact on the BlueJackets since he arrived under such harried circumstances. And hes still trying to catch his breath.Its been a whirlwind the whole time, he admitted. I havent been able to catch my breath, butI finally feel a little bit settled in.Obviously, day by day, you feel a little bit more like part of the team,and the best part is the team has had success, so its been nice to be a partof.With a blend of toughness, hockey sense, strong skating, anda real commitment in his own zone, the former 6th-round pick of theBlue Jackets in the 2008 draft has quickly earned the trust of the Columbuscoaching staff. He plays heavy, criticalminutes for the team and has done that since his first few games. Was he surprised to be getting those types ofminutes so early in his second stint in the NHL?Yeah, the first time I was in that situation it was alittle bit surprising, but you have to take it in stride at the same time andrealize its still hockey, and I still have to do my job, he said. So the execution is the same as it is in thebeginning of the game. Every point ofthe game is important when Im out there.When asked the best way to earn a coachs trust, Prout saidit goes beyond performance on the ice.I think theres no one answer, one defining moment that youcan gain a coachs trust. I think itsdeveloped over time through many things, such as your play on the ice, yourcommunication off the ice, having the same perspectives on the game, being ableto manage the game at certain points. Incrucial situations, you want to have the same mindset as the coach, so he knowswhat hes going to get out of you when puts you out there.One of the reasons Prout has had such a positive impact inhis second go-round with the Blue Jackets is because he has managedexpectations for this call-up. Heskeeping everything simple.You know, honestly, one of the things I learned was to comeup here without expectations and just kind of go about your business as ahockey player. Do the things you thinkyou need to do to be successful, little things from preparing yourself tokeeping the same game that got you here.So, no expectations, but hard work.Between the success he enjoyed with Springfield earlier thisseason and the playoff race hes involved in now, its been a rewarding seasonfor the 23-year-old Prout.Its really fun.Ive been on both ends; Ive been on a rebuilding junior team and ajunior team that was ranked number one in the country, he said. When youve been on a rebuilding team youcan appreciate winning that much more.And the mood is just better.Everything comes just a little bit easier. Weve had some puck luck; weve had big goalsat critical times and great efforts. Itseems every night someone different steps up.At this moment, chapter threeof the Dalton Prout 2013 story is being written, by him and his teammates. If this group crosses the playoff line by theend of the season, this story could well be a bestseller.
Original Story:
http://www.foxsportsohio.com/nhl/colu...
THE BACKYARD
BEST OF MAXIM
RELATED ARTICLES
Gaborik artwork courtesy of reader Brittany Brubaker. Despite Marian Gaborik's 114 regular season goals in 3+ seasons with the Rangers, I feel Blueshirt fans never really warmed to the guy. When things went wrong he was always the whippng boy. As soon as his production would waiver, fans were quick to point out how he doesn't fit in Tortorella's system and he...
So it looks like the Marian Gaborik trade is paying off for both teams as a night after Derick Brassard and John Moore scored in their Rangers debut, Gaborik had the game winning goal and an assist in his frst game with the Blue Jackets... ...I said yesterday, don't be surprised if Gaborik re-discovers his scoring touch in Columbus. I mean, did you really think a player...
Marian Gaborik scored the go-ahead goal at 4:16 of the third period and added an assist in his debut Thursday night with Columbus, helping the Blue Jackets beat the Predators 3-1 for a rare win in Nashville. The Blue Jackets won for just the seventh time in Nashville and the second time this season in this series between Central Division rivals. Matt Calvert also had a goal and...
Start your complaining now - this is the recap at the moment: the Blues won over Columbus 3-1. I really don't have anything else to say (yet), because I haven't seen the game (yet) other than what's obvious by looking at the stat sheet and the standings - but I'm going to put a placeholder entry up here (especially since no one dropped $.02 in the GDT, so it&...
The St. Louis Blues and Columbus Blue Jackets each have managed to string together victories at the appropriate time. With both in the mix for a playoff spot in the crowded Western Conference and looking to continue their recent success, the Blues try for a third straight win over the visiting Blue Jackets on Friday night. Fourth-line winger Adam Cracknell scored his first two...
Photo courtesy of bluejackets.com By Tim Lucarelli (@tlucarelli) A few days before the trade deadline, the consensus was that most of the big fish had already been moved – Jay Bouwmeester, Ryane Clowe, Jaromir Jagr, Derek Roy, Jarome Iginla, and Brenden Morrow. But Columbus GM Jarmo Kekalainen – who had been relatively quiet since being named GM on February 13th – was ready...
One of the gutsiest trades made at the trade deadline, not just this year but in quite a few years, was the blockbuster swap between the New York Rangers and Columbus Blue Jackets that sent Marian Gaborik and two minor league defensemen to Columbus in exchange for center Derrick Brassard, right wing Derek Dorsett, defenseman John Moore and a sixth-round pick in the 2014 draft. ...
(Photo by: Frederick Breedon/Getty Images) The Nashville Predators started the post-Martin Erat era with a 3-1 loss to Central Division rival Columbus Blue Jackets. This win snapped allowed Columbus to record their first regulation win at Bridgestone Arena since 2006. It was quite the goaltending dual as Pekka Rinne and Sergei Bobrovsky were trying to one up each...
Five things from Thursday night's game… - Nashville and Columbus combined for 77 shots on goal, which is the highest total of any Predators game so far this season. The(More here)…
Photo Credit: AP Photo/Mark Humphrey It's been nearly seven years to the day since Columbus last left Nashville with a regulation win. That wait is over for the Blue Jackets and it comes on their last trip to the Music City as a member of the Central Division. Newly-acquired Marian Gaborik had a goal and an assist and goaltender Sergei Bobrovsky stopped 38 shots as the Columbus...
Blue Jackets News

Delivered to your inbox

You'll also receive Yardbarker's daily Top 10, featuring the best sports stories from around the web. Customize your newsletter to get articles on your favorite sports and teams. And the best part? It's free!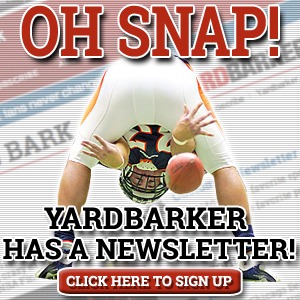 Latest Rumors
The Backyard

Today's Best Stuff

For Bloggers

Join the Yardbarker Network for more promotion, traffic, and money.

Company Info

Help

What is Yardbarker?

Yardbarker is the largest network of sports blogs and pro athlete blogs on the web. This site is the hub of the Yardbarker Network, where our editors and algorithms curate the best sports content from our network and beyond.