Found November 06, 2011 on Blackhawks Down Low:

"I've had hangovers pan out better than this ****..."

I had a bad feeling about this one. Hearing Duncs was still out, had read a lot of the trash talk in the Tribune earlier in the day and it felt like the Blackhawks were underestimating. I left my parents house this afternoon telling my mom that it was probably going to be bad and she should be glad they wouldn't be able to watch it. Sorry for the jinx y'all. As much as the dad's trip was a "fun time" and a "different experience", that longer than necessary road trip down to Florida came back to bite 'em. Also, talking trash is great, always fun to read and get a little fired up over... but come out and show something if you're going to do it.
The Blackhawks were lucky to be tied after the first period was completed. Penalties by both teams, but the Canucks were the only ones to cash in on the power play. This would be the beginning of a pattern. Tater's wrister from the left side was a minor misstep in Luongo's game tonight.
Second period started off with Kane in the box serving a roughing penalty (LOL) and Rome pots one for the Canucks second power play goal of the night. More of the same when Bickell got called for boarding and Daniel Sedin makes the game 3-1 just five minutes into the period. A couple of Canucks penalties come and go without much of anything from the Blackhawks (surprise, surprise). Carcillo gets in his first fight as a Blackhawk, if you would even really call it much of a fight. Ended a little too early for me. Freddy make's an acrobatic tip in from a Mayers shot to bring the Blackhawks within one. Canucks don't let that last long as 42 seconds later Hansen made it a 4-2 game. Another penalty, another PP goal for the Canucks and a Bieska/Mayers tussle close out the period.

The third period was a continuation of hot garbage and shooting themselves in the foot. Whatever happened with Carcillo is a little confusing to me as he was the one laying on the ice taking shots from Rome, but whatever. It happened, the Canucks didn't let up and the game ended in a 6-2 ass kicking.

Let's all take a minute to have a good chuckle about Kane getting a roughing penalty at the end of the first period.

Alright, enough with the chuckles...

If Patrick Kane is the one showing a little fight and grit for a snow shower on Crawford, the Blackhawks have bigger things to worry about. Maybe say... the power play?

Speaking of the power play, by the end of the night the Canucks had as many powerplay goals in one game as the Blackhawks have had ALL SEASON.

ALL.
SEASON.

The only power play the Canucks DIDN'T score on tonight was the tail end of Carcillo's hi-sticking penalty in the first period. Watch some tape boys, maybe learn a thing or two on how to score on the power play or at least how to DEFEND A DECENT POWER PLAY.

I don't have any good things and all bad things to say about the game so no bullet points tonight. Losses like this suck especially when they are against the Canucks. Teams have these type of games and hopefully with games against St. Louis, Columbus and Calgary this week the Blackhawks can return to form and maybe even get a power play goal or two (don't worry, I won't hold my breath).

I'm not going to be surprised if lines get shaken up. Toews needs someone on that first line, frustration is starting to show and he's a lot better than what his numbers are. The Kane - Hossa - Sharp line has been one of the best in the leauge for the past two weeks, but they couldn't get it to click tonight. It'll be interesting with just one day off between games to see what happens at practice.

October is over, November isn't getting any easier or relaxing. Time to put on your big kid pants and play like you know how.
Original Story:
http://www.blackhawksdl.com/2011-arti...
THE BACKYARD
BEST OF MAXIM
RELATED ARTICLES
Henrik Sedin had a goal and three assists and Vancouver converted five of six power plays to lift the Canucks to a 6-2 win over the Chicago Blackhawks on Sunday night. David Booth, Aaron Rome, Daniel Sedin and Dan Hamhuis each added power-play goals and Jannik Hansen had Vancouver's only even-strength score as the Canucks (7-7-1) handed the Blackhawks their first regulation...
Riley weighs in with the daily Vancouver Canucks Java. NHL team news for the die hard Nucks fans. Gossip and articles captured on the web for Monday. NWSportsBeat.com your source for all Vancouver Canucks hockey talk all the time, plus Canucks blog archives…
Henrik Sedin had a goal and three assists and Vancouver converted five of six power plays to lift the Canucks to a 6-2 win over the Blackhawks on Sunday night.
    A LOOK BACK........   It was probably the way the Vancouver Canucks demolished the Chicago Blackhawks via five power play goals that shocked people last night more than anything.  That 5-6 outburst pushed Vancouver to 2nd in the league at just over 26% success.  Also, Henrik Sedin had a goal and three assists plus Daniel Sedin chipped in a goal and two assists...
ST. LOUIS -- Patrick Kane's shift to center for the Chicago Blackhawks has made quite an impression on new St. Louis Blues coach Ken Hitchcock.
Henrik Sedin had a goal and three assists and Vancouver converted five of six power plays to lift the Canucks to a 6-2 win over the Chicago Blackhawks on Sunday night.
The Chicago Blackhawks hope to bounce back from a slugfest in Tampa Bay when they return home to take on the Vancouver Canucks this evening at the United Center.
If it wasn't already a foregone conclusion that the best rivalries are made in the playoffs, consider the animosity that exists between the Vancouver Canucks and Chicago Blackhawks, who have now met early in the postseason in three consecutive years. These two teams are not fond of one another, and their games are constantly among the best entertainment the NHL has to offer...
The Chicago Blackhawks will renew their rivalry with the Vancouver Canucks Sunday night but will do it without defenseman Duncan Keith.
NHL News

Delivered to your inbox

You'll also receive Yardbarker's daily Top 10, featuring the best sports stories from around the web. Customize your newsletter to get articles on your favorite sports and teams. And the best part? It's free!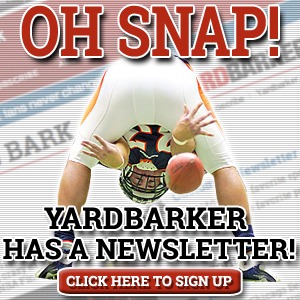 Latest Rumors
The Backyard

Today's Best Stuff

For Bloggers

Join the Yardbarker Network for more promotion, traffic, and money.

Company Info

Help

What is Yardbarker?

Yardbarker is the largest network of sports blogs and pro athlete blogs on the web. This site is the hub of the Yardbarker Network, where our editors and algorithms curate the best sports content from our network and beyond.