Found November 26, 2012 on Boston Sports Then & Now:
Jacobs Has Held Bruins Fans Hostage Far Too Long Being A Boston Bruins fan is a "Catch 22″. We are in a NO-WIN situation. We are HOSTAGES of Delaware North. By supporting the team I LOVE, I line the pockets of an owner that could CARE LESS about the fans… A "business man" that is leading the way to destroy a LEAGUE fueled by GREED & the LUST for ABSOLUTE POWER… A "man" that signs his players to contracts that he had NO INTENTION in honoring… We are EMPOWERING Jeremy Jacobs, we are SUPPORTING the HAVES instead of the HAVE NOTS. "More than ever, we know who we are, what's important to us and where we are going."- The quote above is taken from the website of the EVIL EMPIRE run by Jeremy Jacobs and this corporate jargon couldn't hit the nail more on the head. Jacobs & the NHL owners know who they are (GREEDY beyond words), what's important (money, ******** on the fans &  BREAKING the NHLPA) and where they are going (leading the NHL to Armageddon). I am SICK & TIRED supporting this TYRANT any longer. Rather than TERRORIZE & OBLITERATE his own hometown of Buffalo, which is the UNDISPUTED arm pit of the PLANET, he has to come to a HOCKEY TOWN and become the DICTATOR of our BELOVED Black & Gold. He is the POLAR OPPOSITE of Patriots Owner Bob Kraft.  Where Kraft SAVED a franchise and helped END a work stoppage, Jacobs BLEEDS Bruins fans DRY and continues to throw GAS on The NHL LOCKOUT INFERNO. Some fans may say Jacobs brought us the Stanley Cup in 2011…..WRONG! Tim Thomas, Zdeno Chara, Patrice Bergeron & head coach Claude Julien were INSTRUMENTAL in bringing Lord Stanley back to Boston….not the CZAR of Delaware North. How I wished that "Sea Bass" AKA Bruins President Cam Neely laid a THUNDEROUS body check on Jacobs during the Stanley Cup Parade after he said, "Neely brought us a Cup something he could not do as a player." How can any Bruins fan RESPECT an owner after he takes a shot at a player that gave up EVERYTHING for his team and the game he loved? This exactly why Jeremy Jacobs doesn't GET IT. He doesn't GET how players have the game of hockey ingrained in their DNA. He doesn't GET how the fans bleed BLACK & GOLD for their beloved Bruins. He doesn't GET that hockey is GREATEST game on the planet and not just a MONEY MAKING venture. And he won't be GETTING my money any longer. I REFUSE to be a hostage any more.
Original Story:
http://boston.sportsthenandnow.com/20...
THE BACKYARD
BEST OF MAXIM
RELATED ARTICLES
Marc Savard's playing career may or may not be over, but when Savard hangs up his stick for good, he might be ready to grab a clipboard. Savard tweeted last week that he thinks he's "very interested" in coaching hockey at a high level. While that might not exactly mean the NHL, Savard seems open to something in the Ontario Hockey League (OHL), which could always be a springboard...
  Fans are obviously upset about the ongoing NHL lockout. We all miss our teams, and would rather be at games than trying to watch players on grainy European feeds. Many fans have taken to protesting the lockout, and rather seriously, at that. Of course, these well-meaning protests have fallen on deaf ears, so why not have a little bit of fun with it?   The Bruins...
from Joe Haggerty of CSNNE, Winnipeg Jets representation at a recent NHL Board of Governors meeting piped up to say it was opposed to engaging in a long, bloody lockout sure to stymie their franchise's momentum and hurt the game of hockey. It wasn't Winnipeg owner Mark Chipman, but rather one of the alternate governors representing the Jets. Bruins Principal Owner...
21-year-old Phil Kessel was the offensive spark on the 2009 Bruins team won its first playoff series in ten years. On a Thanksgiving Sunday when the Patriots are basking in the glow of a blowout of the Jets, it's time to take a look at our hockey-starved landscape. And if we can't do it with the modern-day Bruins, then we'll break out the B's of lore—or at least recent...
In this social media age, NEWS and ODDITIES are all around you and at your fingertips. With a tap of your smartphone, you can find out what your favorite athlete or celeb is doing and thinking. Some things make you LAUGH YOUR ASS OFF, SCRATCH YOUR HEAD or SAY AWWW. The members of the Boston Bruins are no different, they are quite in tune with Twitter. In this edition, people really...
Bobby Carpenter may not have quite lived up to the potential that landed him on the cover of Sports Illustrated in 1981, but he did put together a serviceable 21-year career that included four seasons with the Boston Bruins. He also raised his daughter, Alex Carpenter, to be one heck of a hockey player, herself. Ranked as one of the top women's hockey players in the country, the...
The Bruins had already survived one Game 7 against the Canadiens in the first round of the 2011 playoffs. So as the B's prepared for a second winner-take-all game, this time against the Tampa Bay Lightning in the Eastern Conference finals, fans should have been prepared to strap in for another roller-coaster ride. If only it was that easy. The game between the Bruins and Lightning...
If I win POWERBALL….. My wife would KILL me, but I would buy my BELOVED Bruins and FIRE Jeremy Jacobs, The DICTATOR From Delaware North. I would then SAVE the NHL from GREED and let "Sea Bass"  Bring Lord Stanley BACK where he belongs! BRING ON THE RICHES B*TCHES!!
Bruins News

Delivered to your inbox

You'll also receive Yardbarker's daily Top 10, featuring the best sports stories from around the web. Customize your newsletter to get articles on your favorite sports and teams. And the best part? It's free!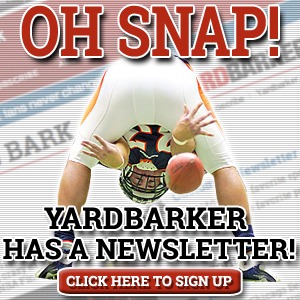 Latest Rumors
The Backyard

Today's Best Stuff

For Bloggers

Join the Yardbarker Network for more promotion, traffic, and money.

Company Info

Help

What is Yardbarker?

Yardbarker is the largest network of sports blogs and pro athlete blogs on the web. This site is the hub of the Yardbarker Network, where our editors and algorithms curate the best sports content from our network and beyond.