Found June 07, 2012 on Fox Sports West:
PLAYERS:
Dustin Penner
,
Ryan Carter
,
Marek Zidlicky
,
Dustin Brown
,
Dwight King
,
Adam Henrique
,
David Clarkson
,
Simon Gagne
,
Trevor Lewis
,
Martin Brodeur
,
Jarret Stoll
TEAMS:
Edmonton Oilers
,
Los Angeles Kings
,
New Jersey Devils
The Los Angeles Kings' 15-3 postseason record can't be deceiving, can it? For a team that has won all 10 of its road games and faltered at its chance to become the first team since the 1988 Edmonton Oilers to post a 16-2 playoff record en route to winning the Stanley Cup, the margin between winning and losing isn't as stark as their record indicates. Remember the 2001 Lakers? They went 15-1 through the playoffs, averaging a 14 point cushion per victory. Nine of their 15 wins were by at least 12 points. Even prior to Wednesday's game, the 2012 Kings were not the 2001 Lakers. Other than more comfortable Game 2s in St. Louis and Phoenix, and Game 3 against New Jersey, that razor thin victory line had often been established in the third period or overtime, as Games 1 and 2 of the Stanley Cup Final taught us. "I think it was a see saw battle and a matter of a coin flip," Dustin Penner said after Wednesday's 3-1 loss to the New Jersey Devils. In a bounces-influenced series that has had the capacity to offer so many different scenarios heading out of Game 4, Los Angeles has got to feel upbeat about its three-games-to-one lead, considering how even the play has been throughout the glut of this transcontinental affair. "Not a whole lot different," Peter DeBoer said of Game 4's cadence. "We found a way to get the first goal. We found a way to keep momentum. We didn't play any harder. I mean, I think the chances were relatively even again tonight, like they have been most of the games." The third period had been so kind to the Kings until Wednesday night. Prior to Game 4, L.A. had allowed one third period goal Ryan Carter's deflection off Marek Zidlicky's shot in Game 2 in the last nine games. Third periods had been where the Kings had surged past their opponents during a run which will be put on ice for at least three more days. Dustin Penner pouncing on a Jeff Carter-deflected puck in Game 1 of the Vancouver series allowed for Dustin Brown's and Dwight King's early third period tallies that lifted Los Angeles past Phoenix in Games 1 and 3. This time, it was the Devils who earned their bounces, as Patrick Elias crashed the net to backhand an odd angle rebound past Quick to open the scoring midway through the third before Adam Henrique's artistically corralled pass from David Clarkson was snapped far post past a sliding Quick for the game-winner. "It's one of those games where you just grind, grind, grind, and you've got to get a fortunate bounce here or there or make your own bounces," Penner said. "Tonight, we weren't on the fortunate side of that." It wasn't for the lack of an effort or chances. Los Angeles received several partial breakaways, one of which came on a well-placed saucer feed from Simon Gagne to a wide open Trevor Lewis, who pulled the puck around an extended Martin Brodeur poke check before he deposited the puck inches wide of the near post. Penner shot wide on a partial break, while Kopitar and Williams hit posts in a first period in which a Kings goal would have blown the roof off Staples Center. "We had some good chances to put the puck in the net," Jarret Stoll said. "We've just got to bear down when we get those chances, and make sure we capitalize, and on the other hand, be better in a couple areas our neutral zone, our gaps, stuff like that." It's an unfortunate Game 4 home pattern for Kings fans, who will gather around TV sets and at watch parties to cheer on their team to win a series on the road for the third time. At least this time, they'll likely have purged that stick-gripping tension from their system, ready to emerge victorious from another team's barn, as they have done perfectly this spring. "I think to an extent there was maybe a few butterflies," said Penner, who won a Stanley Cup with Anaheim five years ago Wednesday. "I think it's human nature in a situation where the guys that haven't been there before. But now we know." They also know that Game 5 will once again hang in the balance of one team being more opportunistic than the other, and that those bounces will have to be earned through 60 minutes of relentless work that have come to define their road efforts.
Original Story:
http://www.foxsportswest.com/06/07/12...
THE BACKYARD
BEST OF MAXIM
RELATED ARTICLES
HANDS-ON
Check out the video. KTLA-TV news reporter Allie Mac Kay spanked the NJ Devils mascot during a live morning news broadcast in Los Angeles. Mac Kay is a LA Kings fan and she really showed who's the boss by spanking the mascot's butt hard. "Allie pulled out her bedroom moves," joked co-anchor Chris Schauble.
The Los Angeles Kings contributed half of the $100,000 reward being offered Wednesday for information leading to the capture of the person who shot dead a one-year-old boy amid apparent gang warfare in the city. Kings governor Tim Leiweke, who confirmed the $50,000 contribution, said even the hysteria of potentially landing the Stanley Cup for the first time Wednesday night would...
So this is why the Los Angeles Kings have only made one Stanley Cup Final appearance in their history before this year, it turns the local media absolutely bonkers.  We've seen screengrab snafus, public address screwups with Wayne Gretzky, and even infographics made by the team to deal with their crazy local media.  Thankfully, the Los Angeles media continues to one up itself...
'BIGGEST FAN'
Comedian Adam Carolla visited his old pal on the "Jimmy Kimmel Live!" show last night dressed in full Los Angeles Kings gear— including pads, helmet and on rollerblades— to show support for his "favorite" team. Taking a jab at Los Angelelans— or whatever they're called— coming out of the woodwork during the Kings playoff run and hockey fever takes...
After 45 years of waiting, the Los Angeles Kings' quest for their first Stanley Cup title was last at least a few more days. The Kings had a chance to sweep New Jersey out of the Stanley Cup finals on Wednesday night, but they were done in by three third-period goals in a 3-1 loss to the Devils in Game 4. While the Kings are an amazing 15-3 in this remarkable postseason run...
Kings fans deserve the Stanley Cup just for their heckling. As I wrote a few weeks ago, it was very easy for NHL experts and analysts to label the Los Angeles Kings a Cinderella story because of how bad they sucked early on in the season. They were bad enough to get their coach fired and they were bad enough early on that it took a hell of a late season run to avoid missing the playoffs...
While the Los Angeles Kings are poised to win their first Stanley Cup tonight, one passionate hockey man will unfortunately not be able to watch "Doc" Emrick call the game as Fran Rubert, the founder and managing editor of "Center Ice Magazine", lost his valiant battle with cancer on Tuesday. A long time fixture of the Philadelphia hockey community, Fran was just...
All the video highlights of the 2012 NHL Playoffs.
By: Mike Luciano (@MikeLuci) My good friend Michael Stuart is the founder of the hockey website www.betweenthebenches.com and is a revered Los Angeles Kings fan that provides some of the best coverage on not just the Kings but on the ongoing events of the hockey world in general. Writing for different hockey websites, Mike and I have decided to team up for the Stanley Cup Finals...
Can you think of one aspect in which the Los Angeles Kings are not completely dominating the New Jersey Devils? You already know that the Kings are up 3-0 and will most likely capture the Stanley Cup tonight for the first time in their franchise history. The Kings have the best twitter account in sports (its shockingly hilarious for a team-owned account), they have the hottest...
*stats based on playoffs. Match-up - Devils (12-9) @ Kings (15-2) Road/Home records*- 6-5 -------------- 5-2 TV - NBCSN (HD), CBC (HD), RDS (HD) Puck drop - 8:00 PM ET Series score - Kings lead 3-0 Projected starting goalies - Martin Brodeur (NJ) vs. Jonathan Quick (LA) Battle of the stats Goals for/against per game * Los Angeles - 2.88 / 1.41 New Jersey - 2.52...
Only three NHL teams have rallied from a 3-0 deficit to win a playoff series, and just one -- the 1942 Toronto Maple Leafs -- did it in the Stanley Cup finals. So the New Jersey Devils will either make history, or soon be history. With a 4-0 loss to the Los Angeles Kings in Game 3 of the finals on Monday night, the Devils were pushed to the brink of elimination after a 102-point...
NHL News

Delivered to your inbox

You'll also receive Yardbarker's daily Top 10, featuring the best sports stories from around the web. Customize your newsletter to get articles on your favorite sports and teams. And the best part? It's free!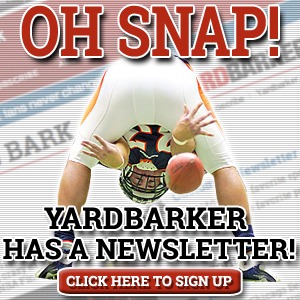 Latest Rumors
The Backyard

Today's Best Stuff

For Bloggers

Join the Yardbarker Network for more promotion, traffic, and money.

Company Info

Help

What is Yardbarker?

Yardbarker is the largest network of sports blogs and pro athlete blogs on the web. This site is the hub of the Yardbarker Network, where our editors and algorithms curate the best sports content from our network and beyond.