Found March 19, 2013 on The Royal Half:
It's been a few weeks since Brigitte from One Girl, One Puck has taken an in-depth look at the Los Angeles Kings opponent for that night's game... in something we like to call "Know Your Opponent." Tonight is an extra special game for Brigitte and she felt compelled to share it with us.  Click Here to Read the Know Your Opponent for for the Kings vs Vancouver Canucks on March 3rd, 2013!!! Tonight marks the first time my best friend and I will be attending a hockey game together, and I feel like that should warrant a special Know Your Opponent. I've been trying to convert her into a hockey fan since elementary school, but I'm pretty sure that's never going to happen. It's fine, but I feel like I should at least semi-inform her of what to expect at the game tonight. I don't really want to dumb anything down, because she has a basic understanding of hockey, but how do I explain the Phoenix Coyotes to someone who has little to no knowledge about them? That's when I began to remember something that teachers used to make us do. They would ask us to explain something to someone as if it was their first day on earth. It's a really ******* stupid assignment because they wouldn't even speak English, so what the **** am I supposed to do? Anyway, they would ask you something like "I'm an alien and this is my first day on earth. I have no idea what the French Revolution is, explain it to me. Remember I don't know what anything is." OK first off, who the **** cares about the French Revolution? Plus, why the **** do these aliens want to know about this ****? Like I said, the assignment was ******* idiotic, but I thought the basis was good for explaining the Coyotes to my best friend. So without further dumb stories and rants, here's the conversation where I explain the Phoenix Coyotes to my best friend (who will be referred to as My Best Lady Friend) Me: "So I figured since we're going to the game I would explain some stuff about the other team to you." My Best Lady Friend: "OK cool. Who are the Kings playing?" Me: "They're playing the Phoenix Coyotes." My Best Lady Friend: "Oh cool. Well I'm assuming they play in Phoenix." Me: "Well technically they play in Glendale, Arizona" My Best Lady Friend: "That's weird. Why?" Me: "Yea I think they thought people would move there, then the reccession happened and now it's just dirt and cactus and ****. Now they can't really fill the arena and they might move. **** happens, we all make mistakes." My Best Lady Friend: "That sucks, but whatever. What else should I know." Me: "Here's their uniform."   Me: "This is the one they'll be wearing for the game, because the road team wears white. They're colors are a dark red, and off-white. They also have a howling coyote on the front." My Best Lady Friend: "Coyotes don't howl though, do they?" Me: "No. No they don't. They also use The Black Keys "Howlin for You" as their goal song, and have a wolf howl that plays like 500 times when they score or go on the powerplay or win" My Best Lady Friend: "That's really stupid. I mean who thought of that?" Me: "I don't know. I don't think a lot of thought goes into what happens there." My Best lady Friend: "Yea this whole team is kind of confusing already." Me: "Yea maybe I just started with some weird stuff, let's move onto the players. First there's the captain Shane Doan. My Best Lady Friend: "Is he good?" Me: "Well kind of. It took him over 1000 games to get a hat trick, and he's not really a huge scorer. He's not terrible though. He's also kind of a dirty player, but no one says anything because he's the captain and people like him." My Best Lady Friend: "OK....does he hurt people?" Me: "Yea he's been suspended a few times, and he'll cheap shot people sometimes." My Best Lady Friend: "That makes zero sense to me, why would people still like that guy? I thought this was going to get less confusing." Me: "Yea sorry, this is more confusing than I thought. Now that I'm actually saying this stuff out loud and trying to explain it, it doesn't really make sense. OK let's just move onto another player. One of their top defensemen is Keith Yandle. Here's a picture of him conversing with some small children." My Best Lady Friend: "Awww that's cute. His name is pretty funny though. Yandle...haha. It's like yoddle or like Gretel haha that's pretty funny." Me: "Haha yea I didn't even think about that. It's even funnier because there's a guy on the team with the name Hanzal." My Best Lady Friend: "NO ******* WAY! HAHA that's amazing!" Me: "Yep check it out!" My Best Lady Friend: "Haha that is great, how embarrassing. What are they looking at in that picture?" Me: "Well speaking of embarrassing, that's a Pacific Division Champions banner that they raised during a pre-game ceremony" My Best Lady Friend: "Is winning the division a big deal or something?" Me: "Not really, no." My Best Lady Friend: "Wow, that is sad. Is the owner really into celebrating stuff or something?" Me: "They're actually owned by the league. They can't really find an owner because they're losing money and no one shows up to games." My Best Lady Friend: "So they just raised a banner in front of an empty arena? That might be the saddest thing I've heard in a while. I kind of feel bad for them." Me: "Yea they're kind of depressing actually. There are some bright spots though! Like...they....ummm....they have some attractive players!" My Best Lady Friend: "Oh really......tell me more." Me: "Ok so they have this one player, David Rundblad, who I'm convinced is in a boy band. JUST LOOK AT THESE PICTURES AND TELL ME HE'S NOT IN A BOYBAND!"   My Best Lady Friend: "That guys is in One Direction, I'm sorry it's true. Wow. He's like perfect, he's definitely European or something right?" Me: "Yea he's Swedish, or course" My Best Lady Friend: "All the good ones are. Any other cute ones?" Me: "Oh yea! Mikkel Boedker and Oliver Ekman-Larsson are the cutest! These two might just be the cutest two little buddies in the league. Like adorable fluffy puppies playing together cute! JUST LOOK!!!!"   My Best Lady Friend: "Awww they're so cute! They're even plane buddies!" Me: "I KNOW!" Both of us in unison: Me: "Seriously I know it's the cutest! Boedker even writes a blog for the Coyotes website where he talked about missing Oliver because they don't have roommates anymore! IT'S JUST SO FREAKING CUTE! Every time I read one of the blogs I just can't. He's just the cutest thing ever. Look at that face!"   My Best Lady Friend: "Wow he's like really cute. Like 'Hey baby what's up?' cute." Me: "Oh I know! His butt is un-*******-real by the way! Check that **** out!" My Best Lady Friend: "HOLY ******* ****, OMG LOOK AT THAT OMG YESSS! That thing like defies gravity! It's too bad that bag is in the way!" Me: "I KNOW! I NEARLY DIED WHEN I FIRST FOUND THIS PICTURE!" My Best Lady Friend: "I think I need a minute....wow. Seriously I get it now. I get why you're so into this. I know you like hockey, but OMG LOOK AT THESE GUYS!" Me: "I know, this is my life. I mean I watch like a billion games, but the ridiculous butts and abs are a huge bonus." My Best Lady Friend: "Wow, OK so I think I actually learned something. So the Coyotes don't make any sense and no one likes them, but some of the players are really cute and have nice asses." Me: "Yep, I couldn't have worded it better myself. Bravo." I think I may have converted another super awesome girl into a hockey fan! I actually may have just turned her into a Mikkel Boedker's ass fan, but whatever I'll take it! Anything that gets my BFF into watching hockey is cool with me. So, tonight is ladies night at the Kings game, which means Jeff Carter will get a hat trick and get us all pregnant, or Mikkel Boedker gets naked. I'll take both too, that's cool. P.S.--If you see a blonde girl licking the glass at Boeds during the game, that's my friend, and you should return her to me. Thanks! See you guys at the game!
Original Story:
http://www.theroyalhalf.com/2013-arti...
THE BACKYARD
BEST OF MAXIM
RELATED ARTICLES
Radim Vrbata has been skating a lot since he suffered a cracked bone in his foot Feb. 16 against Columbus. The idea was to test the foot continually to see what it could take, but the approach wasn't working, so Vrbata took a different tack last week. "I took a couple days off not skating," he said Tuesday night in Los Angeles. "And once I got back it was a totally...
Shane Doan had a night to remember when the Phoenix Coyotes took on the LA Kings on Tuesday night. Despite the fact the Coyotes dropped the contest by a score of 3-2, Doan was easily the most impressive player on the ice.  Just how impressive was Doan's performance? We'll let his stats do the talking. Doan scored both of Phoenix's two goals and was a +1 on the night...
LOS ANGELES No offense, but this is getting offensive just not the right kind of offensive. By now you know the particulars. The Coyotes were shut out for the third straight road game in Monday's 4-0 loss to the Kings, bringing their scoreless streak to 194 minutes and five seconds: the third longest streak in franchise history according to the Elias Sports Bureau. Sure,...
The Phoenix Coyotes are resembling Wile E. Coyote more and more with each passing day. Shane Doan and company seem to be using Acme hockey sticks as they were shutout for a third straight game. This time it was Johnathan Quick who blanked the Coyotes 4-0 and made 27 saves in the win. SPIN: Phoenix has been dealing with an epic lack of offense. See the Stat of the Night below for...
NHL general manager spent Wednesday talking about everything from embellishment and goalie equipment to trying to maintain the integrity of faceoffs. Mathieu Schneider of the National Hockey League Players' Association was part of a larger group discussion with the GMs at the NHL offices. On the issue of visors, Schneider said the union will be talking to players later this...
A return home might be what the Phoenix Coyotes need to consistently generate some offense and end their longest skid of the season. The Coyotes look to avoid a fifth straight loss while trying for a fourth consecutive victory over the Vancouver Canucks on Thursday night. Phoenix (13-13-4) ended its franchise-record three-game stretch without a goal, but concluded an 0-3-1 trip...
First... read our GAMEDAY PREVIEW for tonight's Pacific Division battle with the Phoenix Coyotes in which we discuss the possible uniform changes coming for the Coyotes next season. You can read it exclusively at LA Kings.com. This will make more sense when you read the recent Gameday Preview. Then... The Royal Half mentioned on the Fox Sports West Kings Live pre...
NHL News

Delivered to your inbox

You'll also receive Yardbarker's daily Top 10, featuring the best sports stories from around the web. Customize your newsletter to get articles on your favorite sports and teams. And the best part? It's free!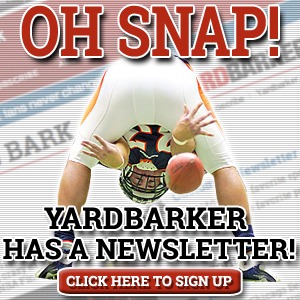 Latest Rumors
Best of Yardbarker

Today's Best Stuff

For Bloggers

Join the Yardbarker Network for more promotion, traffic, and money.

Company Info

Help

What is Yardbarker?

Yardbarker is the largest network of sports blogs and pro athlete blogs on the web. This site is the hub of the Yardbarker Network, where our editors and algorithms curate the best sports content from our network and beyond.