Found April 27, 2013 on The Royal Half:
It's the last game of the 2013 NHL Regular Season! And Brigitte from One Girl, One Puck is back with an all-San Jose Sharks edition of her demented look at the LA Kings opponent for tonight's game... something we like to call "Know Your Opponent!" Brigitte is the 4th best blogger I know... so it's fitting that she is blogging about tonight's Battle for the 4th Seed. (Offer Not Valid with a St. Louis Blues Win). Take it away, Brigitte... *THE FOLLOWING BELOW IS NOT WRITTEN BY THE ROYAL HALF, BUT RATHER A GUEST WRITER* The San Jose Sharks, oh what can I say?  Should I talk about the way they play?  Why talk about that anyway,  When all they want is to read all day.   Oh Joe! Oh Joe! Tell us of the books you read.  "Sure" he says with buck-toothed gleed "This is one about my team!" he said "I read it every night in bed".   Click Here to Read the Know Your Opponent for for the Kings vs San Jose Sharks on April 27th, 2013!!! Joe opened the book with joys and larks Determined to tell us about the Sharks. "Thing 1 and Thing 2 they are the same, The ones we rely on every game. Sadly they suck ass quite often Which is why our offense tends to soften."     "Next there is Brent who looks quite scary But don't worry he's just hairy.  Taken from the land of stopping pucks Now he scores goals and gives zero *****." "Then there's Jason he's kind of bad But the guys call him Pop, Daddy, or Dad. I'm not sure if it's sexual or not But on this team he's considered hot." "Next is the man who steers the boat The one who keeps this team a float. Without his crazy magic tricks This team would just be a bunch of pricks."   "Last and certainly least there is the Grinch The one who steals joy in a pinch. He's an asshole and a huge dick His personality is enough to make you sick. Why he's on the team we do not know Other than to replace noted asshat Ryane Clowe"  So now you've heard the story from Joe About his team and why they blow.... But what's that book in the corner there? The one that's hidden behind the chair? "No!" Joe screamed with terror and fear "Don't read that book when Mr. Brown is near!" Mr. Brown I asked, well who is that? "He's an evil man who makes people go splat!" Well, I don't see him any where here I think you can read the book without fear. I cracked open the book to see what was the big deal "No! Mr. Brown is a monster!" Joe said with a squeal.    "You see Mr. Brown he is so mean He hits people hard and no way it's clean! Good thing he's not playing tonight or I'd cry Because Mr. Brown is too scary a guy!" I'm so sorry Joe if Mr. Brown hit you But all is hear is crying, A-Bloo! A-Bloo! Maybe Mr. Brown isn't always so nice But he can kick your team's ass on the ice! Well this concludes our lovely story About the Sharks and all their glory. While Joe and the Sharks go cry en masse The Kings will be sure to kick their sorry ass!  
Original Story:
http://www.theroyalhalf.com/2013-arti...
THE BACKYARD
BEST OF MAXIM
RELATED ARTICLES
San Jose Sharks announcer Randy Hahn received a puzzling letter in the mail from a rental car company in Edmonton. Hahn had recently rented a car from the company while the Sharks were visiting the Edmonton Oilers, but he wasn't sure why they were contacting him after his trip. As it turns out, Hahn was driving a bit too fast on Wayne Gretzky Drive in Alberta and was caught speeding...
THAT'S THE TICKET
(image via flickr) It should come as no surprise that there is a stretch of freeway named after Wayne Gretzky in Edmonton, Alberta. The Great One spent the first ten years of his unparalleled career as a member of the Edmonton Oilers, winning four Stanley Cups, before he was traded to the Los Angeles Kings. Fittingly, Gretzky remained a worshiped icon after he left town. So much...
The San Jose Sharks finish their 48 game shortened season Saturday night in LA against the Kings and there is plenty riding on the last two days of the NHL regular season. The Sharks have fared well this season against their instate rivals going 2-1 with both wins coming at home and their only loss in LA. Two of the three games have been very entertaining and close with the only...
Self-explanatory; the winner goes to the #5 seed and plays the Blues, the loser goes to the #6 seed and plays the Canucks. Per the NBCSN broadcast, Martin Havlat is a late scratch for the Sharks. Otherwise, no surprises on either side. Blues fan, Kings fan, Sharks fan, ... whoever, feel free to jump in to the comments if interested - and if your team is playing on the West...
The San Jose Sharks fell 2-1 in the desert against the Phoenix Coyotes last night, and after the emotional win and clinching of a playoff berth the night before I don't think anyone is surprised. The Sharks played hard in the third and put in a valiant effort attempting to comeback for the second night in a row, but it wasn't in the cards. They were down 2-0 until a...
Saturday night's regular-season finale at Staples Center may not be the final meeting between the Los Angeles Kings and San Jose Sharks depending on certain postseason scenarios. San Jose, winner of four of the last five meetings, may not be opposed to that. Each team's Western Conference playoff fate is contingent upon how St. Louis fares in its final game with NHL-best...
NHL News

Delivered to your inbox

You'll also receive Yardbarker's daily Top 10, featuring the best sports stories from around the web. Customize your newsletter to get articles on your favorite sports and teams. And the best part? It's free!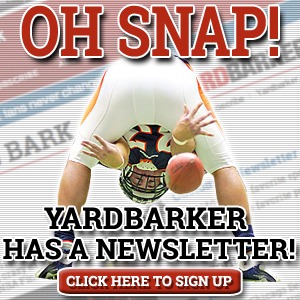 Latest Rumors
The Backyard

Today's Best Stuff

For Bloggers

Join the Yardbarker Network for more promotion, traffic, and money.

Company Info

Help

What is Yardbarker?

Yardbarker is the largest network of sports blogs and pro athlete blogs on the web. This site is the hub of the Yardbarker Network, where our editors and algorithms curate the best sports content from our network and beyond.