Found March 05, 2013 on Fox Sports North:
ST. PAUL, Minn. The scars that line his face still resemble some of the nearly 600 stitches he's endured in his career. "Baker's dozen" is the way he describes how many times he's broken his nose. He jokes that he has "rugged good looks rather than good looks." The number of stitches which he says total 580 are points of pride for Zenon Konopka. "It adds character, so I've got a lot of character on my face," the Minnesota Wild enforcer says. Character is the perfect way to describe Konopka. He embraces his role as bodyguard on the ice, cherishing the opportunity to protect teammates. It's who Konopka really is. Between the boards, he's a menacing 6-foot, 213-pound willing fighter. Off the ice, he enjoys hanging out with teammates, cracks jokes and has a softer side. There are two contrasting personas wrapped into one Konopka, whom the Wild added last summer to provide toughness and some skill in the face-off circle. "On the ice, he's so in the game," said rookie defenseman Jonas Brodin, whom Konopka has been pushing, via Twitter, for the league's Rookie of the Year, even joking that he wants to adopt Brodin. "When you come off the ice, you have to have fun, too. He's a really funny guy, and he's a good guy to have in the locker room." Wild forward Mike Rupp, who is a physical player as well, believes it comes with territory. The toughest guys on the ice are sometimes the most gentle off it. "Most of the physical players, I feel like, are some of the nicer guys on the team," Rupp said. "It's a humbling job to do. You learn to adapt and do what's needed, the little things that aren't always noticed. I think that just kind of creates, I don't want to say a giving person, but a person that just wants to help in any way they can. So, when you have a teammate there for you off the ice, too, it's always a good thing. It always seems like those are the kinds of guys." In 266 NHL games, Konopka has 11 goals and 16 assists. Meanwhile, he's totaled 936 penalty minutes. He says he's taken two slap shots, from teammates, off his face. During his first game with Minnesota, Konopka suffered a cut on the bridge of his nose that required 30 stiches. It wasn't a fight that caused the cut, though he did have his first Wild fight earlier in the game. The cut, which actually needed two layers of stitches to close because it was so deep, was the result of a high stick. Three nights later he was fighting again. "You can't change the way you play," Konopka said. "It probably sounds a little crazy to some people, but if it opens up, you stitch it again. I've had cuts last close to two months because you keep playing a hard way and it keeps coming open. They can do amazing things with stitches now. They really can. From 11 years ago to now, it's come a long way, with stitches. There were some stitches I got 11 years ago that looked like a jigsaw puzzle. Now they're pretty good and the scars aren't as bad." But there's more to Konopka than what fans and opponents see on the ice. Follow Konopka on Twitter (@ZenonKonopka) and you start to see the other side of his personality. Aside from his bursts about adopting Brodin, Konopka tweets pictures of appearances around town. He tweets often about the wine label he started, ZK28. And then there are the pictures of his roommate -- the bruising Konopka's best friend is a black, furry rabbit named Hoppy. Hoppy and Konopka have been roommates for almost seven years. Hoppy has traveled with Konopka through his many hockey stops, from Columbus to Syracuse, New York to Tampa Bay, then to New York, Ottawa and now Minnesota. Konopka says he never wanted a rabbit. A friend introduced the two, believing Hoppy would be the right house-guest for Konopka, who is allergic to cats and dogs. Konopka says "it ended up at my house." The match was perfect. "I can't help that I fell in love with the little guy," Konopka said. "It wasn't a priority of getting a rabbit or thought that I wanted a rabbit growing up or as a kid or anything. But, the guy's pretty cool. He just chills around, has his litter box, does his business there and he's pretty soothing to come home to." In other words, the perfect antidote for a tough day at the office. It wasn't always easy for Konopka, 32, to leave his aggression on the ice. "I think a few years ago I kind of changed," Konopka said. "I left it on the ice. I used to take it home with me. If we lost or something went wrong with the team, I would be a miserable guy until we ratified that. Now, you realize that life's too short and positive energy is a good thing." Now, off the ice, Konopka is a beacon of positivity. He's always smiling and having fun even when he's a healthy scratch for games as he has been recently. He wants to be on the ice helping his teammates, but he's had to settle for keeping things light in the locker room, a role that he excels at -- and one that comes with fewer stitches. Not that Konopka minds a few stitches. Follow Brian Hall on Twitter.
Original Story:
http://www.foxsportsnorth.com/03/05/1...
THE BACKYARD
BEST OF MAXIM
RELATED ARTICLES
ST. PAUL, Minn. Every trip the Minnesota Wild make to play a Northwest Division road game, they change time zones. Traveling to the Mountain Time zone for games at Colorado, Edmonton and Calgary or going with the two-hour switch in the Pacific Time zone in Vancouver, Minnesota's players are well accustomed to changing their wrist watches. Their watches could get a break if...
In the NHL as in life, a bad bounce can mean good fortune for someone else and during Sunday night's Edmonton Oilers/Minnesota Wild affair, a third period Edmonton goal came courtesy of an unlucky play. Here's how the play went down: Minnesota captain Mikko Koivu was trying to clear the puck and in the process, the puck deflected off the skate of Oilers forward Sam Gagne...
TUESDAY'S STORYLINES: The Minnesota Wild know the challenge at hand tonight at the Madhouse on Madison. Minnesota is trying to put a halt to Chicago's impressive 22-game point streak, the longest streak to start an NHL season. Chicago has yet to lose in regulation. They do have three shootout losses, with one of those coming at the hands the Wild on January 30th, the Blackhawks...
While in Nashville, Ryan Suter was known as "Robin" to Shea Weber, "Batman". However, on July 4th, Ryan Suter "betrayed" the Nashville Predators' organization and left General Manager David Poile hanging.  Now, Suter returns to Smashville in front of a Saturday night sold crowd, which has been called as loud as the Roman Coliseum by Ken Hitchcock...
Follow me @jaeckel Minnesota Wild @ Chicago Blackhawks 7:30PM Central United Center, Chicago FS-North/FS-WI/CSN-CH/WGN Radio THE BUZZ The Streak. That is the buzz. The Hawks have gone unbeaten in regulation—with at least one point—in the first 22 games this season. The Wild come to the UC tonight to try to break it. It's really that simple. ...
Minnesota Wild (11-8-2)  24pts  2nd in the Northwest 2.24 Goals For (26th) 2.38 Goals Against (7th) 14.5% Power Play (23rd) 86.2% Penalty Kill (5th) Top 5 Scorers: 1. #9 Mikko Koivu ~ 4G 13A = 17pts 2. #11 Zach Parise ~ 8G 7A = 15pts 3. #20 Ryan Suter ~ 0G 14A = 14pts 4. #15 Dany Heatley ~ 8G 4A = 12pts 5. #7 Matt Cullen ~ 3G 9A = 12pts ...
from Michael Russo of the StarTribune, With the April 3 trade deadline four weeks away, Wild General Manager Chuck Fletcher is monitoring other teams while also working internally to determine whether he will try to sign any of his potential unrestricted or restricted free agents to extensions. If unsigned, Matt Cullen, Niklas Backstrom and Pierre-Marc Bouchard can become...
Hey gang. Hopefully you are all driving safe out there. The little guy is both ready for the NFL season and in possession of a charming little accent. This is an issue with the conference tournament/NCAA tournament structure. Batman was sighted in England. SCOREBOARD NHL Minnesota 4, Edmonton 2 – A big home win for the Wild who also somehow scored 4 goals with Zach Parise scoring no goals.
Wild News

Delivered to your inbox

You'll also receive Yardbarker's daily Top 10, featuring the best sports stories from around the web. Customize your newsletter to get articles on your favorite sports and teams. And the best part? It's free!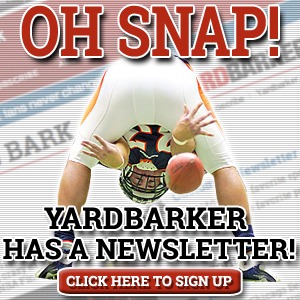 Latest Rumors
The Backyard

Today's Best Stuff

For Bloggers

Join the Yardbarker Network for more promotion, traffic, and money.

Company Info

Help

What is Yardbarker?

Yardbarker is the largest network of sports blogs and pro athlete blogs on the web. This site is the hub of the Yardbarker Network, where our editors and algorithms curate the best sports content from our network and beyond.