Found July 10, 2012 on Fox Sports Arizona:
PLAYERS:
Shane Doan
,
Don Maloney
,
Ray Whitney
,
Keith Yandle
,
Dave Tippett
,
Zbynek Michalek
,
Matthew Lombardi
,
Ilya Bryzgalov
TEAMS:
Phoenix Coyotes
,
Dallas Stars
,
Toronto Maple Leafs
,
Philadelphia Flyers
,
San Jose Sharks
The Coyotes chances of re-signing free agent Shane Doan are dwindling. I would say if we dont have an answer by (July) the 16th it may be time to gets serious about listening to other teams offers, Doans agent, Terry Bross said Tuesday. The date coincides with the date Glendale residents Joe Cobb and Ken Jones intend to turn in a petition in hopes of getting a referendum on the November ballot regarding Glendales lease agreement with former San Jose Sharks CEO and prospective Phoenix Coyotes owner Greg Jamison. Glendale officials had set a July 9 deadline for the petition, which Cobb and Jones did not meet, arguing that they should have had 30 days from the date paperwork was made available. That disagreement will likely lead to legal wrangling once the group turns in the petition. That could spell doom for the Coyotes efforts to keep the only player who has been with the club since it arrived in the Valley in 1996. If its going to turn into legal wrangling, then I would say it might be time to move on, Bross said. If it wasnt already crystal clear, it should be now that Doans first, second and third preferences are to remain in Phoenix. He and his family love the Valley and, for a change, that is not your typical athlete hyperbole. But just as important is Doans sense of loyalty and commitment to the franchise. Unlike the majority of athletes, he takes responsibility for this organization, Bross said. Dont think its lost on him that its going to have an impact in more ways than on the ice if he leaves. Thats why were dragging our feet on this. Doan and Bross can only drag so long. Theres the practical reality of needing to uproot the family, find a new home and new schools for the kids before training camp begins in September. Then there are the needs of other clubs to consider. Bross said he has about 16 teams that want to make an offer or at least want to know if they should make an offer. Those teams wont wait much longer before moving on because. As Edmonton assistant general manager Rick Olczyk put it: The musics going to stop, and teams will be left without a chair. Bross is aware of that pressure. They would like to have had it done last week, but Im not going to impose a deadline on Shane, Bross said. Its his market. Hes the free agent. If theyre serious suitors and want his services for all the right reasons, theyll respect that he has unfinished business at home. Bross did say that Doan will not accept a one-year offer, but that is no great revelation. Doan figured to get multi-year offers in free agency anyway, and Coyotes GM Don Maloney has said all along that the club is prepared to offer Doan a multi-year deal. Doan was due to meet with Jamison on Tuesday to get an update, but there wont be anything definitive because of the ongoing petition efforts. We thought yesterday we would have closure, Bross said. Now its hurry up and wait again. The irony in Cobb and Jones petition effort is that stalling this process may ultimately cost the City of Glendale even more money and, in turn, cost its citizens. Without Doan, the Coyotes will be an entirely different team. Theyll lose their rudder on the ice and, perhaps more importantly, in the locker room, where Doans calming and comedic presence sets the tone for this club. The Coyotes need to make a trade to acquire scoring following the loss of free agent Ray Whitney off a team that struggled offensively last season. But if Doan leaves, they will also need leadership. Their most tradable roster asset, defenseman Keith Yandle, is an assistant captain and a locker-room presence. Could the Coyotes afford to deal that presence for an offensive upgrade if Doan were already gone? Coach Dave Tippett and GM Don Maloney will smile when they read media predictions that this club will struggle to make the playoffs in the wake of those departures. Theyve heard that before -- every season since they arrived, in fact. But this is different. When Phoenix lost Zbynek Michalek and Matthew Lombardi in free agency, they found quick replacements. When they lost goalie Ilya Bryzgalov, they eliminated a divisive locker room presence and a playoff underachiever. If they lose Doan, theyll lose a guy whose stats actually get better in the postseason. A guy who leads by example on the ice and leads with a big heart and practical jokes off of it. A guy who has been the face and captain of this franchise ever since it moved to Glendale. Losing Doan alters the complexion of this team in a way that will take seasons to remedy. If the Coyotes arent a playoff team next season, they wont make as much money. Neither will surrounding businesses. Neither will the city of Glendale. Talk about cutting off your nose to spite your face.
Original Story:
http://www.foxsportsarizona.com/07/10...
THE BACKYARD
BEST OF MAXIM
RELATED ARTICLES
The Red Wings and almost a dozen other NHL teams will begin pursuing a prototypical power forward today, someone who can add size, grit and especially goal-scoring acumen to the equation…And his name is Shane Doan. The Free Press's Helene St. James isn't sure whether Doan is really willing to leave Phoenix, despite his declaration that the potential ballot initiative designed...
Last week I reported that GM Glen Sather and the New York Rangers had sincere interest in Phoenix Coyotes captain and current unrestricted free agent Shane Doan. Regardless if the interest was mutual between the two parties, Doan, at the time, would not make a decision on whether or not he will be talking to teams other than the Coyotes about signing a contract that will last him...
According to an article in yesterday's Toronto Star, the Maple Leafs have made preliminary inquiries about veteran free agent winger Shane Doan, along with about half the league. According to Doan's agent Terry Bross, who appeared on the FAN 590's Prime Time Sports Monday afternoon, indicated that the 35 year old team captain of the Phoenix Coyotes has received...
Somewhere between posting the news about the Winter Classic alumni game press conference on Wednesday and sharing the Free Press's Helene St. James' news about the Red Wings' overtures to Shane Doan, I kinda got sidetracked and missed Ken Holland's water-pouring over the Doan rumors due to content-producing reasons. As someone who's generally all but plugged into their...
Just a quick addition to the Shane Doan talk today..... It is being reported Doan has anywhere from 10-17 teams expressing interest. The Arizona Republic list The Penguins, Kings, and Red Wings as where Doan would consider signing if he does decide to leave town. it's a list I concur with completely. And while I am sure the Flyers, Rangers, Hawks, Sabres, and Leafs...
Only 2-3 teams would warrant serious interest on Doan's part, Bross said. Location, management/players and Cup chances are all factors.— Sarah McLellan (@azc_mclellan) July 9, 2012 Based on tweets from @pgshelly, @reallisa and @HeleneStJames, those three teams could be Pittsburgh, LA and Detroit.— Sarah McLellan (@azc_mclellan) July 9, 2012 According to Shane Doan's agent...
While the rest of the prominent members of the NHL's free agent crop (minus Teemu Selanne) has already signed a new contract or has been considering offers, Phoenix Coyotes captain Shane Doan has been patiently waiting for something that is out of his hands. He's been waiting on the status of a petition deadline in Glendale, Ariz. to force a November referendum tied to...
Alex Semin is undoubtedly the most talented player left in free agency, but he's also the most criticized. Some of it he deserves, but he takes a lot of crap he doesn't deserve. Here are some notes on Semin, the possibility of Shane Doan ending up with a division rival and more. - As you all know, I'm a fan of Semin and I think he's a damn good hockey player. Sure...
Alexander Semin's waiting for one thing: Shane Doan.  Once Doan signs, so will Semin.  For less.  If you think it's his attitude that has kept Ken Holland from signing him already, you're wrong.  The Wing Way can solve attitude issues and I believe Semin would take a one-year deal to prove the anti-Semintics wrong. But not until the Doan decision is made. Continue reading...
K, I'm gonna day dream now. It was 35c here at one point today (39c with humidity, which might not sound like much for you people from the south, but in Northern Alberta, anything over 20c is hot). On a hot day, you can't really accomplish much. Just day dream. What if the Oilers actually signed Shane Doan? It's not impossible: Doan is local, after all, and the Coyotes...
Shane Doan and Alexander Semin are the highest-profile free agents left unsigned for the 2012-13 season. Continue reading →
A lot of the talk surrounding this summer's free agent activity has centered on the loyalty, or lack thereof, shown  by players to their long-time employers. Martin Brodeur and the New Jersey Devils renewed their wedding vows with a 2-year contract that will see Brodeur in a Devils' sweater through his 42nd birthday. Meanwhile, career Phoenix Coyote (dating back to the franchise's...
NHL News

Delivered to your inbox

You'll also receive Yardbarker's daily Top 10, featuring the best sports stories from around the web. Customize your newsletter to get articles on your favorite sports and teams. And the best part? It's free!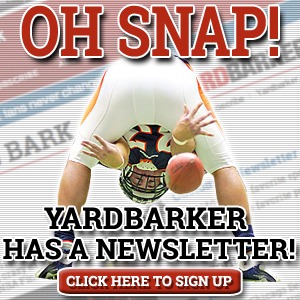 Latest Rumors
The Backyard

Today's Best Stuff

For Bloggers

Join the Yardbarker Network for more promotion, traffic, and money.

Company Info

Help

What is Yardbarker?

Yardbarker is the largest network of sports blogs and pro athlete blogs on the web. This site is the hub of the Yardbarker Network, where our editors and algorithms curate the best sports content from our network and beyond.