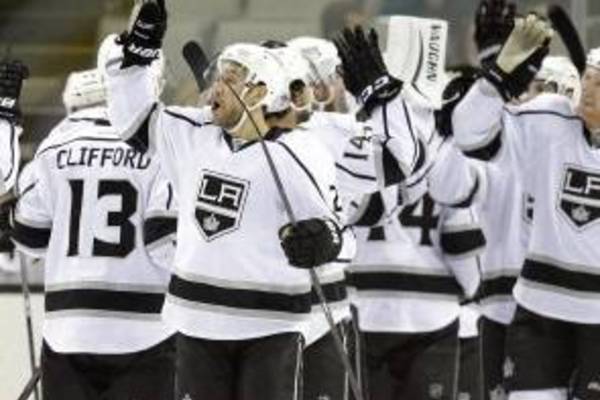 The Los Angeles Kings looked down and out a week ago. They fell behind three games to none to the San Jose Shark in their first-round playoff series, and had looked awful doing it. Wednesday night the Kings did what seemed impossible at that time, they won the series and advanced to the second round. The Kings finished off the reverse sweep in Game 7, winning 5-1 on the road and sending the Sharks to yet another playoff disappointment. In doing so, Los Angeles became just the fourth NHL team to come back from a 3-0 deficit in a series to win it. So how did the Kings do it? First, goalie Jonathan Quick rebounded from allowing a staggering 16 goals in the first three games, and gave up five over the series' final four games. While a lot of that can be attributed to Quick just finally looking like himself, the Kings' defense – led by Drew Doughty – stepped up and finally kept Quick's crease clear. The Kings also got phenomenal play out of their big-name players. Doughty, Anze Kopitar, Justin Williams, Dustin Brown, Jeff Carter and Mike Richards all stepped up and played much better hockey in the final four games. Los Angeles cut down on turnovers and kept on hitting while also stepping up and killing off key penalties. After losing the first two games 6-3 and 7-2, then dropping Game 3 4-3 in overtime, the Kings completely turned things around. They won Game 4 6-3, took Game 5 3-0, and won a very competitive Game 6 4-1. The 5-1 win in Game 7 came on the strength of five unanswered goals after they fell behind 1-0 in the second period. The Kings will now face the Anaheim Ducks in the second round of the playoffs and it's safe to say that Los Angeles has a ton of momentum.
MORE FROM YARDBARKER

NHL News

Delivered to your inbox

You'll also receive Yardbarker's daily Top 10, featuring the best sports stories from around the web. Customize your newsletter to get articles on your favorite sports and teams. And the best part? It's free!