Found September 14, 2012 on Fox Sports Arizona:
GLENDALE, Ariz. Coyotes coach Dave Tippett keeps his line combinations written on a grease board in magic marker. All of the players' names were written in black this week at the teams informal skates, signifying their permanence. All except one. Shane Doan was written in red, and man, was that color choice appropriate. Had the Phoenix Coyotes lost their captain and the unquestioned face of the franchise in free agency, it would have set off a five-alarm fire within this organization and within the Valley hockey community. "There weren't any contingency plans, Tippett said. If you lose a guy like that, it makes a big impact." Fortunately for the Coyotes, the first of three big dominoes fell in their favor on Friday when Doan agreed to a four-year, 21.5 million deal with a 2 million signing bonus that will keep him in Phoenix through the 2015-2016 season. "I dragged this thing on as long as I possibly could, Doan said to a chorus of laughter during his press conference at Jobing.com Arena. It kind of came down to me continuing what we started here. I didnt like the way it finished with us losing in the conference finals, but at the same time, it gave us a little taste of what the group could do." Doan, the team's captain since 2003, led Phoenix to its first conference finals appearance and its first Pacific Division title. The Coyotes lost in the Western Conference finals to the eventual Stanley Cup champion Los Angeles Kings in five games. Doan finished tied for the team lead in playoff goals (five, including two game-winners) and four assists in nine games. Doan agreed to the deal earlier this week but gave everyone the impression that it was contingent on the completion of the sale of the club to prospective owner Greg Jamison. That second domino did not fall on Friday, and general manager Don Maloney said it would not happen before a potential NHL lockout begins Saturday at midnight ET. But if youre reading the tea leaves, you have to believe Doan feels confident in that sale going through or he might have signed with one of his many other suitors, including the hard-charging Vancouver Canucks, who were on the short list. "This was as far as I could push it without going crazy, Doan said. "In talking with Mr. Jamison, you get confidence in the fact that hes going to get it done. Everyone believes its going to get done." Maybe so, but for a franchise with this ones 3-year-plus track record, that is one giant leap of faith. Then again, thats exactly what youd expect from Doan. Scour your memory banks and see if you can locate another athlete who went to such great lengths to remain with his original club, even when better offers were reportedly on the table. "Especially in todays sports, loyalty to an organization is sometimes not the key element, Tippett said. It trickles down. Its the impact that he has on an organization thats striving to get some sort of stability, striving to get an identity, striving to win. The loyalty and commitment he shows makes us a better organization." Make no mistake: Doan, 35, got a good deal. As Maloney said: Believe me, this wasnt a blue-plate special. But given the uncertainty of this franchises future, its history and those better offers, its remarkable that he waited this one out and made the choice he did. "The process was a lot tougher than I thought it was going to be, Doan said. There were some generous offers. That being said, I think I made it clear right from the beginning my whole goal was to be back here." Doan said his wife, Andrea, and his family were enormous considerations in the process, but he received nothing but support. "She and I have a great partnership, he said of his wife. Because of that, both of us had to be in this. She was more than in it." Maloney said Doan has agreed to defer his signing bonus to help the team with cap constraints. Ideally, I would have liked to have a lot more (of the payment) in this year because we have a lot of space this year, relative to our budget and the cap, but its a livable structure, Maloney said. With that space, Maloney would like to add to his forward group, likely via trades, before the season begins. But the looming NHL lockout will likely prevent any such thought for now. Its an ironic twist that the team the NHL has fought so hard to keep in Arizona could be harmed by the lockout the league (which also owns the Coyotes) is about to impose. But Friday was not a day for doomsday scenarios, and just in case your mind started wandering to those dark places, Doan brought it back with those genuine, aw-shucks lines that made you fall for him so long ago. "I guess 'humbled' is a good word to use when you talk to people and theyre so adamant about you staying, Doan said of the Valleys fans. I want to see us raise a banner here in this building, and I want to be here to do it. "I was always planning on being a Coyote." Follow Craig Morgan on Twitter
Original Story:
http://www.foxsportsarizona.com/09/14...
THE BACKYARD
BEST OF MAXIM
RELATED ARTICLES
Shane Doan has signed a four-year contract to stay with the Phoenix Coyotes. The Coyotes' captain had been courted by numerous teams since becoming a free agent on July 15, but said all along that he wanted to remain in the desert as long as the team's ownership situation was stable. Owner-in-waiting Greg Jamison is close to working out a restructured lease agreement with...
Shane Doan could end up spending his entire NHL career with one organization, as the veteran free agent has reportedly inked a new four-year deal to remain with Phoenix. Doan has agreed to a four-year, $21.2 million pact with the Coyotes, according to John Gambadoro of Sports 620 KTAR in Phoenix. TSN's Darren Dreger reports that the deal includes a $2 million bonus, which will...
The Shane Doan situation has finally been resolved. On the eve of the NHL's second lockout in nine years, Doan announced that he will stay with the Coyotes by signing a four-year, $21.2 million contract (The Fourth Period). Doan will also receive a $2 million signing bonus in order to remain with Phoenix. After all that, Doan sticks with Phoenix. Did it really need to take...
Via RedWingsFeed, I guess we'll finally get the answer as to which team Shane Doan plans on making his home for the next season, whenever it may start. According to Phoenix's Sports 620 KTAR's John Gambadoro, we should expect Mr. Doan to make his decision today:   It is down two - Phoenix and Vancouver. Coyotes Captain Shane Doan will sign a contract deciding...
John Gambadoro at Sports 620 KTAR in Phoenix, Arizona reports that the New York Rangers are out of the Shane Doan sweepstakes and that the Coyotes captain will make a decision on whether he signs with the Phoenix or Vancouver by 5pm today.Gambadoro adds that the hangup with Doan signing with Phoenix is that the City of Glendale has reneged on its original lease agreement deal with...
With an NHL lockout apparently imminent, Shane Doan is expected to announce his free-agent decision either Friday or Saturday. Sources told FOXSPortsArizona.com last week that Doan has agreed to a deal in principle to stay with the Coyotes, but that is pending the finalizing of the team's sale to prospective owner Greg Jamison. Jamison has yet to complete the purchase; the City...
Shane Doan is staying with the only franchise he's ever known. FOXSportsArizona.com's Craig Morgan confirmed with a source close to the negotiations that Doan, who has spent his entire career with the Coyotes franchise, has re-signed with the team. A press conference is expected to be held Friday afternoon. The contract is believed to be a four-year deal worth approximately...
    Oh, does this give us the red ass.  Th Phoenix Coyotes, a team going through bankruptcy and relocation maelstroms, have signed Shane Doan to a 4-year, $21.2mill contract...with a $2mill signing bonus.   Forgive us if we're wrong (actually we don't give a **** at this point), but don't players still get paid signing bonuses owed to them...
Shane Doan has signed a 4-year $21.2 million contract with $2 million in bonus money to remain with the Phoenix Coyotes. — John Gambadoro (@Gambo620) September 14, 2012
-Now that Shane Doan has re-signed with Phoenix, maybe we can all start talking about how the Sabres should trade for him haha. -We still have Tyler Ennis to sign, but I think the Sabres are still going to make a trade. Him, Stafford a Dman and a pick should get something nice in return. -I'm expecting that the preseason games will be cancelled by mid next week, but how...
from Eric Duhatschek of the Globe and Mail,  On Friday, teams signed players to more than $100-million (U.S.) worth of contract extensions and the mad rush continued on Saturday morning, when the Boston Bruins announced that popular power forward Milan Lucic, a 61-point player last season, had agreed to a three-year extension, worth $18-million. But the most curious contract...
NHL News

Delivered to your inbox

You'll also receive Yardbarker's daily Top 10, featuring the best sports stories from around the web. Customize your newsletter to get articles on your favorite sports and teams. And the best part? It's free!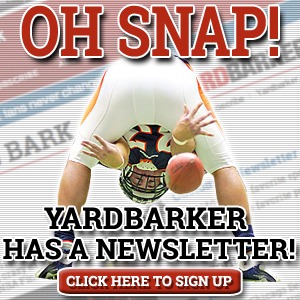 Latest Rumors
The Backyard

Today's Best Stuff

For Bloggers

Join the Yardbarker Network for more promotion, traffic, and money.

Company Info

Help

What is Yardbarker?

Yardbarker is the largest network of sports blogs and pro athlete blogs on the web. This site is the hub of the Yardbarker Network, where our editors and algorithms curate the best sports content from our network and beyond.