Found January 17, 2013 on Fox Sports Detroit:
DETROIT Darren Helm isn't the only Red Wing dealing with back problems. Goaltender Joey MacDonald remember him? He's had back issues for years, including undergoing surgery in 2006 to repair a bulging disc. Last season MacDonald came up from Grand Rapids when Jimmy Howard got hurt. MacDonald helped the Wings set a new NHL record with 23 straight home victories. But then his back problems resurfaced in mid-March and sidelined him for the rest of the season. Then the Wings signed goaltender Jonas Gustavsson to back up Jimmy Howard. "Its frustrating, especially after a year like last year when everything went so well and timing was everything," MacDonald said. "But hey, its no different than any other year for me. You come into camp and battle, battle, battle and if youre not No. 1 youre battling for No. 2. It doesnt matter. You just keep battling and working hard and look at last year and look what happened." MacDonald said his back feels 100 times better than it did when he aggravated it last March. He also said doctors who examined him didn't feel he would need surgery again. In fact, his latest problems might be partly due to scar tissue breaking up from the 2006 surgery. "I had an injection last week and things are going really well so hopefully, maybe by next week start skating and get back at it again," MacDonald said after the Wings practiced Thursday morning at Joe Louis Arena. "Just one of those things that got good probably by July and then it just acted up again, same kind of thing. It's frustrating but we're back playing and everyone's kind of excited and just gives you a little motivation." MacDonald said he's remaining optimistic about his future with the Wings, despite everything. "My main goal is to get back, get healthy," MacDonald said. "Its going to be a quick season, 48 games, not a lot of time off. Theres going to be injuries. Right now its getting my cardio going and once I get out on the ice its not going to take long for Jimmy B (goaltending coach Jim Bedard) and Oz (Chris Osgood) to get me back. Injury update Mikael Samuelsson returned to the ice after missing a couple of days with a sore groin. "It feels good," Samuelsson said. "No feelings at all. Good first part of the day." Samuelsson said if it were up to him, he would play in Saturday's opener in St. Louis, as long as things go well the rest of Thursday and Friday. "First it's got to feel good on the ice," Samuelsson said. "After that I don't think I will have a problem. But the day after also is important, especially if you go twice here today. So far, so good." Helm remains off the ice with his sore back and won't be available for the start of the season. "He said he could touch his toes," coach Mike Babcock said. "Hes not going to play this weekend. I would expect him after that." Jakub Kindl did not skate in the morning practice due to a tender groin. Back at the Joe Now that the Ford Motor Company is done with Joe Louis Arena, the Wings have their home back. "Its great, obviously," Babcock said. "Came down here yesterday. Ive been down here lots. But having the players down here today is obviously a positive thing for us." The main concern now is gearing up for Saturday night's game in St. Louis. "I think we tried to do is what we tried to do the other night at Compuware where we came in and had a morning skate, tried to do it twice, tried to get our body clock on," Babcock said. "Were trying to skate as much as we possibly can and go through the details of our play." In terms of things that have changed at the Joe, defenseman Brendan Smith now has the locker that Nick Lidstrom had for so many years in the dressing room. Ready for power play With Tomas Holmstrom set to announce his retirement, who will take his spot in front of the net on power plays? One of the main people who inherits that job is fellow Swede Johan Franzen. "Ive been doing it on and off for the past four or five years, so Ive been working on it all that time, too," Franzen said. "Ive been watching Homer and worked on different things with him after practices, so its not a big difference for me. Im used to doing that part." In addition to no Holmstrom in front of the net, there will be no Lidstrom at the point either. "But weve got Kronner back there and hes worked as hard as anyone," Franzen said. "Hes going to do just fine."
Original Story:
http://www.foxsportsdetroit.com/01/17...
THE BACKYARD
BEST OF MAXIM
RELATED ARTICLES
The Red Wings suffered a huge blow with the retirement of Nicklas Lidstrom. Many fans of the Red Wings can't remember a time where he wasn't dominating their blue line, and now this season they'll be looking at Carlo Colaiacovo back there. Tomas Holmstrom is retiring officially on Tuesday, and while they will be captained by the always excellent Henrik Zetterberg and...
The Detroit Red Wings have played in the last 21 Stanley Cup playoffs. That postseason streak might be in jeopardy. The storied franchise is starting a season without seven-time Norris Trophy winner Nicklas Lidstrom for the first time since the 1990-91, the year its run in the playoffs began. Lidstrom retired last summer and the 42-year-old defenseman turned down an offer from...
Despite a spate of injuries that could leave the Detroit Red Wings down a couple of key forwards when the season opens, veteran Mike Knuble could not claim a roster spot. Instead, Knuble will head to the AHL. Knuble will sign PTO with Grand Rapids, trying to catch onto NHL team. — Ansar Khan (@AnsarKhanMLive) January 18, 2013 A "PTO", as mentioned by MLive's Ansar Khan there...
According to the Detroit News, 28-year-old Red Wings forward Patrick Eaves has been cleared to return to the ice after missing the past year. Eaves, who hasn't played since November of 2011 due to a broken jaw and concussion when a shot hit him in the face should be on the Wings' roster Saturday night when they travel to St. Louis to take on the Blues. The Wings however will...
Oh joy, here the groins come again. The Red Wings will start the season without Jakub Kindl (groin), Darren Helm (back) and most certainly Joey MacDonald (back), and Mikael Samuelsson has just recovered from a groin injury. As it turns out, groin injuries are apparently contagious, though Todd Bertuzzi apparently only skipped the latter half Jam the Joe practice with a sore groin...
As an FYI, from the Detroit Red Wings' PR department: Wings ramp up efforts to 'thank' fans; Giveaways and prizes await fans at Joe Louis Arena this season DETROIT – The Red Wings are back! And as a way to say 'Thanks for Sticking with Us' the Original Six franchise plans to celebrate the extraordinary passion and support of their loyal fans. At the...
Red Wings GM Ken Holland and special assistant to the GM Kris Draper took part in a luncheon held by the Detroit Sports Broadcasters' Association today, and Holland and Draper's comments are way too important to simply squeeze into the mid-day news post. Fox Sports Detroit's Dana Wakiji offered Twitter-based highlights of Holland's comments... #RedWings Holland...
I think the Griffins are just showing off now! After posting a wonderful video chronicling Landon Ferraro's participation in the Red vs. White game, the Grand Rapids Griffins take us aboard Red Bird III:   Update: While we're at videos chronicling the next generation of Red Wings, Fox Sports Detroit's Dana Wakiji and Art Regner interviewed director...
The Detroit Red Wings, fresh off an offseason which saw the team lose two steady defenders in Nicklas Lidstrom and Brad Stuart, might have identified the blue line as their biggest area of need for an upgrade quickly this season. In recent months, flashy back end names such as Keith Yandle, Jay Bouwmeester and Zach Bogosian have come up in rumors. Each one of those defenders, however...
Prior to the past couple seasons, the Detroit Red Wings have heard every possible explanation for why their long-running playoff streak could finally end. Adding another year to an aging core and subtracting one of the greatest defensemen in NHL history heading into a lockout-shortened sprint of a season make this one no exception. Detroit begins its quest for a 22nd straight playoff...
As training camp resumes today with morning and evening skates at Joe Louis Arena, with the 10:30 AM skate being streamed on Fox Sports Detroit's website and the 7 PM skate being promoted as a "Jam the Joe" event, with $1 concessions and an open-to-the-public skate on JLA's ice (Bring your own skates) from 8-10 PM, before the Wings wrap training camp up with another...
Editors Note: This is a series that will run throughout the Red Wings season as Andrew attempts the treacherous journey of teaching his significant other about hockey, the NHL, the Detroit Red Wings and why the shootout is stupid. Check back regularly for updates on the process and anecdotes about how no matter what happens, Patrick Roy was never as good as Chris Osgood.  That whole...
Red Wings News

Delivered to your inbox

You'll also receive Yardbarker's daily Top 10, featuring the best sports stories from around the web. Customize your newsletter to get articles on your favorite sports and teams. And the best part? It's free!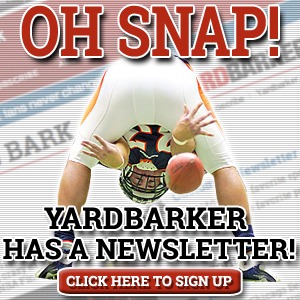 Latest Rumors
The Backyard

Today's Best Stuff

For Bloggers

Join the Yardbarker Network for more promotion, traffic, and money.

Company Info

Help

What is Yardbarker?

Yardbarker is the largest network of sports blogs and pro athlete blogs on the web. This site is the hub of the Yardbarker Network, where our editors and algorithms curate the best sports content from our network and beyond.