Found December 14, 2011 on Puck Daddy:
It's a Wednesday edition of Marek vs. Wyshynski beginning at 2 p.m. ET/11 a.m. PT, and we're talking about the following and more: Special Guest Star: Sam Fels of The Committed Indian and Second City Hockey, talking Patrick Kane Reality Star, Dave Bolland and the Hawks' goaltending. (And we might have a special guest today, too.) • In which Marek and Wysh discuss HBO 24/7 and what to expect. • Wysh's Ed Snider story. • Marek's Chris Chelios story. • Another big concussion in the NHL. • Puck Headlines and Talking Points Question of the Day: Who will be the MVP of HBO 24/7 and what are you drinking this evening? Email your answers to puckdaddyblog@yahoo.com or tweet them with the hashtag #MvsW to either @jeffmarek or @wyshynski. "Marek vs. Wyshynski" is a daily hockey radio program featuring Jeff Marek, on-air personality and columnist for Sportsnet, and Greg Wyshynski, your humble editor from Yahoo! Sports' Puck Daddy blog. We'll be speaking to ...
Original Story:
http://sports.yahoo.com/nhl/blog/puck...
THE BACKYARD
BEST OF MAXIM
RELATED ARTICLES
Chicago Blackhawk Patrick Kane won the game 4-3 over the Minnesota Wild last night.  He did it with style.  Not sure how many deke moves he actually pulled off in front of the net, but it was way more than a quadruple and I'm not sure what 10 is even called.  Looks like something coach Bombay taught him.  Check out the video below. ...
24/7 kind of overshadowed this disgusting Patrick Kane goal.   Just nasty. Why didn't Niklas Backstrom come out to challenge? All of that could HAVE been avoided. Still, some fast hands by Kane, and what dick celebration. On the replay, check on the woman standing off to the left. She basically **** her pants:
The interesting thing about NHL shootouts is there are some players who have as much of a chance of scoring as a 10-year-old would and others who seem to make it look easy.  Patrick Kane falls under the latter category.  Usually when we see a shootout goal scored it's because the shooter made a couple [...]
In case you missed it, Patrick Kane was the subject of the first episode of NHL 36 on Versus. The crews followed around Kane and his father in the 36 hours leading up to the game on December 5 against Phoenix.It was pretty well done, but left the viewer wanting more. Well have no fear, here at BHDL, we have an EXCLUSIVE look as to what Patrick Kane did in the 36 hours following the...
Doc Emerick was right on… "My goodness". You realize this is just flat out arrogance by Patrick Kane right here. We'll take it because the goal was pretty ridiculous. Amazingly, the guy never stopped his forward movement so it's all good.
Asked on Thursday if he counted the nifty stick-handles Patrick Kane amassed before punching in his shootout winner the night before, Blackhawks coach Joel Quenneville sounded willing to be astounded and leave it at that.
Canucks coach basically calls Hawks center pea-brain for 'sisters' commentST. PAUL, Minn. — Even from a distance, Dave Bolland has managed to add fuel to the heated rivalry between the Blackhawks and Canucks.
On the very day that 24/7 Flyers Rangers is set to debut, it's been the feud between the Vancouver Canucks and Chicago Blackhawks that has dominated the news cycle (much to the dismay of HBO, one assumes). One night after a radio interview surfaced in which Dave Bolland called the Sedins' "Sisters", seemingly everyone has chimed in, and I'm just talking about...
ST. PAUL, Minn.—Even from a distance, Dave Bolland has managed to irritate the Canucks.
CHICAGO -- Patrick Sharp still has to remind himself sometimes that Patrick Kane is no longer the baby-faced prospect who burst onto the scene straight out of the junior ranks. It's already been four-plus seasons since Kane scored 21 goals and ...
from Chris Kuc of the Chicago Tribune, After creating a bit of a firestorm when comments the Blackhawks center made about the Canucks' Sedin brothers during a radio broadcast in Chicago on Monday night turned viral and drew a reaction from Vancouver, Bolland backtracked following the Hawks' 4-3 shootout victory in St. Paul, Minn. Bolland drew the ire of Vancouver coach Alain...
I've learned to tread lightly when it comes to emasculation as a hockey chirp. I'm a white male from suburban New Jersey who has no internal filter for language or couth; the majority of smacktalk involving gender or race probably isn't going to offend me, but that doesn't mean it isn't going to offend somebody. Alix Wright, a terrific Canucks blogger, has made...
NHL News

Delivered to your inbox

You'll also receive Yardbarker's daily Top 10, featuring the best sports stories from around the web. Customize your newsletter to get articles on your favorite sports and teams. And the best part? It's free!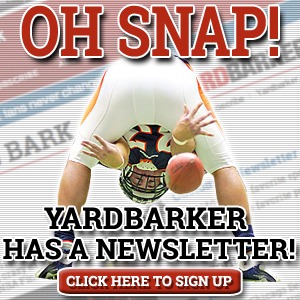 Latest Rumors
Best of Yardbarker

Today's Best Stuff

For Bloggers

Join the Yardbarker Network for more promotion, traffic, and money.

Company Info

Help

What is Yardbarker?

Yardbarker is the largest network of sports blogs and pro athlete blogs on the web. This site is the hub of the Yardbarker Network, where our editors and algorithms curate the best sports content from our network and beyond.