Found February 18, 2012 on Fox Sports Ohio:
By Steph Greegor FOXSportsOhio.com Standing 64 and dressed in a light blue t-shirt and jeans after practice Friday, Columbus Blue Jackets goaltender Steve Mason looked calm and confident with just a little over a week left before the Feb. 27 trade deadline. Its been a tough year, he said. Theres been a lot of soul searching. The 2008-09 Calder Memorial Trophy winner has treaded far from his expected path of glory. While the two seasons after his stellar playoff run showing in 2008-09 left much to be desired, this season took him to a place no one ever thought hed go: The back-up to the back-up. After the CBJ started the season off with 8 straight losses, winning only 2 of 12 in the month of October, and several failed attempts to get Mason back to Vezina-nominated form over a series of failed starts thereafter, it wasnt long before back-up goalie Curtis Sanford took over Mases ice. With all the promise of the off-season signings, coming into training camp, I had nothing but high expectations from a personal standpoint and a team standpoint, said Mason. I was feeling really good about my game, and then, with the injuries we had to other goaltenders in camp and the eight straight losses, to be a part of all those losses and not be able to get out of the net and sit back and refresh, it just had a snowball effect that was tough to get out of. And not just for Mason, but the whole team. The Columbus Blue Jackets sit dead last in the league with just 40 points. Dreams of taking the playoff ice in a Jackets sweater are long gone from the players minds. Now, they sit and wait to see if their name will be called up for a trade. Its been a weird season, said defenseman James Wisniewski. Ive never seen anything like it, he said. Steve Mason, carrying a .887 save percentage going into todays game against the 6th place Western Conference and Central Division rivals the Chicago Blackhawks, has been the focal point of near everything that went wrong in the beginning of the season. He allowed no less than three goals in every one of those first eight losses. After that, he looked lost in the net at times, out-of-position and giving up big rebounds while letting in soft goals. He was struggling to find his Calder game. But, said Captain Rick Nash, Mason cant be the fall guy for a team that hasnt played well as a whole. It wasnt all his fault, said Nash. It was also the players in front of him not getting the job done. Defenseman James Wisniewski said he didnt know how many times he said to Mason after a game, Sorry man, you deserve better than that. You deserve better than how I played. Or how we, as a team, played. I tell you what, the games that Sanford played, not to take anything away from him because hes played great, but we seemed to help him out. I dont know what happened sometimes when Mase would come inwed have an off-night; it wasnt fair to him, said Wisniewski. Even games hes played great that we lost 2-1, we cant score. We cant score for him. The guy battles so hard and hes got it in himWere behind him 100 percent. When asked if it was accurate to say that the less than stellar play in front of Mason had to do with having little faith or confidence in Masons play versus Sanfords, Wisniewski replied: I dont think you can say that. This season, I dont know if I can explain it, its just been a roller coaster of emotions. Highs and lows. Mostly lows. Things that just happened. You cant put your finger on it. Its hard to correct it, said Wisniewski. You know that saying **** happens? Thats how this whole season has gone. This whole season. Mason said he takes his part of the blame for whats happened. Reflecting back to the early part of his career, he said his game likely would have benefited from putting in extra time in the minors rather than being rushed into the NHL. Its so easy to say that now. You know, at the time any kid wants to make the jump to the NHL and I was fortunate to be able to do that. Its very rare a goalie does that. So at the time I was more than thrilled, said Mason. We had success right off the bat so it was easy for people to say that we made the right choice; now its easy to look back and say, Maybe you should have spent a year or two in the American League (AHL). From my standpoint, it might have been better for me to grow mentally just to get adjusted to the professional game, but Im not going to complain; Ive had some really good experiences here in the four years Ive been here and some really crappy ones at the same time, said Mason. This year has definitely been a building stone. Theres been a lot of different things I never thought Id have to go through, but at the end of the day, Im 23-years-old and if its going to make me better for the next 10 or 15 years then its well worth it. Whats making him better as of late, said head coach Todd Richards, is the time hes putting in off the ice with goaltending coach Ian Clark. Mason, in after Sanford went out after reinjuring his back, saw a pair of good games last week in a 2-1 win over the St. Louis Blues and a 3-1 victory over the Minnesota Wild. The success, said Richards was from spending extra time on the ice, getting here early, spending time watching video, a lot of those things have led (Mason) to that success. Thats what I expect out of him (as the season continues) and hopefully he expects and demands the same thing out of himself. Mason said his work with Clark has covered absolutely everything, from, technique to positioning to the mental aspect, he said. The mental aspect of this season has been particularly damning for Mason. Its easy to forget that most 23-year-olds get to have their growing pains under a cloak of anonymity. The same cant be said for Steve Mason, who just shook his head with a yeah, when reminded of his journey onto the Twitterverse a short time ago that quickly, and unapologetically, led to a series of hateful tweets and bashing. Its never easy to have negative stuff said about you. Its not like Im going out there trying to lose hockey games, you know, every day Im going out there Im trying to have the best result and play the best I can; some days just wont go your way and when people are constantly harassing, you know because it is, its almost harassing the things that people say to you, said Mason of both the hate-filled Tweets and the overall general media and public criticism. At the same time youre thinking, I dont go to your desk and give you crap for what youre doing. You just have to look at it and say the only opinions that really matter are the guys in this room and the coaching staff, said Mason. The guys have had my back the entire way and its never waivered and its something Im really appreciative of. Every time Ive been in the net and got the win you can see the guys are really happy for me. And no one more so than Nash, who said the hardest part about watching Mason struggle this year has been the fact that everyone knows what he can really do. The thing with Steve, the funny thing with him, is hes been the candidate for the Vezina, hes won the Calder Trophy, so you know its there; where, with some other young prospects coming up, you havent seen it, said Nash. But with (Mason) we already saw it and we believe in him. The road going forward will not be easy for Mason. The critics are circling. Some have said Steve Mason has peaked or his best days are behind him. Or maybe, his best days in Columbus are behind him. The chirping isnt far from Masons ear. There has been a lot of people saying, Were done with him, outside the organization, said Mason. Everybodys entitled to their opinion. The best thing about that is you have an opportunity to prove them wrong. And for now, Richards said 23-year-old Mason has earned the right to carry his head high, saying Mases confidence level is something that has improved his game. I think you get confidence from investing in yourself. You get it from spending time and working on your game and I think hes done that. So hes earned the right to feel confident, said Richards. I think along with the confidence comes trust from his teammates. And I think it goes both ways. Players trust that hes going to make the save and I think he trusts that his teammates are going to eliminate second opportunities and take the options away to his left and his right so he can really focus on the shot. Despite the rough road, there is one thing that has never changed for Steve Mason: Ive never had a doubt in my ability. Thats something Ive always been confident in, he said. I believe that I can be one of the best goalies in the league and whether that takes another year or another two, Im confident Im going to reach it.
Original Story:
http://www.foxsportsohio.com/02/18/12...
THE BACKYARD
BEST OF MAXIM
RELATED ARTICLES
Make sure to follow Travis on Twitter and Facebook! -- @mikekozy11 What kind of package do you think it will take for the Rangers to acquire Nash? Do you think that package is worth the risk? No surprise to see the mailbag hit hard with questions about Rick Nash. After all, the guy is the flavor of the trade deadline. A bona fide top-six winger with elite scoring ability - the...
The Philadelphia Flyers are engaged in serious discussions with the Columbus Blue Jackets about acquiring left wing Rick Nash, according to Tim Panaccio of CSNPhilly.com.Executives from the Blue Jackets organization have been present in Philadelphia for the third straight game. Columbus general manager Scott Howson has had two lengthy conversations with Flyers general manager Paul...
Scott Howson, the general manager of the Columbus Blue Jackets, is a very popular man these days with team captain Rick Nash on the trade block. Howson reportedly carved some time out of his day for an impromptu discussion with Toronto Maple Leafs GM Brian Burke in New York City on Sunday, according to Sportsnet. Could they have been discussing a new home for Nash? "Burke was...
Earlier today, we found out that Columbus was talking to the Flyers about a possible deal for Rick Nash. Apparently, the asking price is too high at the moment. TSN's Darren Dreger reports that the asking price is most likely JVR, Bobrovsky, Schenn, or Couturier. No surprise there. Dreger says that the two teams may "re-engage later."
via Christopher Botta of Slap Shot, ...Rick Nash took center stage before the Columbus Blue Jackets played the Rangers at Madison Square Garden. Nash was asked about the swirling trade rumors, the possibility of playing for the Rangers and whether the distractions have affected his game. Here is Nash's briefing in its entirety:
A month or two ago, it seemed unthinkable that the Blue Jackets would ever consider trading their captain and face of the franchise. But things have to change.
Yes, indeed, it only takes 2 games for a streak to occur. The Hawks have their first one in quite some time now after beating the Blue Jackets in Columbus by a score of 6 - 1. .The Hawks rattled off 6 straight goals after falling behind 1 - 0.  It was the 5th time they have beaten them in 5 games. There is, of course, one games left between the two teams. It was Crawford (19-14...
A slightly different question: If Rick Nash had been an unrestricted free agent last summer, would anyone have thought it a great idea for the Rangers to sign the power winger to a seven-year, $54.6 million contract carrying a cap hit of $7.8 million per? Would general manager...
COLUMBUS, OHIO – The Columbus Blue Jackets have activated defenseman Brett Lebda off injured reserve and placed goaltender Curtis Sanford on injured reserve, retroactive to February 9, club Executive Vice President of Hockey Operations and G...
After ending 9-game skid, they can keep momentum against hapless Blue JacketsCOLUMBUS, Ohio — So many things change when the asteroid-sized burden of a nine-game losing streak is jettisoned. Like, in the Blackhawks' case, the desire to speak to one another after a game.
NHL News

Delivered to your inbox

You'll also receive Yardbarker's daily Top 10, featuring the best sports stories from around the web. Customize your newsletter to get articles on your favorite sports and teams. And the best part? It's free!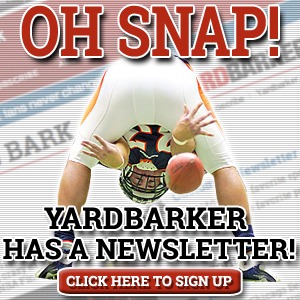 Latest Rumors
The Backyard

Today's Best Stuff

For Bloggers

Join the Yardbarker Network for more promotion, traffic, and money.

Company Info

Help

What is Yardbarker?

Yardbarker is the largest network of sports blogs and pro athlete blogs on the web. This site is the hub of the Yardbarker Network, where our editors and algorithms curate the best sports content from our network and beyond.