Found December 05, 2012 on The Prospect Park:
Brendan Leipsic (Portland Winterhawks) The best part about covering the prospect world is you get to watch young players grow and through their own hard work become a legit hockey player. Brendan Leipsic is one such player as over the last couple years he has gone from "pest" to "player." On the day that Leipsic was named the WHL's "Player of the Month"; Leipsic goes out and scores 4 goals to help the Portland Winterhawks rally from down 4-1 to defeat the Everett Silvertips 7-5. I keep hearing about how people miss "meaningful hockey" and sorry but watching Leipsic and the Winterhawks is meaningful hockey. Hockey is about the size of your heart and the desire to overcome all those who you tell you that you are "too something and won't make it." When I watch Leipsic I think of Ryan Callahan because just like Leipsic he wasn't supposed to make it to the NHL. Ryan Callahan was too small, too skinny, and too slow to become an NHL player but look at where Ryan Callahan is today; the captain of the New York Rangers. See that is why hockey at the CHL and NCAA levels is meaningful because you can't make stories like these up. Hockey at this level is really being the messenger as it is the kids themselves who write the stories and all I really have to is sit back and watch. It is watching Leipsic of all people taking over a game when his team is down 3 goals. It is scoring the natural hat trick to tie the game at 4-4 and then responding again when trailing 5-4. That is a meaningful story because you can't help but appreciate seeing a performance like this. On a roster that has a Seth Jones, a Ty Rattie and a Derrick Pouliot on it that the hottest player in the WHL and possibly the entire CHL right now is Brendan Leipsic. A 16 game scoring streak after his career best 4 goal game has Leipsic at 20-25-45 in 25 games which is 4th best in the WHL. That is my friends very meaningful. Prospect Action Brenden Kichton (Spokane Chiefs) While everyone in the WHL has been talking about the Winterhawks, the Kamloops Blazers, the Prince Albert Raiders and the defending WHL champions the Edmonton Oil Kings as the leaders of the WHL pack; quietly Brenden Kichton (NYI 2011 5th) and the Spokane Chiefs are also becoming a team to watch. The Chiefs are on a 6 games in 9 days road trip taking them to through the Eastern Conference. It is a brutal road trip that is about 2500 miles and if you did it non-stop 42 hours. Tuesday was game 3 of the trip and it was against the leaders of the WHL's Eastern Conference the Prince Albert Raiders. Spokane took a 4-1 lead, Prince Albert rallied to tie the game at 4-4 and Spokane behind 2 late 3rd period goals scored 38 seconds apart came away with a 7-4 win. Kichton had 2 secondary assists on Spokane's 1st and 3rd goals to extend his scoring streak to 6 games (1-10-11) and 9-26-35 on the season. Spokane is unbeaten in their last 7 games (6-0-1-0) and heads to Saskatoon for a game against the Blades on Wednesday. In Kitchener, it was their "Teddy Bear Toss" as the Kitchener Rangers hosted Andrey Pedan (NYI 2011 3rd) and the Guelph Storm. The Rangers scored first and the Teddy Bears came flying from the fans as they collected 8870 (new record for the Rangers) for local charities. Pedan had a primary assist on the Storm's first goal of the game which was his 14th assist of the season (9-14-23). The two teams played to a 2-2 tie to send the game first into overtime then the shootout where Guelph came away with a 3-2 win. Scoring a Teddy Bear goal is pretty special for the players and over the years Ranger prospects have done pretty well. Steve Eminger has a Teddy Bear goal on his resume scoring his as a member of the Kitchener Rangers during the 2000-2001 season. Christian Thomas is the only Ranger prospect to score 2 Teddy Bear goals while he was a member of the Oshawa Generals. In Cape Breton, it was a day of change off ice as the Cape Breton Screaming Eagles fired their coach/Gm on Monday and replaced him with Marc-Andre Dumont. Dumont was the coach of the Val d'Or Foreurs until he was fired in October. But on the ice Loic Leduc (NYI 2012 4th) and his teammates did not see change as they lost to the Halifax Mooseheads 5-3. The loss extended the Screaming Eagle's winless streak to 8 games (0-7-0-1). Leduc had his typical evening with a -1 on 1 shot and 1 hit. Team USA Team USA invited Ranger prospects Brady Skjei and J.T. Miller to their selection camp to be held at the Ranger practice facility in Tarrytown. No Islander prospects received an invite but in my book Robbie Russo deserved 1. If you think the Rangers made the right move releasing Miller to play in the event then sorry I disagree with you. If Miller was still playing for the Plymouth Whalers then yes he should attend. But Miller is playing for the CT Whale and no this does not help his development despite what some may think. For starters Miller is just 2-6-8 with the Whale and playing in the World Under-20 does not aid his development. Miller will be going to Russia to play on an international rink, playing under international rules and an somewhat crazy schedule. In my book, this is a high risk low reward situation for Miller who right now needs to be learning how to play the Ranger system not Team USA's. Miller will be away from the Whale from December 16th until January 8th missing as many as 10 Whale games. If the NHL does come to an agreement with the NHLPA while Miller is in Russia then he misses out on a Ranger training camp. Normally I am all for the prospects representing their country but not when the prospect has entered the professional system. Once he starts playing in the system then during the season he needs to learn the Ranger way of playing. Miller will have plenty of time in his career to represent the USA but right now the best thing for Miller is learning how to become a Ranger. Miller can't do that in Russia but he can in Hartford.
Original Story:
http://feedproxy.google.com/~r/ThePro...
THE BACKYARD
BEST OF MAXIM
RELATED ARTICLES
The US World Junior Championship preliminary roster was released, and Ranger prospects J.T. Miller –who was on the team last year– and Brady Skjei were named to the initial roster. Miller is expected to make the team, while Skjei will have to work to make the club. Last year's US team didn't make it to the medal round, winning just one game in round-robin play. Miller and...
Pete Hindle at the Examiner reports that even if the NHL season is saved, the Rangers will keep Chris Kreider on the CT Whale until his play improves. ...got to say this is shocking to me. Sure he's struggled this year, but he's played with inferior talent this year. It's not like you can compare the skills of Richards, Gaborik and Callahan to Thomas, Kolarik and...
Michael Del Zotto scored on what can only be described as a swinging bunt as his Rapperswil-Jona Lakers defeated the Rick Nashless HC Davos 7-6 yesterday. To watch Del Zotto goal, click on below pic (1:32 mark)... ...wow, these Swiss goaltenders are horrible. If I was Del Zotto I actually might have declined the goal. As I mentioned above Nash did not play in his...
MINNEAPOLIS Gophers freshmen Brady Skjei and Mike Reilly will have a big opportunity to represent their country later this month, but the two defensemen insist they're not looking past this weekend's series against Colorado College. Skjei and Reilly were both named to the U.S. National Junior Team's preliminary roster for the upcoming International Ice Hockey Federation...
 The Whale continued their roller coaster season with a 4-2 win last night over Bridgeport. Connecticut –who lost three games over the weekend– played a much crisper game. Of course, "much crisper" is used loosely here, as CT still wound up on the penalty kill six times. J.T. Miller, the Rangers 2011 first round pick, gave the Rangers the victory in the third period when...
JT MIller & @bradyskjei, #NYR first round picks, named to @usahockey preliminary roster for upcoming World Junior Championships — New York Rangers (@NYRangers) December 4, 2012 Steven Fogarty (2011 - 3rd) was left off the roster. ...congrats to Miller and Skjei. Fogarty is still young and has plenty of time to prove himself within USA Hockey. ...if this lockout...
Be optimistic or else. If you aren't on Twitter, then you missed a very exciting day yesterday. First, Gary Bettman held a press conference that was so short even John Tortorella blushed. After proclaiming that he was happy with the way negotiations were going, the owners and the players got back into the room to continue talking. This of course, came after a full night of intense...
By Wil Goldsholl Hartford, CT, December 5, 2012 - After suffering three losses in three nights over the weekend, Connecticut Whale coach Ken Gernander was looking for a more "buttoned-up performance" Wednesday, and he got it, mostly. Despite frequent trips to the penalty box, the Connecticut Whale pulled out a 4-2 win over the in-state rival Bridgeport Sound Tigers at...
No, there is no NHL season yet, but if there was one, the Boston Bruins and New York Rangers would have a good shot at taking home Lord Stanley's Cup. While the NHL and NHLPA continue to meet at the bargaining table, fans and analysts can only speculate about what an NHL season may bring. NESN's Andy Brickley and Fox Sports' Kevin North debated who has the upper hand in the...
Rangers News

Delivered to your inbox

You'll also receive Yardbarker's daily Top 10, featuring the best sports stories from around the web. Customize your newsletter to get articles on your favorite sports and teams. And the best part? It's free!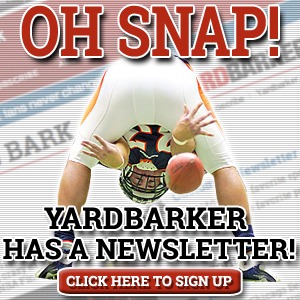 Latest Rumors
The Backyard

Today's Best Stuff

For Bloggers

Join the Yardbarker Network for more promotion, traffic, and money.

Company Info

Help

What is Yardbarker?

Yardbarker is the largest network of sports blogs and pro athlete blogs on the web. This site is the hub of the Yardbarker Network, where our editors and algorithms curate the best sports content from our network and beyond.