The Canadiens are no longer the consistent Stanley Cup winners they were throughout the NHL's history. Habs fans everywhere have been anticipating the next great Cup run, even though they won't admit that their team may not necessarily be the best. Since their last Stanley Cup in 1993, the farthest the Canadiens have gone in the playoffs is to the Conference Finals in 2009-2010. Although last season was a short one and Montreal got humiliated in the playoffs, the team still managed to climb the standings and finish second in the East after a last place finish the year before. With so much success in so little time, you know Habs fans had to get their hopes up and hopes are still high for many despite the team's first round exit from the playoffs. The Montreal Canadiens could start the season as they exited the previous one and eventually struggle for a playoff spot as predicted by Brian Palmer. They could also end up being a powerful team that sneaks its way to the Stanley Cup Finals. That might be a long shot but the NHL season is one that is full of opportunities and surprises. With expectations always high in Montreal, here are some features the Canadiens possess that can help them have a successful season: ADDITION OF TOUGH GUYS When you think of toughness and size in the NHL, the Canadiens aren't  exactly the first (or second or third) team that comes to mind. Brandon Prust took most of the responsibility acting as the team's fighter and racking up the seventh most penalty minutes in the league. After Prust, however, there was no one else that consistently threw punches and defended his teammates nearly as much as. George Parros and Douglas Murray will be taking some of the load off Brandon Prust (Photo by: Robert Beck/SI) And then the league's most popular mustache made its way to Montreal. The Canadiens signed George Parros during the offseason to add size to the forward line and take a load off of Prust's back. Parros has over 1000 penalty minutes over the course of nine NHL seasons. Though he may not be a big scoring contributor and may not get much ice time, his deeds will greatly be appreciated by his teammates, especially by Prust who will be able to take it easier and try to remain healthy. Along with Parros, Douglas Murray has been added to the Canadiens roster. the 240-pound defender will add grit and toughness to the Canadiens blue line, assuming he'll be able to make his way into the top six. So far, he is suffering a lower-body injury and is expected to miss the start of the season. The Canadiens are in need of a sixth defender and if Murray can't fill that spot, Jarred Tinordi has been proving himself throughout training camp and preseason and could very well start off the season in that position. At six-foot-six and 215 pounds, Tinordi has expressed that he and Murray play a similar style, but only time will tell if the 21-year old is ready to start off the season in the NHL.   Young stars like Brendan Gallagher, Alex Galchenyuk, and P.K. Subban will play key roles for the Habs this season (Photo by: Minas Panagiotakis/Icon SMI) YOUNG TALENT The Canadiens currently have six players on their roster that are 25 years old or younger. Two of them have already been recognized as one of the best in the league in some aspect; Brendan Gallagher was a finalist for the top rookie award and P.K. Subban was rewarded as the top defenseman in the league. The rest are showing lots of potential or have been improving and playing bigger roles on the team every passing season. Max Pacioretty had a strong recovery, one that earned him the Bill Masterton Trophy, after he was injured by a Zdeno Chara hit in 2011 and shows no signs of slowing down. He has played a key role on the leading line since then and is expected to maintain that position in the coming season. Lars Eller is expected to make a Pacioretty-like recovery after he suffered a concussion and facial injuries from a hit by hit by Eric Gryba in the first game of the 2013 playoffs. During the regular season, he had 30 points in 46 games and has admitted that he's been working extremely hard in the offseason and is in tip-top shape to make a strong comeback. Alex Galchenyuk, at only 19 years old, managed to get 27 points in the 48-game season and has the potential to play a bigger role on the team this year. The real test will come as he and Gallagher have to manage playing a full 82-game season but with their hard work ethic and strong rookie campaigns, anything is possible for the two youngsters. At 25 years old, Ryan White is trying to prove to his teammates and coaching staff that he is capable of maintaining his composure while posing a threat to opponents. He had several chances last season to prove himself and played in the playoffs before a rib injury stopped him. He should be able to get his act together to stay on the team and could be a strong force for the Habs' offense and play a role similar to that of Brandon Prust. As for P.K. Subban, the defending Norris Trophy champ has been keeping up with the intensity in the offseason with high expectations of himself and his team in the upcoming season. It will take a lot for P.K. to slump this year, especially as he will also be fighting for a spot on Team Canada's Olympic roster. HEALTH AND PRODUCTION IF, and this is a big if, the Canadiens can remain relatively healthy for most of the season, they can pose a real threat to their Atlantic Division rivals. As with any other NHL team, injuries are unavoidable and can greatly hurt a team's production. With the Canadiens, it seems that as soon as one player gets injured, the rest follow and before you know it, you're watching the Hamilton Bulldogs playing in the Bell Centre. Captain Brian Gionta had offseason bicep surgery but is cleared for contact and is expected to return for the beginning of the regular season. First-time Canadien Daniel Briere has been bombarded with injuries in recent years but if he could remain healthy, he could provide balance to the Canadiens offense. Though he has been lacking in production since his 34-goal season in 2010-2011, his playoffs stats make up for anything he lacks in the regular season. With all the trouble the Canadiens had in scoring during this past offseason, they will need all the help they can get and a healthy Briere could be the push that they need. Andrei Markov played his first full season (well, half season) since missing most of every season since 2009-2010 due to continuing knee injuries. His absence was evident on the power play as the Canadiens plummeted to below 20% efficiency after being the second best power play team in 2010. When Markov played the full shortened season, the Canadiens improved to 20.7% efficiency with Markov scoring 36% of the Habs' power play goals. This would be an ideal situation for the Habs but, unfortunately, this isn't an ideal world and injuries are a part of the game. They do have call ups that can quickly adjust to where they are needed on the Canadiens roster and that have also played a handful of games in the NHL. On defense, there's Nathan Beaulieu, Greg Pateryn, and Jarred Tinordi will be a solid choice if he isn't able to crack the Habs' roster before the season. On offense, they have used Louis Leblanc, Michael Blunden, and Gabriel Dumont. Anything could happen in the fast-paced NHL season and the teams that can best handle every challenge that approaches them will be the most successful. The Canadiens are just as capable as any of their opponents to rise above those challenges and make a serious playoff run. They have the tools to become a challenging team, it's just a matter of how they use those tools to their advantage. The post Montreal Canadiens 2013-2014 Season Preview: Challenge Accepted appeared first on The Farm Club.
Original Story:
http://feedproxy.google.com/~r/TheFar...
PLAYERS:
Brandon Prust
,
George Parros
,
Jarred Tinordi
,
Brendan Gallagher
,
Alex Galchenyuk
,
P.K. Subban
,
Max Pacioretty
,
Bill Masterton
,
Zdeno Chara
,
Lars Eller
,
Eric Gryba
,
Ryan White
,
Brian Gionta
,
Daniel Briere
,
Andrei Markov
,
Nathan Beaulieu
,
Greg Pateryn
,
Louis Leblanc
,
Gabriel Dumont
TEAMS:
Montreal Canadiens
,
Boston Bruins
MORE FROM YARDBARKER
NHL News

Delivered to your inbox

You'll also receive Yardbarker's daily Top 10, featuring the best sports stories from around the web. Customize your newsletter to get articles on your favorite sports and teams. And the best part? It's free!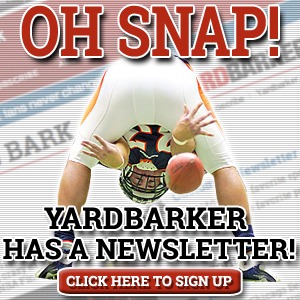 Latest Rumors
Best of Yardbarker

Today's Best Stuff

For Bloggers

Join the Yardbarker Network for more promotion, traffic, and money.

Company Info

Help

What is Yardbarker?

Yardbarker is the largest network of sports blogs and pro athlete blogs on the web. This site is the hub of the Yardbarker Network, where our editors and algorithms curate the best sports content from our network and beyond.