Found January 16, 2012 on PredsOnTheGlass:
PLAYERS:
Anders Lindback
,
Kevin Poulin
,
Jerred Smithson
,
Craig Smith
,
Rick DiPietro
,
Mark Katic
,
Al Montoya
,
Mike Mottau
,
Marty Reasoner
,
Nick Spaling
,
Colin Wilson
TEAMS:
Nashville Predators
,
New York Islanders
,
Chicago Blackhawks
,
Columbus Blue Jackets
TV-Radio...
Noon CST - TV: Fox Sports TN, MSG Plus, and NHL Network in Canada. Preds Radio Network (102.5-FM The Game)
Stage Setter...
After surviving an ongoing dog fight in the Western Conference and winning 13 of their last 17 games, the Predators travel to New York to play the Islanders today and the Rangers tomorrow. With back to back games it would not be a complete surprise to see Anders Lindback in net this afternoon. No official announcements have been made.
Make the jump for everything else...
Western Conference Standings...
        Team        GP Pts
1. *  Chicago      46 60
2. * Vancouver 46 59
3. * San Jose  42 55
4. St Louis 44 58
5. Detroit            44 57
6. Nashville 44 54
7. Los Angeles    46 53
8. Minnesota       45 51
9. Colorado        46 50
10. Dallas           42 49
11. Phoenix         45 47
12. Calgary         46 47
Prior Meetings...
This is the only meeting of the season between the Preds and Isles. Last season the Predators won the only meeting which was in Nashville on December 13 when the Predators won 5-0 with Lindback pitching the shutout. The Predators are 6-0-2 in the last eight games against the Isles who have not beaten the Preds in regulation since the captured a 5-2 win in Nashville on April 11, 2002.
Last Time Out...
Nashville played one of their best games of the season, beating Philadelphia in Smashville in front of a sold out Bridgestone Arena in a highly entertaining game.
The Islanders defeated Buffalo 4-2 in Nabokov's 300 th career win plaing in front of the home crowd.
Top Scorers (G-A-Pts)...
Nashville - S. Weber (9-23-32), M. Erat (10-19-29), D. Legwand (12-15-27), C.Smith (9-17-26),  R. Suter (5-20-25) and C. Wilson (8-15-23)
Islanders - J. Tavares (15-27-42), M. Moulson (21-18-39), P. Parenteau (7-30-37) and M. Streit (2-19-21)
In Goal (W-L-O, GAA, save %)...
Nashville - P. Rinne  (23-11-4, 2.54, .920) and A. Lindback (2-4-0, 2.75, .893)
Islanders - E. Nabokov (Probable Start) (7-11-0, 2.64, .909), Kevin Poulin (0-1-0, 3.07, .897), and A. Montoya (6-5-3, 2.46, .917)
Other Comparisons...Teams       Predators    Islanders        
Record25-15-4 (54) 16-20-6 (38) Last 107-3-05-5-0Home Record 14-7-310-10-3Road Record11-8-16-10-3Power Play (rank)21.6 (3)19.3 (7)Penalty Kill (rank)82.1 (19)83.2 (10)Goals For (rank)2.70 (13)2.36 (27)Goals Allowed (rank)   2.68 (12)3.07 (26)Shots For (rank)27.5 (27)30.0 (15)Shots Allowed (rank)31.2 (24)29.9 (13)Penalty Mins (rank)10.1 (7)9.7 (4)Faceoff % (rank)49.4 (19)48.9 (25)
Injuries...
Nashville - Jerred Smithson (lower body), Craig Smith (illness).
Islanders - Rick DiPietro (Sports hernia/knee swelling), Mark Katic (Shoulder), Al Montoya (Concussion), Mike Mottau (Concussion), and Marty Reasoner (Broken Hand).
Notes...
The Predators are 20-2-2 when scoring more than two goals.
The Predators are 13-0-1 when Nick Spaling scores. He set a career high for points in a season (7g-8a-15pts) on Saturday with his game winner.
Colin Wilson and Nick Spaling lead the team in GWG with three each.
Todays game is the 6th of 11 back to back games this season. They are 3-2-0 record on the front end and 2-3-0 on the back end.
This is one of three matinees for the Preds this year. The Preds beat Calgary 2-0 on 1-1-12 and will play one in Boston on 2-11-12. They are 21-7-7 all time in day games.
The Preds have comeback from a 2 or 3 goal deficits 6 times this season
The Preds have a .294 win % when trailing after two periods (5-12-0), Second only to Ottawa in the NHL
The Preds are 0-24 during the Goo-Goo minute and will have their nest chance on Saturday against the Blackhawks.
Other Predator Previews...
Predators.com
PredsOnTheGlass
The Tennessean
Ryan Porth  Preview
Amanda DiPaolo
Robby Stanley
Dirk Hoag
Fang Finger
Patten Fuqua
Predatorial
Long Island  Media...
Islanders.com
Chris Botta
Lighthouse Hockey
Dee Karl
IslesBlogger
The Islanders Aggregator
Game Notes from NHL Media Services
A Look Ahead for the Preds...
Today                    @ NY Islanders (noon start)
Tuesday                  @ NY Rangers 6:30 p.m.
Thursday (1-19)      @Columbus 6 p.m.
Saturday (1-21)      Chicago Blackhawks 7 p.m.
Monday (1-23)       Columbus Blue Jackets 7 p.m.
Tuesday (1-24)       @ Chicago Blackhawks
1-25 to 1-30           All-Star Break
More Later...
Buddy Oakes for PredsOnTheGlass
Original Story:
http://www.predsontheglass.com/2012/0...
THE BACKYARD
BEST OF MAXIM
RELATED ARTICLES
One of the highlights of Saturday night's 4-2 victory by the Nashville Predators over the Philadelphia Flyers came early in the second period when the Flyer's Wayne Simmonds tried to make a move past Predators rookie, Ryan Ellis and Ellis delivered one of the more dramatic hip checks ever seen in Bridgestone Arena.After the game, Ellis described the play. "It was kind...
Early in the third period with the Nashville Predators leading 2-1, Pekka Rinne made a double save on a two on one breakaway that could have been a turning point in the game had the Philadelphia Flyers been able to convert and tie the contest.The play began when Shea Weber lost the puck in the neutral zone to Claude Giroux who took off on a breakaway with Max Talbot with Ryan Suter...
NASHVILLE – The Nashville Predators never feel like they are out of a game. It may sound cliché, but if the first half of their season proved anything, it's that the Preds are capable of winning no matter what kind of deficit they face.This season, the Preds have made five comebacks in 17 instances when trailing after the second period, good for the highest percentage in the...
Photo Credit: Mike Stobe, Getty Images The Predators kick off a back-to-back today at noon, yes NOON, against the NY Islanders. Nashville is riding high right now and keeping pace with the ultra-competitive Western Conference winning four in a row and 7 out of their last 8. The Islanders are also on the eve of a back-to-back set playing Washington Tuesday night. The Islanders are...
Uniondale, NY -- Evgeni Nabokov secured his 300th career win on an already special night when the Islanders organization inducted Pat Flatley into the team's hall of fame. Michael Grabner scored the go ahead goal at the 16:57 of the third period and then secured the win scoring on an empty net. "I guess it's nice to have it in the pocket," Nabokov said after the game about...
Photo by Frederick Breedon/Getty Images North America The Predators complete the back-to-back turn tonight at MSG against the New York Rangers. The Predators dominated the first period in their win against the NY Islanders and came away with a 3-1 victory and extending the win streak to five. The Rangers are on a tear winning 6 out of the last 8 but only 1-2-0 in the last three games...
Evgeni Nabokov earned his 300th NHL win after Michael Grabner scored the go-ahead goal with three minutes left, and the New York Islanders beat the Buffalo Sabres 4-2 on Saturday night. Grabner's 12th goal of the season, on a rebound in front in goalie Jhonas Enroth, gave the Islanders (16-20-6) their fourth win in five home games.
Share Evgeni Nabokov's first career NHL start was nearly perfect. On Jan. 19, 2000, the rookie goaltender from Kazakhstan stopped 39 shots for a shutout-tie against the Colorado Avala...
Like we've seen so many times this season, the Rangers delivered exactly what the doctor ordered following a rough loss on Sunday when they defeated the Nashville Predators, 3-0, this evening at Madison Square Garden. From top-to-bottom, the Blueshirts' entire lineup contributed to tonight's win with great forechecking, solid defensive play, and in Lundqvist's case...
NHL News

Delivered to your inbox

You'll also receive Yardbarker's daily Top 10, featuring the best sports stories from around the web. Customize your newsletter to get articles on your favorite sports and teams. And the best part? It's free!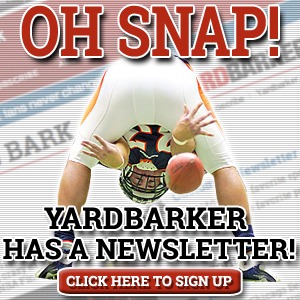 Latest Rumors
Best of Yardbarker

Today's Best Stuff

For Bloggers

Join the Yardbarker Network for more promotion, traffic, and money.

Company Info

Help

What is Yardbarker?

Yardbarker is the largest network of sports blogs and pro athlete blogs on the web. This site is the hub of the Yardbarker Network, where our editors and algorithms curate the best sports content from our network and beyond.