Found January 24, 2012 on Tonight's Healthy Scratches:
PLAYERS:
Alexander Ovechkin
,
James Neal
,
Patrice Bergeron
,
Sidney Crosby
,
Kris Letang
,
Jordan Staal
,
Scott Hartnell
,
Jonathan Toews
,
Claude Giroux
,
Pavel Datsyuk
,
Jordan Eberle
,
Jason Pominville
TEAMS:
Washington Capitals
,
Pittsburgh Penguins
,
Boston Bruins
,
Philadelphia Flyers
,
Chicago Blackhawks
,
Detroit Red Wings
,
Edmonton Oilers
,
Buffalo Sabres
Alex Ovechkin will not be participating in the festivities in Ottawa for the NHL's All-Star Weekend.
According to Katie Carrera of The Washington Post, Ovechkin explained, "My heart is not there. I got suspended, so why I have to go there?... I'm suspended. I don't want to be a target. I feel I'm not deserving to be there right now."
Well, he's right on one point. He doesn't deserve to be there.
Not more than the likes of James Neal or Patrice Bergeron, one of which will surely fill his roster spot by the end of the day.
Bergeron has been brilliant for the Boston Bruins this season, arguably one of the best two-way centers in the game. His 41 points in 46 games puts him on a pace that ties his career high, when he scored 73 points in 2006. His +27 rating is third in the NHL.
Neal started the season on a tear and was putting together his own case for a Hart Trophy before the surge of Evgeny Malkin. Still Neal sits 15th in scoring, averaging nearly a point a game, while carrying the Penguins through their injury-plagued start to the season that pulled Sidney Crosby, Kris Letang, Jordan Staal, and even Malkin for several games earlier this season.
Neal is one of the more popular choices to replace Ovechkin, especially after The Flyers' Scott Hartnell was chosen today to repl
ace Jonathan Toews, who went on injury reserve earlier this week. Hartnell is having his best season, on pace to top his career high in production by 20 points. But Hartnell has had the benefit of playing with Hart Trophy candidate Claude Giroux for most of the season, while much of Neal's performance has been a solo act.
Most glaring is the issue of Ovechkin's withdrawl. Ovechkin continues to be a shadow of his former self for the second straight season, 38th in scoring and being selected primarily on pedigree. And yet to snub the event when he was the choice of the league offices is a major middle-finger to the All-Star Game, regardless of what he says.
How can this format be taken seriously when one of the biggest names in the sport withdraws himself solely because he is suspended and doesn't feel he belongs? Even if it's true, the league loses credibility by it's own choice to include him. And now, Ovechkin will use his own suspension by the league as an excuse to take a week off.
And one can't forget the league's decision in 2009 to punish Nick Lidstrom and Pavel Datsyuk of the Detroit Red Wings for skipping the All-Star Game, suspending them each three games. The NHL has said they won't take any such action against Ovechkin, justifying his decision and setting a precedent for future withdrawls, again weakening an already lack-luster event. Maybe the prospect of being the last pick in the draft was just too much for Ovechkin to risk.
In any event, we now know what we will see from here on out. The All-Star rosters will be announced, a handful of primary stars will withdraw preferring to rest, and a list of borderline candidates will go in. This is not to argue that Hartnell and Neal don't belong in the game. They certainly do. But will they be remembered as All-Stars in the coming years, or will Neal and Jordan Eberle be thought of as All-Star after-thoughts?
Afterall, if Ovechkin can get consideration on name alone, then such an All-Star selection should get Eberle, Hartnell, or even Jason Pominville consideration for years to come.
Such will not automatically be the case, unless the league's elite need a day off.
Original Story:
http://www.tonightshealthyscratches.c...
THE BACKYARD
BEST OF MAXIM
RELATED ARTICLES
Alex Ovechkin is skipping the NHL All-Star game, announcing that decision a day after getting a three-game suspension from the league for a hit on an opponent. The Washington Capitals' captain is a two-time league MVP. He was suspended for launching himself to hit Pittsburgh defenseman Zbynek Michalek during Washington's 4-3 overtime loss to the Penguins on Sunday. No penalty...
The NHL will go ahead with one of its signature events without one of its signature players, as Washington Capitals captain Alex Ovechkin will skip this weekend's All-Star Game and festivities in Ottawa. A day earlier, the league suspended him three games for a hit on Pittsburgh Penguins defenseman Zbynek ...
Alex Ovechkin, the Capitals captain and one of the N.H.L.'s biggest stars players, announced that he would skip the All-Star Game because he was suspended three games for an illegal check Monday.
Pittsburgh Penguins forward James Neal will replace Washington Capitals forward Alex Ovechkin in the NHL All-Star game on Sunday.
Well, the league did what Penguins fans have been clamoring for since the All-Star rosters were announced just about two weeks ago, they have added James Neal to the festivities as a replacement for the sulking Alex Ovechkin. Many believed that Neal should have been included from the start, however I wasn't so sure. Continue reading "James Neal Added to All-Star Roster…"
Dan Steinberg , Tarik El-Bashir and Adam Kilgore joined Jonathan Forsythe on this week's webcast to discuss the firing of Wizards head coach Flip Saunders, Alex Ovechkin's suspension and All-Star game decision, and the latest Prince Fielder rumors. Read full article >>
A day after visiting the White House the Boston Bruins get back to business when they meet the Washington Capitals at the Verizon Center in NHL betting action on Tuesday night. Washington has a solid 17-6-1 record at home, but Boston is no slouch on the road and has compiled a 15-6-0 record away from TD Garden this season. As well, the Capitals will be skating...
Mike Milbury and Keith Jones debate whether the skipping of the NHL All-Star game by Washington's Alex Ovechkin is a good idea, and what it means to the NHL and its fans. (NBC Sports)
I watched this game in Plymouth, Mass. in a house full of Pats fans, and thus segued immediately from Pens/Caps into football, which apparently throws off my whole recapping reflex because even though I still believe that football is the Inferior Sport, that was a pretty ******* LOLtacular display of playoff football. ANYWAY, DID YOU KNOW (A FORMAL LIST: Kris Letang's hair...
NHL News

Delivered to your inbox

You'll also receive Yardbarker's daily Top 10, featuring the best sports stories from around the web. Customize your newsletter to get articles on your favorite sports and teams. And the best part? It's free!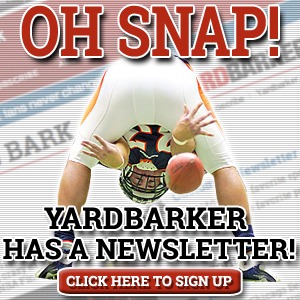 Latest Rumors
The Backyard

Today's Best Stuff

For Bloggers

Join the Yardbarker Network for more promotion, traffic, and money.

Company Info

Help

What is Yardbarker?

Yardbarker is the largest network of sports blogs and pro athlete blogs on the web. This site is the hub of the Yardbarker Network, where our editors and algorithms curate the best sports content from our network and beyond.