Found July 16, 2012 on centericechat.com:
If the NHL is able to lower the salary cap under a new collective bargaining agreement, which it is drastically looking to do, then it will alter how many teams are able to construct their teams going forward. Free agency will look quite different in the upcoming seasons whenever the new agreement is implemented, but it could also affect how teams pursue current players via trades right now. Most notably, the Rick Nash trade sweepstakes may be narrowed down to just two teams, the Detroit Red Wings and New York Rangers. Both the Red Wings and Rangers are on the list of approved teams to which the Columbus Blue Jackets can trade Nash as of now. The other four teams on the list are the Boston Bruins, Philadelphia Flyers, Pittsburgh Penguins and San Jose Sharks. But making matters even more difficult is that not only are the Blue Jackets looking for an elite package in return for Nash, whatever team acquires the talented forward will have to absorb his contract and a $7.8 cap hit for the next six seasons. While that already seems challenging right now, things will only get worse once a new salary cap is put into place, with all signs pointing toward it becoming much lower. And teams such as the Sharks and Bruins are already unwilling to part with top prospects as well as taking on Nash's large salary, while the Flyers and Penguins may not be fully able to absorb such a hit already, and they almost certainly would be unable to make a trade after a new agreement is reached with a much more owner friendly cap. With that being said, that means we could be down to two teams who could still pursue a deal for Nash, and that also means that the Blue Jackets would lose a bit of leverage in terms of having to finally possibly lower their high asking price. After all, how much can you ask for if only two teams are involved in the bidding, and even then, will they be as keen on acquiring a player with a huge cap hit such as Nash? Add in the fact that Nash could hold out if he is not traded to one of those six teams, then Columbus needs to be prepared to accept much less for one of their top offensive players. Especially once you consider that only the Red Wings ($16.8 million) and the Rangers ($15.1 million) have space available right now, but that will change once the cap is no longer based on a space of $70.3 million. If that number is dropped, say perhaps even up to $10 million, what will happen at that point? The Blue Jackets may want to expedite this entire trade process now, because it is only going to get a lot harder down the road.    
Original Story:
http://www.centericechat.com/2012/07/...
THE BACKYARD
BEST OF MAXIM
RELATED ARTICLES
Columbus Blue Jackets GM Scott Howson explains to TSN what he's looking for in return for Rick Nash..."If we do complete a trade, we're trading out a 30 to 40 goal scorer," said Howson. "Defence is probably the strongest part of our team if we look at it today, so we're looking to get some NHL forwards back first and foremost."...fine, Dubi and AA...
As Dave noted last week in our ongoing discussion about Rick Nash, it's very possible that Nash wouldn't be the only Blue Jacket coming back to the Rangers in a potential blockbuster trade this summer. There have been wide-ranging reports of Columbus GM Scott Howson's trade demands, but the general consensus seems to be that he wants a couple of NHL forwards, a top prospect...
Via RedWingsFeed, I believe this counts as a mid-July blockbuster: According to MLive's Ansar Khan, the Red Wings did their very best to attempt to acquire: the superstar forward, but the Columbus Blue Jackets simply wouldn't do business with their self-proclaimed arch-rival: The Red Wings made "a hell of an offer'' to Columbus for Nash, according to a person with knowledge...
                                  Rick Nash trade rumors have been swirling since the trade deadline last season, but no deal has been made yet. As much as I would love to see Rick Nash in a Bruins uniform, it just isn't going to happen.  Columbus wants way too much in return for their superstar forward, and I do not think the Bruins are willing to give up that...
With MLive's Ansar Khan's Rick Nash bombshell dropped before someone's internet service went out last night, we're shifting back to more pedestrian Red Wings news this morning with more discussion about Kyle Quincey and Justin Abdelkader's contracts. The Free Press's Helene St. James reports that the Wings will have to submit legal briefs of their stance against Quincey...
If the Columbus Blue Jackets pull the trigger on a long-rumored Rick Nash trade, GM Scott Howson has said he wants "NHL forwards" back Continue reading →
As Columbus Blue Jackets fans waitand waitand wait for a resolution to the Captain Rick Nash trade saga, there are a couple other Blue Jackets players who fans can focus on momentarily. Oh, and one non-NHLer whose story of an ECHL tryout after a double-lung transplant resonates loudly with any hockey fan and player. Blue Jackets wingers and agitators Jared Boll and Derek Dorsett...
Aaron Portzline at the Columbus Dispatch wonders if a training camp holdout would be an option for Rick Nash if he's not traded this offseason....that would be an absolutely nightmare scenario for Columbus and their GM Howson. They'd lose what little leverage they might actually still have and the Rangers would probably be able to get Nash for some 1994 memorabilia.In other...
Aaron Portzline at the Columbus Dispatch says if the NHL salary cap is lowered by $10 million as the owners have proposed, it could knock out almost all the potential Rick Nash suitors except for the Rangers and Red Wings who each have significant cap room to bring in the Blue Jackets captain..."Will the salary cap by (sp) lowered by $10 million? It's obviously too early...
Just wanted to give everyone a heads up that I will be out of the country on vacation for the next five days and will not be updating the blog, unless something major happens such as a Rick Nash trade for example (I highly doubt that it will).  Also, when I get back, I will be on the hunt for fans out there that are interested in writing for the blog during next season. I will...
NHL News

Delivered to your inbox

You'll also receive Yardbarker's daily Top 10, featuring the best sports stories from around the web. Customize your newsletter to get articles on your favorite sports and teams. And the best part? It's free!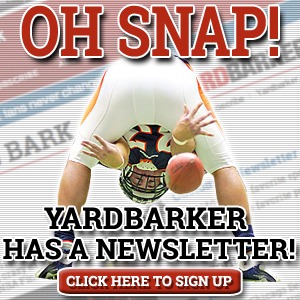 Latest Rumors
Best of Yardbarker

Today's Best Stuff

For Bloggers

Join the Yardbarker Network for more promotion, traffic, and money.

Company Info

Help

What is Yardbarker?

Yardbarker is the largest network of sports blogs and pro athlete blogs on the web. This site is the hub of the Yardbarker Network, where our editors and algorithms curate the best sports content from our network and beyond.