Found July 09, 2012 on Blue Seat Blogs:
PLAYERS:
Don Maloney
,
Zach Parise
,
Mikko Koivu
,
Ryan Suter
,
Jordan Staal
,
Dennis Wideman
,
Jason Garrison
,
Jaromir Jagr
,
Claude Giroux
,
Loui Eriksson
,
Jamie Benn
,
Ray Whitney
,
John Tavares
,
Jiri Hudler
TEAMS:
Minnesota Wild
,
Carolina Hurricanes
,
Calgary Flames
,
Vancouver Canucks
,
Dallas Stars
,
Philadelphia Flyers
,
Colorado Avalanche
,
New York Islanders
,
Tampa Bay Lightning
,
New York Rangers
Last offseason, Coyotes GM Don Maloney prognosticated that some GM's may "go berserk" at free agency and "the people who have money may just blow their brains out." Maloney wasn't too far off in that regard. With the exception of the Parise/Suter signings, this year's free agency hasn't been as crazy. Though, several high priced talent (i.e. Semin, Doan, Selanne) remain unsigned.
Anyway, we are going to break this analysis into two posts. Today's post will focus on some of the "bigger names" and pricier contracts that have been handed out, while tomorrow's post will focus more on the role players.
Zach Parise (F) to the Minnesota Wild for 13 years, $7.539 million cap hit
Parise will likely never play out this contract, so the term is irrelevant to me, but $7.5 million could be a significant cap dent if the new CBA ushers in a lower cap ceiling. All Wild fans can hope for now is that Parise meshes with Mikko Koivu, who is signed for another six years ($6.750m cap hit) and also sports a no-movement clause.
Ryan Suter (D) to the Minnesota Wild for 13 years, $7.539 million
Likewise with Parise, this is a significant dent to have on your cap, especially for a defensemen. The good thing is there are no other defensemen under contract for the Wild beyond 2014. Hopefully the Wild's coaching staff can get all of these guys on the same page. I'd also expect the Wild to ditch their passive 1-2-2 forecheck now that they have an incredible arsenal of talent.
Matt Carle (D) to the Tampa Bay Lightning for 6 years, $5.5 million cap hit
Some feel Carle was kind of like the blueline version of Jordan Staal for the Flyers, buried on the depth chart behind bigger name players. Others feel the Lightning overpaid for someone who hasn't cracked 6 goals since his rookie year (06-07). Either way, Carle was a 40 point defensemen on the market and those guys always get paid. A Carle/Hedman combo could prove to be lethal for the Lightning.
Dennis Wideman (D) to the Calgary Flames for 5 years, $5.250 million cap hit
You could make the same arguments for Wideman as you could Carle. Was Wideman's production being stifled playing behind Chara in Boston and Green in Washington? It's hard to know. Wideman has put up 30 point seasons and 50 point seasons in the past few of years. He could continue the same inconsistency in Calgary where the Flames are just identity-less and always on the verge of roster upheaval.
Jason Garrison (D) to the Vancouver Canucks for 6 years, $4.6 million cap hit
This is in an interesting contract. Garrison scored 16 goals and 33 points from the blueline last season for the Panthers, but it was only his second full season in the league and he's already 27 years old. If he comes crashing back to earth, this is going to be one bad contract to have on the books, especially since he has a full no-trade clause.
Although many think he'll be able to maintain those numbers playing with the uber-offensive Canucks, people forget there are four other capable defensemen on that roster who want their minutes with the Sedins and company. Keeping his blueline happy is probably not an easy task for head coach Alain Vigneault.
Jaromir Jagr (F) to the Dallas Stars for 1 year, $4.55 million cap hit
Last season Jagr scored 19 goals and 54 points for the Flyers. More importantly, he was universally praised in Philadelphia for his work ethic and being a mentor for young stars such as Claude Giroux. Obviously Dallas gave Jagr a substantial raise over last year's ($3.3 million) contract in hopes he will do the same for their guns Loui Eriksson and Jamie Benn.
From a numbers perspective, it is hard to predict what kind of output Jagr will have at age 40. Last season his production slipped after the All-Star Game and he was a non-factor against the Devils in the playoffs when the Flyers finally ran into a real goalie. Still, if Jagr puts up around the same points and can help Loui become one of the best talents in the game, this signing will be a win.
Ray Whitney (F) to the Dallas Stars for 2 years, $4.5 million cap hit
The 40-year-old undersized Whitney proved to everybody last season he still has it. Whitney scored 24 goals and 77 pts for the more defensive oriented Coyotes, which was his highest output in three years. With a top 6 featuring Jagr, Benn, Eriksson, Roy, and Ryder, Whitney should be able to maintain a 60 point production despite being one of the oldest players in the NHL.
PA Parenteau (F) to the Colorado Avalanche for 4 years, $4 million cap hit
The 29 year old finally got his due after years of shuttling back and forth between the Show and the minors. After the Rangers let him walk two years ago, Parenteau went to the Islanders and tore it up with John Tavares. He scored 20 goals and 53 points in 2010-11 and 18 goals and 67 points this past season. It's nice to see one of these pint size (his 6'0 200 lb listing is incredibly generous) AHL goal scorers finally transition to the NHL successfully.
Jiri Hudler (F) to the Calgary Flames for 4 years, $4 million cap hit
It's hard to know whether Calgary got a 25 goal scorer or a 10 goal scorer. Over the next four years they'll likely have both.
*Also, here's my analysis of last offseason's top free agent signings. It's always fun to look back and see which players lived up to their contracts and which players did not.
Original Story:
http://www.blueseatblogs.com/2012/07/...
THE BACKYARD
BEST OF MAXIM
RELATED ARTICLES
GLENDALE, ARIZONA – Phoenix Coyotes General Manager Don Maloney announced today that the Coyotes have signed Sean Burke to a multi-year contract extension to serve as Assistant to the General Manager/Goaltender Coach. In addition to his current responsibilities that include overseeing all goaltenders in the Coyotes system and player development, Burke will now work with Coyotes...
ST. PAUL, Minn. Less than an hour away from the Xcel Energy Center, the new home for Minnesota Wild forward Zach Parise is the rink where Parise shined as a star for Shattuck-St. Mary's. The prep school in Faribault, Minn., has turned into a hockey hotbed for high school players, and the school has Parise to thank for that.Parise spent two seasons playing at SSM, from 2000-2002...
This New Jersey Devils fan was not too happy for the departure of captain Zach Parise. Watch him as he sets this Zach Parise jersey on fire with a sparkler.He's not alone though, Devils GM Lou Lamoriello even had to say, "There is no question we're disappointed", shortly after Parise left.Parise signed with the Minnesota Wild along with friend and defenseman Ryan...
ST. PAUL, Minn. Zach Parise proudly put on his new Minnesota Wild jersey, sporting the No. 11 his dad famously wore with the Minnesota North Stars, and smiled for the cameras alongside friend and now teammate Ryan Suter on Monday. Parise's unease of being the center of the hockey world for an entire week in July was easily apparent. He smiled for the cameras in his new sweater...
ST. PAUL, Minn. Minnesota Wild owner Craig Leipold unveiled his shiny new, expensive purchases on Monday, introducing big free-agent signings Zach Parise and Ryan Suter to the team's excited fan base and is hoping for another new addition. Leipold's hoping for another big addition to the organization soona new practice facility across the street from the Xcel Energy Center...
The Wild are planning a press conference in under a half an hour. The idea is that it is an introductory press conference for Zach Parise and Ryan Suter is quaint. Very nice. I've been around the Wild and Minnesota sports for too long. I have some other ideas of what might be said at the press conference.- The real reason Parise and Suter signed with the Wild was becuase they...
Since Ryan Suter and Zach Parise agreed to terms with the Minnesota Wild on Independence Day, the Detroit Red Wings have been reassessing what appears to be their limited options. While the Wings take a long, hard look in the mirror before they begin to implement Plan B, C, D or even E, there's a theory being bandied about as to why the mighty Wings have not fared well in the...
First Brad Stuart left Detroit for San Jose, then Jiri Hudler signed a fat contract in Calgary.  Both Zach Parise and Ryan Suter chose Minnesota over Detroit, surprising hockey fans everywhere and leaving the Motor City quite dejected.  With the top two free agents off the board, what now for the Detroit Red Wings? Parise [...]
With less than a week since the ink dried on the identical contracts to Zach Parise and Ryan Suter the forward momentum of the growth of a hockey organization continues irregardless of that improbable outcome.  I am of course talking about the 2012 Wild Prospect Camp which opens tomorrow.  Heck, even as there are still a little over an hour (as I write this) Parise and Suter'...
In the latest ultimate example of arrogance by a member of the mainstream hockey media, Tony Gallagher puts forward a modest proposal that even Jonathan Swift would have problems swallowing. Apparently he believes that teams in the NHL that accept revenue sharing should not be allowed to go after free agents like Zach Parise and Ryan Suter, and throws in a thinly veiled dig at Nashville's...
from Tony Gallagher of the Vancouver Province, There are some well informed people around the NHL who feel the massive spend fest over the last few days has an excellent chance to make the new collective bargaining agreement negotiations a lot more difficult…. Take the behaviour of the Carolina Hurricanes for instance. Here was a team that was apparently hot and heavy after Zach...
Devils lost Adam Oates a couple of weeks ago as he became the head coach of the Washington Capitals. Then Zach Parise left to go play the rest of his career in Minnesota. NOW Larry Robinson is leaving us to go coach in San Jose?? WTF is going on? Is this a sign about the financial situation in NJ? We were 2 wins away from a cup, guys shouldn't be bolting like this....
NHL News

Delivered to your inbox

You'll also receive Yardbarker's daily Top 10, featuring the best sports stories from around the web. Customize your newsletter to get articles on your favorite sports and teams. And the best part? It's free!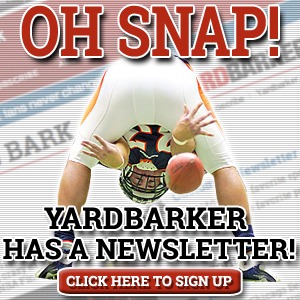 Latest Rumors
The Backyard

Today's Best Stuff

For Bloggers

Join the Yardbarker Network for more promotion, traffic, and money.

Company Info

Help

What is Yardbarker?

Yardbarker is the largest network of sports blogs and pro athlete blogs on the web. This site is the hub of the Yardbarker Network, where our editors and algorithms curate the best sports content from our network and beyond.