Found October 23, 2012 on centericechat.com:
Sergei Kostitsyn will be lucky if we let him back into this country or the NHL after his comments seen in a Russian newspaper in regard to the current NHL Lockout and some of its' proudest teams, cities and fans. It is safe to say that he may no longer be one of the more popular players in the league whenever hockey does resume if/when a new collective bargaining agreement is reached to lift the NHL Lockout. To Kostitsyn, he proved he doesn't care about the fans. Not North American fans, at least. Not NHL fans. Not even Nashville Predators fans. "Let's put it this way – it would be better [for the players] if the lockout continues," Kostitsyn was quoted as saying on Monday. "Players want a definite answer. If the NHL season is lost – let it be that way. I would then play in Russia for the whole season." Yes, players would love an answer sooner rather than later. We all would. But to say that it would be better for the players in the NHL cancels the entire 2012-2013 season is axiomatic. I am positive that all players do not feel the way that Kostitsyn does. Not even close. Kostitsyn wasn't done ripping hockey in America. Bad enough he knocked the NHL and said we would be better off without it this year. He didn't really have many positive things to say about this continent in general. Kostitsyn signed with the Predators after coming over from the Montreal Canadiens following the 2010 season after beginning his rookie season with the Habs in the 2007-2008 season. He also said he hated life in North America and labelled Columbus "the gloomiest" city in the States. I wonder how the Blue Jackets fans will respond the first few times Kostitsyn touches the puck when he plays in Columbus when the NHL does return to action? I would presume quite fittingly with a chorus of boos. "I couldn't get used to [American] mentality. They are totally different people from us," said Kostitsyn. I bet he has no problem accepting American money in his NHL contract with the Predators, however, as I am assuming that is not against his mentality. The fact that he recently signed a two year deal worth $6 million would lead me to believe that whenever the NHL Lockout does end, Kostitsyn will be on the first plane back to America to resume cashing his American checks.  
Original Story:
http://www.centericechat.com/2012/10/...
THE BACKYARD
BEST OF MAXIM
RELATED ARTICLES
via Reuters at the Globe and Mail, Nashville Predators winger Sergei Kostitsyn, who joined Russian club Avangard Omsk during a work stoppage in the National Hockey League (NHL), hopes the lockout will lead to the cancellation of the entire season. "Let's put it this way – it would be better (for the players) if the lockout continues," Kostitsyn was quoted as saying...
The Globe and Mail reported Monday morning that Nashville Predators forward Sergei Kostitsyn "hopes the lockout will lead to the cancellation of the entire season." Kostitsyn is currently playing in the Kontinental Hockey League for Avangard Omsk in Russia, where he is very successful in scoring five goals, two assists in only seven games. Photo by: w4nd3rl0st...
EKHOLM HELPS ADS END SKIDMilwaukee Earns Comeback Overtime WinHouston, TX— The Milwaukee Admirals snapped a two-game losing streak with a 5-4 overtime win at Houston Sunday night.Houston was down a man heading into overtime because Chad Rau was in the penalty box for a delay of game penalty. On the power play, Chris Mueller fed a pass to Mattias Ekholm at the point. Ekholm made...
Hello everyone! I welcome you today after what was an emotional roller coaster for hockey hopefuls. All of a sudden we were a throwing stone away from an 82 game season and just as suddenly we have never been further. It wasn't all bad news though; the Admirals did kick off their season last week and will be a constant source of some Preds entertainment. You can check out some...
Did you miss out on our last NHL 13 giveaway? Fret not! We have another chance for you to win a copy, courtesy of EA Sports!We don't have our beloved Nashville Predators to watch or listen to thanks to the NHL lockout so we've decided to rally behind the "Baby Preds." The Milwaukee Admirals, Nashville's AHL affiliate, will play the Texas Stars tonight and, if you can correctly...
While Europe beckons some, most Predators stay put, get healthy Morning Skate With Head Coach Barry Trotz Hockey Night In Smashville Admirals Weekly 10 things that must happen for NHL lockout to end This week is as big as they come for NHL 30 Thoughts: NHL lockout enters crucial week With deadline for full season looming, NHL talks appear to be on hold Watch what I do, not what...
NHL News

Delivered to your inbox

You'll also receive Yardbarker's daily Top 10, featuring the best sports stories from around the web. Customize your newsletter to get articles on your favorite sports and teams. And the best part? It's free!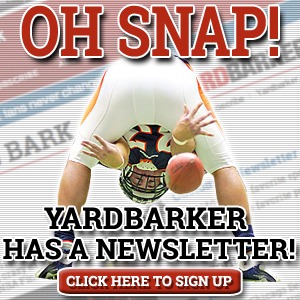 Latest Rumors
Best of Yardbarker

Today's Best Stuff

For Bloggers

Join the Yardbarker Network for more promotion, traffic, and money.

Company Info

Help

What is Yardbarker?

Yardbarker is the largest network of sports blogs and pro athlete blogs on the web. This site is the hub of the Yardbarker Network, where our editors and algorithms curate the best sports content from our network and beyond.