Found October 04, 2012 on Kukla's Korner:
The vitriol towards Gary Bettman among players is really heightened. Said one: "We'll stay united just to knock the smirk off his face." — Craig Custance (@CraigCustance) October 4, 2012
Original Story:
http://kuklaskorner.com/hockey/commen...
THE BACKYARD
BEST OF MAXIM
RELATED ARTICLES
TheNYRBlog reader Victoria C. sends me a copy of the letter she recently e-mailed to Gary Bettman regarding the e-mail... Dear Mr. Bettman, My name is Victoria C. I am an avid New York Ranger fan and a hockey fan in general. This past season, I was able to watch the team I love play their way to the top of the Easter Conference. They then went on to win two postseason...
Unsurprisingly, Gary Bettman has cancelled the first month of games.   So how do we show our anger over here at NOHS?  With a movie poster of course!  What a beauty eh?  Josh hasn't lost his touch over the summer and really seems powered by the hate.  But this time, it's not just a movie poster, it's the combo meal.  We've had each member of NOHS'...
With the NHL cancelling games for most of the month of October, more cancellations are likely on the horizon. However, the season may not be completely lost. According to former Toronto Maple Leafs assistant general manager Bill Watters, NHL commissioner Gary Bettman would consider using replacement players in an attempt to break up the NHLPA union. This tactic has been used before...
Lets just say that the NHL under the direction of commissioner Gary Bettman is not sitting well with hockey fans all across America and Canada. Recently the league announced that not only all preseason games would be canceled but also every regular season game though October 24 would be as well. This is currently the third lockout [...]
from Nicholas J. Cotsonika of Yahoo,  Imagine the Big Four meeting Friday in Toronto -- NHL commissioner Gary Bettman and his deputy, Bill Daly; NHL Players' Association executive director Don Fehr and his brother, Steve Fehr. Now imagine a popsicle sitting in the center of the table. The Big Four's job is to divide it.  Because the popsicle is...
from Michael Rosenberg of Sports Illustrated, Steven Spielberg has a new movie called Lincoln coming out soon. I hope it is historically accurate and includes Lincoln's famous statement: "Fool me once, shame on you. Fool me twice, shame on me. Fool me three times, and you can bite me, Gary Bettman." The NHL is locked out again. You may not have noticed...
At this time eight years ago the NHL had locked out the players and the NHL was on the verge of cancelling regular season NHL games, and eventually went on to cancel the whole 2004-05 NHL season. Back then the issue was related to controlling player salaries so more teams can compete on the ice and more importantly be able to compete, and survive, financially. Eventually the NHL...
For the second time in as many years, a major professional sports league has canceled games due to an owner-imposed lockout. National Hockey League owners chose to cancel the first two weeks of the 2012-13 regular season Thursday due to the their ongoing lockout of the players' union. The cancellations mark the third time in NHL history that the season has been at least delayed...
from Jeff Blair of the Globe and Mail,  Q: Does the court of public opinion matter for you and the NHLPA? Fehr: Obviously the public matters. Those are the fans, the people who ultimately buy the tickets and watch the game on TV and you want to try and explain everything you can. You want to see if the fans can understand your position, that the public perception of the...
I missed not having training camp! Hey everyone, it's been a while, but what's a month between blogs, right? Especially when we're 18 days into a lockout. But, today I've got a little something for you. No, I'm not going to break the news that Gary Bettman was struck by a bus and that at least one of the Fehr brothers was seen dancing on or around his flattened corpse....
"You hope it doesn't go too long, but it's tough to grasp when you've got a guy in Gary Bettman bragging every year that we're making 'record revenue, record revenue, record this,' and all of a sudden they want to take a quarter of what you've made away. That doesn't make sense to anybody. It doesn't matter what industry you're in." -Zach Parise of...
NHL News

Delivered to your inbox

You'll also receive Yardbarker's daily Top 10, featuring the best sports stories from around the web. Customize your newsletter to get articles on your favorite sports and teams. And the best part? It's free!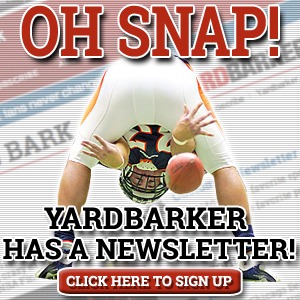 Latest Rumors
The Backyard

Today's Best Stuff

For Bloggers

Join the Yardbarker Network for more promotion, traffic, and money.

Company Info

Help

What is Yardbarker?

Yardbarker is the largest network of sports blogs and pro athlete blogs on the web. This site is the hub of the Yardbarker Network, where our editors and algorithms curate the best sports content from our network and beyond.