Found September 06, 2013 on isportsweb.com:
Penguins defenseman Matt Niskanen knows that a trade is imminent. With September upon us, the start of the NHL season is only weeks away.  Many teams are holding rookie showcase tournaments, and most training camps start in the next few days. The Pittsburgh Penguins are no different .  The Pens will have their first pre-season game a week from Sunday as they travel to Columbus to take on new the divisional opponent Blue Jackets.  However, before they can worry about preseason rosters and which young prospects will finally get their shot, the Pens are faced with one glaring issue: as of today, they are currnetly $1.1 million over the salary cap for the 2013-2014 season, a problem they must rectify before the puck drops for the regular season on October 3rd. This means that one of the thirteen forwards or eight defenseman that the team currently has under contract will need to be traded away top alleviate the pressure from the cap, and right now all signs point to defenseman Matt Niskanen as being the piece that gets moved. Rumors of a trade involving Niskanen have been circulating for a number of months now.  After he arrived in Pittsburgh as part of the James Neal trade, Niskanen proved himself to be a more than capable 3rd-paring defenseman who could play decent minutes every night.  However, his $2.3 million cap hit is simply too much to pay for a 5th defenseman, especially when the Pens have so many young D prospects in their farm system. What's more, the offseason signing of free-agent D-man Rob Scuderi to a multi-million dollar contract seemed to suggest that it was only a matter of time before Niskanen was shipped out. Apparently even Niskanen himself can see the writing on the walls. In an interview with the Pittsburgh Post-Gazette, Niskanen said that "I know the situation we're in, being over the cap, it's pretty evident that Ray (Shero) has to make a decision. Someone who probably otherwise is a regular on our roster (will be traded)". Where Niskanen will end up is anybody's guess.  I can think of at least a half dozen teams who are at a loss for defenseman and would highly value Niskanen's skills.  Since he is being moved to free up cap space, whichever team he is traded too will most likely send back either draft picks or a prospect whose minor league contract won't count against the cap. I like Niskanen, and I think that most Pittsburgh fans will wish him the best, as they should.  Had his contract been a bit lower, maybe the Pens could have kept him, but sports is a business after all, and sometimes you have to make decisions that you'd prefer not to.
Original Story:
http://feedproxy.google.com/~r/isport...
THE BACKYARD
BEST OF MAXIM
RELATED ARTICLES
A while back I noticed that Seth Rorabaugh of the Pittsburgh Post-Gazette had asked the readers of his blog to list their toughest Penguins of all-time. With nothing in particular to write about (always a dangerous thing), I decided to compile my own list of toughest Penguins by category, starting with the Hardest Hitters. Here's my top five body bangers in Pens history: 1. Brooks...
Sidney Crosby recently sat down with the CBC's Peter Mansbridge to talk about a variety of topics. The clip below focuses on Crosby's injuries over the past few seasons, especially his concussions. Here's the story attached to the interview. The full thing airs again this weekend on CBC. Crosby starts by giving a very "PR-friendly" interview, but Mansbridge...
These are all yours to do whatever you want with them. Most of these I did during the off-season.  Go ahead, read the rest »
Believe it or not, Sidney Crosby is about to enter his ninth season in the NHL. This number might seem a bit high due to the fact he has missed significant time over the last few years due to various injuries. Crosby skated in just 57 games in 2007-08, 41 games in 2010-11 and 22 in 2011-12. When you add in the time he missed last season with a broken jaw, injuries have been a fairly...
It was clear just by looking at Sidney Crosby following the Bruins' four-game sweep of his Pittsburgh Penguins in the Eastern Conference finals that the superstar took it real hard. Crosby stood in front of his locker at TD Garden in the moments after his season ended answering questions but with a distant gaze in his eyes, almost like he was replaying every missed opportunity...
You've only got a few minutes to wait if you want to buy tickets! Will Ticketmaster screw up this time? Will any reasonable tickets be available? Are the Penguins stil a draw without Tyler Kennedy? (Thanks, @theconfluence) SO MANY QUESTIONS! 
from Pierre LeBrun of ESPN, It hurt so much that Sidney Crosby couldn't bear to watch the Stanley Cup finals until the very last game. The four-game sweep at the hands of the Boston Bruins ranks right up there among the lowest points in Crosby's career. "It stung," the Pittsburgh Penguins captain told ESPN.com Thursday in an interview during the NHL's Player...
The Brooks Orpik pissed face after a goal. You never want to see it, but it's a part of our lives now.  
NHL News

Delivered to your inbox

You'll also receive Yardbarker's daily Top 10, featuring the best sports stories from around the web. Customize your newsletter to get articles on your favorite sports and teams. And the best part? It's free!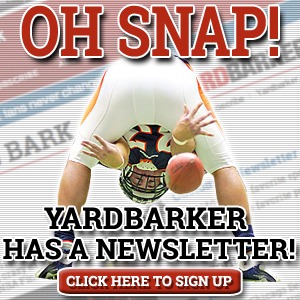 Latest Rumors
Best of Yardbarker

Today's Best Stuff

For Bloggers

Join the Yardbarker Network for more promotion, traffic, and money.

Company Info

Help

What is Yardbarker?

Yardbarker is the largest network of sports blogs and pro athlete blogs on the web. This site is the hub of the Yardbarker Network, where our editors and algorithms curate the best sports content from our network and beyond.