Found November 01, 2012 on Kukla's Korner:
from Dan Oldfield at CBC, Both parties are taking stock, keeping an eye on their stakeholders, and envisioning ways to get out of their current situation. It will not be easy. The biggest single problem? The players simply cannot accept the owners' offer. To do so this time would ultimately mean the end of the NHLPA. To accept the offer would clearly demonstrate that in the future — and forever — the owners need simply to threaten to lock the doors to get the deal they want. In The Art of War, Sun Tzu warns, "Never surround the village." What that means is that you must give your opponent an option other than fighting. In other words, an honourable way out. Unfortunately, Gary Bettman and the owners missed that chapter. more
Original Story:
http://kuklaskorner.com/hockey/commen...
THE BACKYARD
BEST OF MAXIM
RELATED ARTICLES
GREAT GOOGLY MOOGLY
Gary Bettman is expected to announce on Friday that the Winter Classic originally scheduled for New Year's Day will be canceled.
Gary Bettman won't be handing out any Halloween candy this year. He still hasn't figured out how to unlock his front door. Instead, he'll be taking to the streets to join in on the trick-or-treating. "I'm Gary Bettman and I can do whatever I want!" We always imagined Bettman was shorter in real life and more difficult to understand. Props to Ziggy...
Here are three quotes from Puck Daddy's "oh my God, did you seriously put NHL Commissioner Gary Bettman's picture on the targets at your firing range" interview with DVC Indoor Shooting Center manager Wes Yen that put the story in its proper context:"It seems to be one of our more popular targets. It's actually been a pretty big hit for us.""I guess not. It's an...
The biggest money-maker for the league has just been canceled. Gary Bettman, in a press conference scheduled for 2pm today, will announce that the NHL will cancel the 2013 Winter Classic between the Detroit Red Wings and the Toronto Maple Leafs at The Big House. In canceling this event, the NHL loses out on tens of millions of dollars in potential revenue from the game, the events...
Definitely a good idea and something that will gain some laughs if it ever becomes mainstream enough.  But, it is worth noting that NHL Commissioner Gary Bettman is just doing what the Owners want him to do and it is not entirely his fault.That being said, it was reported earlier Tuesday that the Winter Festival that was set to take place at Comerica Park is going to be cancelled...
Don Cherry loves to offer his opinion to any person willing to listen. When he was prompted on CBC's radio show about how long he thought the lockout would last, Cherry answered that he thinks odds are good that the entire season will be lost. "If I'm betting, I'd say no [NHL season]," stated Cherry, as seen on CBC.ca's site. Cherry later specified...
from David Shoalts of the Globe and Mail, The NHL will not cancel the Winter Classic on Friday and is not expected to do so before Nov. 15. But exactly when the league, which has locked out the players, will call off the annual outdoor game is the subject of some conjecture, even among those who have spoken to NHL commissioner Gary Bettman and deputy commissioner Bill Daly...
Today was supposed to be D-day for the Winter Classic at the big house, but it lives on, for now.  The NHL will not cancel the Winter Classic on Friday and is not expected to do so before Nov. 15. But exactly when the league, which has locked out the players, will call off the annual outdoor game is the subject of some conjecture, even among those who have spoken to NHL...
from Cam Cole of the Vancouver Sun, Not to be a contrarian here, but all the gnashing of teeth over the National Hockey League's reported intention to cancel the Bridgestone Winter Classic later this week is completely misplaced. If the league does it, it won't be despite the fact that it was Toronto versus Detroit, two storied franchises, a first inclusion of a Canadian...
from Rory Boylen of The Hockey News, A major struggle the NHL has faced in its history is transitioning from a niche sport to a big-league show that attracts fans from markets that can't sustain an outdoor rink. But the biggest reason this has been such a mammoth struggle is, well, the NHL itself. In the "non-traditional" hockey markets, the option to play while growing...
All indications point to the Winter Classic being cancelled sometime tomorrow by the NHL. But I still want to believe they need to have a face-to-face with the NHLPA before doing so.  Therefore I am going to go out on a limb and saying we hear nothing about the Winter Classic until Monday. One thing I do know, if the Winter Classic eventually bites the dust, Gary Bettman won...
from Elliotte Friedman of CBC, Does any of this sound familiar? A commissioner saying there are "enormous consequences at play ... we think that we made very fair proposals." Was that Gary Bettman two weeks ago? No, it was David Stern in October 2011. "Our indication today to go to a 50-50 deal demonstrates even more potential movement on our part...
NHL News

Delivered to your inbox

You'll also receive Yardbarker's daily Top 10, featuring the best sports stories from around the web. Customize your newsletter to get articles on your favorite sports and teams. And the best part? It's free!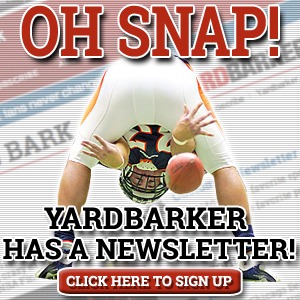 Latest Rumors
Best of Yardbarker

Today's Best Stuff

For Bloggers

Join the Yardbarker Network for more promotion, traffic, and money.

Company Info

Help

What is Yardbarker?

Yardbarker is the largest network of sports blogs and pro athlete blogs on the web. This site is the hub of the Yardbarker Network, where our editors and algorithms curate the best sports content from our network and beyond.