Found February 10, 2012 on NorthWest Sports Beat:
PLAYERS:
Eddie Lack
,
Matt Climie
,
Peter Forsberg
,
Byron Bitz
,
Nolan Baumgartner
,
Bill Sweatt
,
Mike Duco
,
Cory Schneider
,
Roberto Luongo
,
Kevin Connauton
,
Yann Sauve
,
Alain Vigneault
,
Cody Hodgson
,
Jacob Markstrom
,
Jordan Schroeder
TEAMS:
Vancouver Canucks
,
Florida Panthers
@EddieLack
I recently had an opportunity to "twitterview" Vancouver Canucks #1 Goalie Prospect Eddie Lack (@EddieLack) and what I came away with is that he is a very well spoken young man; ready for big things.
Here is a short background on Eddie to whet your appetite:
Eddie Lack was born January 5th , 1988 in Nortällje, Sweden. He was expected to be drafted at the 2009 NHL Entry Draft but was looked over. He was signed as a free agent the following season by the Vancouver Canucks and signed a 2 year entry level contract in April 2010.
Lack recently got onto Twitter!
Eddie has spent two seasons in the AHL now; first with the Manitoba Moose and now with the Chicago Wolves.
Prior, he played for Leksands IF in the SWE-2 league and for Brynas IF of the SEL (Elitserien).
As of February 10th, 2012, Eddie Lack has a 2011-12 record of 12-11-5 in a starting role ahead of Matt Climie. He has played in 27 of 47 games this season leading the Wolves to 5th spot in the Western Conference.
Eddie very recently set up a twitter account which allowed for this interview to happen.
Follow him @EddieLack.
So without further ado, I present to you, my loyal readers, my interview (twitterview) with Mr. Lack.
JH: Let's get down to business shall we?
EL: OK Let's do this.
JH: So Eddie, what inspired you to be a goalie and did you ever play any other positions growing up?
EL: I started off not being goalie but I guess I was such a bad skater, so they put me in goal and I never went back.
JH: Did you have a player or goalie you looked up to growing up?
EL: I've always loved Peter Forsberg. I remember growing up and the first thing I did in the morning was to put the TV on to see if Peter scored.
JH: Good choice.
Now moving to the AHL; What is it like having such a seasoned coach in Craig MacTavish? How has he supported you?    
"I've always loved Peter Forsberg."
EL: He's been really good to me. Even when I've been through some tougher times this year I feel like he's always been supporting me and talking to me. That's what I'm looking for in a coach.
He's a great person too!
JH: Good to hear from a fan's point of view. How demoralizing, or motivating was it, to go undrafted in 2009?
EL: I wasn't expecting anything; I just heard some rumors from one team so I was just hoping, but didn't expect anything. Just that a club was thinking about me got me working even harder, so that gave me a boost for sure.
JH: Any way you can reveal what team you heard was rumoured to be looking at you?
EL: Haha no I keep that to myself
JH: Haha; Understood. So that year, you ended up playing 14 games for Brynas in the Elitserien, the highest league in Sweden. Do you think having played at "the top" will prepare you at all for the NHL?
EL: I think it will but the leagues are so different. But I learned a lot being #2 behind Jacob Markström and that made me a better goalie.
JH: You're of course speaking about Jacob Markström, now of the Florida Panthers. Have you two kept in touch?
EL: Yes we are very good friends
JH: Do you feel you are ready for the step up to the NHL? Which part of the step up at some point are you most excited about?
EL: I hope I'm ready; I haven't tried it yet but I think I'm almost ready to try it. I let the people that decide that worry about it. I'm just trying to work hard every day to get closer to that step.
I know that when I'm ready I'm going to play there so just work on improving my game. Of course I'm most excited about playing against the best players. Just look at the players up there and if I'll someday play against and with those guys, I'll be extremely happy.
JH: What are the top 3 things you love the most about the Canucks organization?
EL: No special order. Always a cup contender, Lots of Swedish guys, Great goalie coach.
"Of course I'm most excited about playing against the best players."
 JH: Being a Cup contender is definitely a good thing.
Now let's make the mood a little lighter. What type of shot are you most afraid of?
EL: Every shot that comes from Byron Bitz. That man got a bomb.
JH: You must have been happy to see him get a couple points against the Preds then?
EL: Yes I'm happy for him. Great guy!
JH: Do you have any pre-game, in-game, post-game or off-day rituals or superstitions?
EL: I always eat pasta day before and 2 hours nap before the game. I like to listen to music and pump myself up.
JH: Any specific kind of pasta or sauce? Do you put parmesan cheese on top?
EL: Me and Jordan [Schroeder] usually go to Gianni's Italian (Chicago/Rosemont) spot here and order take out; Rigatoni with vodka sauce and chicken. No cheese on top.
JH: That sounds amazing. Can you elaborate on the victory dance?
EL: Haha The victory dance is just something I did in Sweden after a great win and I started it in Manitoba last year and now I just keep it goin.
JH: Who pressured you the most to get on twitter?
EL: Just the guys on the team. Everyone's been getting it lately so I figured why not, but Baumer [Nolan Baumgartner] was the guy that convinced me.
JH: I have to admit, you guys are all pretty hilarious. Who do you prefer to bunk with on the road? Best? Worst?
EL: What's bunk? Sleep?
JH: Oh yeah, like who do you prefer to roommate with?
EL: Billy [Bill Sweatt] is my roommate right now and that's how I want it. We like the same food and watch a lot of movies on the road. He's a little too much in to politics and stock market but I can live with that.
JH: Hey, as long as he's no Tim Thomas! I know you haven't been able to spend MUCH time here but do you have any favourite spots in Vancouver yet? Stanley Park? Coffee shops?
EL: I've been to the aquarium and liked that a lot. You have great restaurants and my favorite one is Italian Kitchen (1037 Alberni Street). I go there all the time.
JH: Ok, first fan question now (@alexlovesburrs); What kind of things have you found in Mike Duco's beard?
EL: I'll put my car keys in there before every practice; Safest place to hide stuff.
JH: I Definitely LOL'd at that! Another fan question (@luuluokrisyx1x); How would you feel about getting called up in the playoffs should Cory Schneider or Roberto Luongo go down at some point?   
"I've been to the Vancouver aquarium and liked that a lot."
EL: Of course I would feel bad for the one going down. You never wish that for a guy and especially someone like Cory or Lu. But I would be beyond excited just to be up there and being part of that group.
JH: Okay, we're in the home stretch here. What are your thoughts on headshots and concussions?
EL: It's unfortunate that so many guys are getting injured. I don't really have a great solution to the problem but I hope that the guys that have the power to do something about think fast.
JH: Well put! Should the Canucks tender you a qualifying offer after this season when you become an RFA, how quick do you think you'd be to accept?
EL: I haven't really thought about that yet. I'm just trying to end this season on a good note and we will see what happens after that!
JH: Good mindset for sure.  Your buddy @k_nauts (Kevin Connauton) just tweeted about leaving his turn signal on for 4 miles. Have you ever or would you ever get in a car with him?
Just drove 4 miles not knowing my blinker was on. I apologize to everyone who had to share the road with me... Can't believe I was #ThatGuy

— Kevin Connauton (@K_Nauts) February 8, 2012
EL: He lives in the same building as us so we carpool together. I think he's an okay driver. I lived with Yann Sauve last year and that was different I can tell you that.
I was making sure the seatbelt worked before I got in the car.
JH: Name the body of water off the coast of your hometown Norrtälje?
EL: Östersjön?
JH: Is that Swedish for the Gulf of Bothnia?
EL: Haha never heard of Bothnia but could be true.
JH: *We both look it up on google*
EL: Yes I looked it up. (So he figures out Gulf of Bothnia is legit)
JH: Oh ya, Östersjön! (I figured it out; it`s a larger body of water a bit further out from Norrtälje) Where does your nickname THE STORK come from?
EL: Don't really remember but I know it's from my time in Leksand!
JH: **Interestingly enough, Eddie's Wiki page (link at bottom) states the nickname is, "…in reference to his tall stature and long legs."**
If you had to just guess, how long would you say the drive is from your hometown of Norrtälje, Sweden to Örnsköldsvik, home of the Sedins and Peter Forsberg? Don`t look it up!
EL: Okay I think it's probably around 5 hours maybe 6! Right?
JH: Good guess. Google Maps tells me if you take the E4, it should take 6 hours and 22 minutes.
"My pasta is Rigatoni with vodka sauce and chicken. No cheese on top."
EL: So 5 when I`m driving
JH: Ahaha maybe it`s @k_nauts who should be afraid of driving with YOU!
EL: Probably
JH: Alright man. I can't tell you how much I appreciate this. I wish you the best for the rest of the season. Any last words for your fans?
EL: Thank you
Just keep doing what you're doing because I really love playing for this organization!
JH: Thanks Eddie!
**Stay tuned for more Game Previews and special features coming up on Northwest Sports Beat**
External Links
Official SWE-2 (HockeyAllsvenskan) Site

Official Eddie Lack AHL Player Profile
Follow me on twitter @vancan19 for some great in-game, game day and off day tweets!
CLICK HERE TO CHECK OUT THE CANUCKS CLUBHOUSE TODAY AT NWSPORTSBEAT!
© Vancan19 for North West Sports Beat, 2012. | Permalink | No comment |
Follow NWSB on Twitter or join US on Facebook for real-time updates OR... | Share This on Twitter | Share NWSportsBeat.com on Facebook
Post tags:
AHL
,
Alain Vigneault
,
AllState Arena
,
American Hockey League
,
Bill Sweatt
,
Buddy Meyers
,
Byron Bitz
,
Canucks Blog
,
Canucks hockey blog
,
CDC
,
Chicago Wolves
,
CHL
,
Cody Hodgson
,
Cory Schneider
,
Craig Mactavish
,
Don Levin
,
ECHL
,
Eddie Lack
,
Elitserien
,
facebook
,
Jacob Markstrom
,
Jordan Schroeder
,
Kevin Connauton
,
Manitoba Moose
,
Mike Gillis
,
modo
,
National Hockey League
,
NHL
,
NHL Entry Draft
,
Nolan Baumgartner
,
peter forsberg
,
Playoffs
,
Roberto Luongo
,
Rogers Arena
,
Swedish Elite League
,
Tim Thomas
,
twitter
,
Twitter Interview
,
twitterview
,
vancouver
,
Vancouver Canucks
,
Western Conference
Original Story:
http://www.nwsportsbeat.com/canucks/t...
THE BACKYARD
BEST OF MAXIM
RELATED ARTICLES
Walking Wounded? The most popular foot in all of  North America I'm 100% sure belongs to Henrik Sedin right now.  Will he be able to play soccer pre-game tonight? Sounds like it. It seems like we're getting some good news out the frozen tundra today that is Minnesota. The Canucks are letting everyone know that the iron man Vancouver Canucks captain does not have a fracture...
If your a lifelong Vancouver Canucks fan like I am I KNOW you can get on board with this video. SO True! S**t Canucks Fans Say is one of the most clever NHL fan video's I've ever seen! Very well done gang! Love it! This is a great video on the Canucks and Canucks fans. So great. Kudo's TO (The Bowmanada from Canada on Twitter) Twitter & (Wyatt The Stanchion...
Vancouver Canucks captain Henrik Sedin does not have a fracture in his foot, but it is not known if he will be available for Thursday's game against the Northwest Division rival Minnesota Wild. Sedin, who has played in 552 consecutive regular-season games, told Team 1040 radio that the CT scan he had on Wednesday did not reveal any issue. He is expected to test his ankle later...
Canucks look to continue dominance The Vancouver Canucks will look to return home undefeated after a four game road trip. Standing in their way is the Calgary Flames, a team that has had their share of troubles with the Canucks over the past few years. CLICK HERE TO CHECK OUT THE VANCOUVER CANUCKS CLUBHOUSE TODAY! Vancouver Canucks (34-15-5) at Calgary Flames (25-22-8) When: 10...
An Ironman After Thursday? A battle between the #1 and #2 teams in the Northwest Division headlines a busy night of NHL Betting action Thursday. The Vancouver Canucks, winners of two straight games and having played five straight extra-time contests head into Minnesota to take on the struggling Wild. CLICK HERE TO CHECK OUT THE VANCOUVER CANUCKS CLUBHOUSE TODAY! Vancouver Canucks...
The Vancouver Canucks say Henrik Sedin has no broken bones in his right foot.
It takes a good coach to be able to find a new strategy that nobody else has ever used that is a successful strategy that helps your team win.  Alain Vigneault, the coach of the Vancouver Canucks, has developed one such strategy over the last couple of years.  While many coaches match lines with the opposition, Vigneault does not do that.  Vigneault matches lines to the position...
LW Daniel Sedin and C Henrik Sedin each scored a goal against Minnesota for the first time ever, as the Vancouver Canucks defeated the Wild 5-2 at Xcel Energy Center. G Cory Schneider made 21 saves for Vancouver.   LW Dany Heatley scored a ...
Henrik and Daniel Sedin both scored against Minnesota for the first time in their careers to lead the Vancouver Canucks to a 5-2 win over the Wild on Thursday night. Maxim Lapierre, Manny Malhotra and Ryan Kesler also scored for the Canucks. A CT scan earlier in the day on Henrik Sedin's foot came back clean and the Canucks captain played in his 553rd consecutive game, the second...
The Vancouver Canucks said Thursday that Henrik Sedin has no broken bones in his right foot.
The Vancouver Canucks keep finding ways to win close games, but tonight they may have to find a way to do so without former Hart Trophy winner Henrik Sedin.
Not many teams will complain about non-regulation victories, but even the NHL's hottest squad seemingly needs to find something to improve. The Vancouver Canucks seek their seventh victory in eight games and their sixth consecutive road win over the Calgary Flames on Saturday night. Before beating Minnesota 5-2 on Thursday, Vancouver's four previous victories each came...
NHL News

Delivered to your inbox

You'll also receive Yardbarker's daily Top 10, featuring the best sports stories from around the web. Customize your newsletter to get articles on your favorite sports and teams. And the best part? It's free!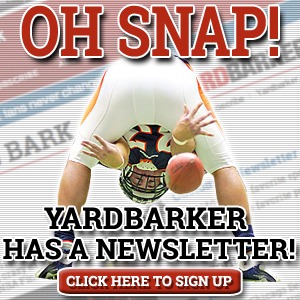 Latest Rumors
Best of Yardbarker

Today's Best Stuff

For Bloggers

Join the Yardbarker Network for more promotion, traffic, and money.

Company Info

Help

What is Yardbarker?

Yardbarker is the largest network of sports blogs and pro athlete blogs on the web. This site is the hub of the Yardbarker Network, where our editors and algorithms curate the best sports content from our network and beyond.