Found May 18, 2012 on Fox Sports Arizona:
LOS ANGELES -- Early in the second period Thursday in Game 3 at Staples Center, Daymond Langkow gave the Phoenix Coyotes their only lead of the Western Conference final on a long pass from defenseman Keith Yandle. It was a nice payoff for a guy whos quietly been one of the teams best postseason performers. On the other end of that goal was defenseman Derek Morris, who made a safe pass to Yandle across the ice to set up that momentary ray of hope for Phoenix in an otherwise dismal series. We know what you're thinking: So what? The Coyotes still lost. They still trail 3-0, with a possible season-ending game coming Sunday. Thats all true, but an off day in Los Angeles afforded a moment to reflect on the myriad off-ice issues athletes deal with that get glossed over in a city and fan bases hunger for wins. Six months ago, Langkow, 35, was trying to hold a family together. His mother, Vivian, had passed away suddenly at the age of 54, and his dad, Randy, was so grief-stricken that Daymond worried about his well-being. Three months ago, Morris went home to be a full-time dad to his three sons, Traiten, Presley and Asher, and help his wife, Jodie, tend to a family member dealing with severe depression. Neither player wants to talk about those incidents, and thats their right. Its their private life. But both have performed at a high level since returning to the lineup, and that is a remarkable fact that doesnt get enough attention. "Theres so many things that go on that people dont know about -- sometimes even teammates dont know about, veteran defenseman Adrian Aucoin said. "Athletes are real people with a lot of average problems, and sometimes its tougher to fight through them because youre always in the media and always under the spotlight." Langkow's mother died in early November, and the veteran center was out for eight games. He returned with a bang, notching a pair of assists in a 3-0 win over the Dallas Stars on Nov. 26. "I didn't know what to expect. I just tried to prepare myself as best I could, and it felt good," Langkow said. "Unfortunately, it's part of life, but you have to battle through it, and I think the best way to do that is to get back with your regular routine." Langkows regular-season stats dont jump out at you. He had 11 goals and 30 points in 73 games. But hes tied for third on the team with seven playoff points, and theres a reason for that. "Hes just a steady player," coach Dave Tippett said. "Hes one of these guys where you dont notice him a lot out there, but he does a lot of things right in the game. "Hes a player that can play in different roles. Two games ago, he was our fourth-line center. (Thursday) night, he was our top center. Its a credit to him to adapt to different situations, different roles that he plays, and have the ability to do them all well. Morris, 33, took a leave of absence in February. He missed 15 games, but since his return, hes played as if he's shed five years of wear and tear. He has two goals and six points in the playoffs, hes tied for seventh in the league in blocked shots (33), hes given the Coyotes a much-needed physical presence and hes given defensive partner Keith Yandle a comfort level. "Hes such a steadying presence for me," Yandle said recently. "Theres so much of my game that I owe to him." Aucoin said the duos performance level in the wake of personal issues isnt surprising. Its what they expect of themselves as pro athletes. "No matter what we go through, we still have to show up and work our hardest," he said. In that regard, being around the team can be one of the best cures. "All that stuff definitely takes a toll on guys, but thats when you lean on your teammates, Aucoin said. "Teammates are actually extended family. Its really important to have those guys on your side when times are hard. You always get welcomed back with open arms." And with a heaping dose of respect. "Both of them have handled it very well," Tippett said. "Theres going to be some ups and downs, but both of them are very good teammates and they put that distraction aside. When its time to play, they come and play well, and I think their teammates appreciate that."
Original Story:
http://www.foxsportsarizona.com/05/18...
THE BACKYARD
BEST OF MAXIM
RELATED ARTICLES
Phoenix Coyotes Coach Dave Tippett appeared to take a dive on his diving charge. Thursday Tippett felt the Kings were well suited to be playing near Hollywood, given their acting abilities, saying "more than one penalty" against his team "were plays where there was embellishment." Friday Tippett said his comments weren't "geared toward that game last...
LOS ANGELES -- Forward Marc-Antoine Pouliot will replace suspended center Martin Hanzal in the Coyotes lineup for Game 3 of the Western Conference final against the Kings on Thursday night. Pouliot has appeared in five playoff games already, notching an assist, two penalty minutes and a plus-1 rating in two games against Chicago and three against Nashville. He hasnt appeared in...
It's all a guessing game this time during the playoffs -- at least when it comes to supplementary discipline, and in particular, the case of the Coyotes' Martin Hanzal, who received a one-game suspension for his hit on the Kings' Dustin Brown in Game 2. Game 3 is tonight in Los Angeles. "I know these playoff games are probably worth more," Brown said after...
LOS ANGELES The Coyotes have faced every challenge with steely resolve this season: ownership uncertainty, one of the NHLs lowest payrolls, suspensions to key players and a March slump that threatened their playoff hopes. With their backs against the wall on Thursday at Staples Center, the last obstacle they expected was a one-sided officiating crew. Unfortunately for the team...
After he complimented the Los Angeles Kings for their play in the Western Conference final and talked about how too many of his players haven't been able to reach the next level of play in a series they now trail 3-0, Phoenix coach Dave Tippett was asked about the officiating in Thursday's 2-1 loss. "If I told you what I really thought, I think it would cost me a lot...
I think every hockey fan knows tonight is a must win game for the Phoenix Coyotes. The Coyotes have been major underdogs throughout their hockey history and nothing has changed. They are still the underdogs today, even though the LA Kings were technically an eight seed in the Western Conference. Virtually nobody gave the Phoenix Coyotes the chance, and if they go down 3-0 tonight...
Have to love Liz Habib of KTTV/Fox 11's ability to bounce back from an LA Kings highlight clip in which she got multiple names wrong AND she informed viewers that the teams were apparently playing... Full story at Bob's Blitz ~ http://www.bobsblitz.com
((HT: Sportsnet Radio/FAN 590)) Sportsnet 590 The FAN's Bob McCown is reporting on his afternoon radio show, "Prime Time Sports," that Boston Pizza owner/founder Jim Treliving will purchase the Phoenix Coyotes for around C$165 million, paid over the course of 10 years, with the flexibility to move the team without restriction after four years. Treliving has denied...
from Eric Duhatschek of the Globe and Mail, It doesn't matter how well the Coyotes defend at this stage of the game. If Phoenix wants to avoid a sweep in Sunday afternoon's fourth game at Staples Centre, they'll simply need to score more goals. All the talk about diving and embellishment is just window dressing. Somebody on the Coyotes' side needs to get more pucks behind...
Welcome to the Hotstove! As always, I'm your host, Travis Yost. With the Phoenix Coyotes facing a 2-0 series deficit against the white-hot Los Angeles Kings, many experts and media-types are already chalking this series up in favor of Darryll Sutter's club. And, it's not like it's completely unjustified. After all, the LA Kings have lost exactly one game in...
GAME #3 LA KINGS 40-27-1595 pts, 8th in Western Conference, 13th in NHLvsPHOENIX COYOTES42-27-1397 pts, 3rd in Western Conference, 11th in NHL Regular Season Series Tied 3-3 Kings Lead Playoff Series 2-0 6:00pm, Staples CenterLos Angeles, CANBC SN BEST SLASH BY A GOALIE IN THE ORGANIZATION: BEST OPPOSITION BLOG:Five For Howling BEST COYOTES FANS TO FOLLOW ON TWITTER...
Poster Boy Kings Target Sweep Of Coyotes Time is running out for the Phoenix Coyotes in the Western Conference Final as the Los Angeles Kings take one step closer to the Stanley Cup. This Sunday, up 3-0, L.A. can seal the deal on an unlikely sweep over the conference's No. 3 seed. Get some action in on the possible finale on Bovada's Stanley Cup odds. Although the Coyotes are...
NHL News

Delivered to your inbox

You'll also receive Yardbarker's daily Top 10, featuring the best sports stories from around the web. Customize your newsletter to get articles on your favorite sports and teams. And the best part? It's free!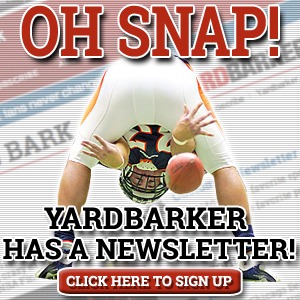 Latest Rumors
The Backyard

Today's Best Stuff

For Bloggers

Join the Yardbarker Network for more promotion, traffic, and money.

Company Info

Help

What is Yardbarker?

Yardbarker is the largest network of sports blogs and pro athlete blogs on the web. This site is the hub of the Yardbarker Network, where our editors and algorithms curate the best sports content from our network and beyond.