Found September 26, 2012 on The Predatorial:
Photo by Gosha Images In this space, generally, many a Predator fan would be tuning in for our post-game report on the pre-season game last night between the Nashville Predators and division rival St. Louis Blues. It would be loaded with fun facts and tiny diversions that make pre-season games so much fun by trying to see who might earn that coveted roster spot or how the new crop of rookies and draft picks are coming along. Last year saw the emergence of Craig Smith bypassing Milwaukee altogether and turning in a rookie performance that netted him another 2 years at $2M. How is Ekholm progressing? Is Pickard finally going to show some of the form that made him a first round selection? Is Austin Watson looking to become the next Ryan Kesler? Will Pontus Aberg join the Craig Smith club and nab a roster spot? But no, these things have not and will not come to pass. It is day 11 of the NHL lockout and although the Predators calender on the right hand side of the homepage says Bridgestone Arena has a game scheduled for Saturday October 13th, (unless something gets done with a quickness) it is not to be. Writers across the blogosphere and hockey news outlets are reporting on this to the Nth degree, dissecting every angle and sound bite for leniency towards agreements and hostility toward bargaining and compromise. Neither side is winning hearts and minds with this endless banter unless in the next few days the NHL and NHLPA can finally come to terms with each other and get what many NHL fans truly believe to be the greatest sport product back into action. The Predators fans are some of the lucky ones in this ordeal boasting one of the best fan-incentive projects for those willing to stick things out in hopes that hockey will resume. An APR-based incentive to keep money with the Predators and a boatload of Smashville reward points to be used on merchandise, events and concert tickets also help ease the sting of not having any hockey downtown. But is this enough? Many fans are already fed up with a league that only eight years ago did the exact same thing. The league, the owners and players all bet on the fans coming back and they sure enough did; coming back in droves to make the last seven years of the NHL some of it's most profitable. But will it happen this time if a true lockout of the entire season occurs? Momentum, the one key element that everyone knows is the make or break ingredient in every sporting event, is now being tampered with yet again and although many are optimistic that the league will get things under way by at least the Winter Classic, the damage may have already been done. Just reading other articles about the NHL lockout and the subsequent comments below, it doesn't take an investigative journalist long to realize that fans, especially long-time season ticket holders (yep, the same ones that stuck through the last lock-out and the fire sale and the relocation talks) are fed up with the nonsense of a league and players not being able to find common ground in a timely fashion with revenues far exceeding what they were squabbling about only 8 years ago. This aforementioned momentum is what small market teams like Nashville, Florida and Phoenix use to top attendance numbers and sellouts from a season ago. The continued success of Nashville led to the best season yet with record-breaking attendance figures not seen since the inaugural season and the most sellouts in a season. Florida and Phoenix, by icing competitive teams that shocked the NHL had Florida winning their division and Phoenix advancing to the WCF, hence fans started to come back to these venues and cheer on a team that has been lacking in the attendance department. All this is slowly coming to an end the longer this lockout stretches out. The casual fan, which is just now finally coming to more and more Predator games will not understand why the Predators aren't playing and quickly turn to college sports or the pro football team across the river for their sports entertainment (trust me, I talk to them every day and this is the general consensus). But the frightening part is the long time hockey lover, the ones who remember the Dixie Flyers and the Nashville Knights and have supported the Predators since Day One are growing very tired of this scenario playing itself out as a broken record since 1994. And it was those fans that not only saved Nashville from being moved, but helped to build the game to the second generational fandom that it is today. Take away these fans and what good did the lockout do? The answer: The lockout will not benefit anybody including owners, players and especially fans. —————— Where do you stand? Are you just as frustrated? Are you going to give up? Are you going to give in? Please comment below and feel free to check us out on Twitter @ThePredatorial and @Preducated. Stay HardCore…  
Original Story:
http://www.thepredatorial.com/2012/09...
THE BACKYARD
BEST OF MAXIM
RELATED ARTICLES
FAMILY TIME
Country music star Carrie Underwood may be one of the few hockey fans happy about the NHL lockout. See why that is the case.
Chris Mason on Pekka Rinne: "You see a lot of guys with talent, but he's got a work ethic that is second to none."
NHL 2012-13 Campaign Preview: Nashville Predators http://sports.yahoo.com/blogs/nhl-puck-daddy/nhl-2012-13-campaign-preview-nashville-predators-224705131–nhl.html   Rinne 'close' to signing in KHL; Fisher talks lockout http://smashville247.net/index.php/2012/09/rinne-close-to-signing-in-khl-fisher-talks-lockout.html   Rinne talks KHL and Teemu Selanne http://blogs.tennessean...
Pekka Rinne is headed to Dinamo Minsk of the KHL, plus more from Mike Fisher and Matt Halischuk...
Per his agent, Jay Grossman, Nashville Predators goaltender Pekka Rinne has signed a lockout deal with Dinamo Minsk of the KHL.In related news, Predators forward Patric Hornqvist has inked a deal with Djurgården of Sweden's Allsvenskan league.This is an unsettling move as both Rinne and Hornqvist are not only two of Nashville's best players, but they've also been in Music...
Predator's Starting goalie Pekka Rinne is the first Nashville Player to announce an overseas contract. A tweet by Igor Eronko (@IgorEronko)states that Rinne has reached a mutual agreement with the KHL team Minsk Dinamo. This is just shortly after news that Niklas Backstrom of the Minnesota Wild announced he was signing with that same team. Perhaps they will spend their time...
He's locked out out so why not?Nashville Predators goaltender Pekka Rinne is headed to Dinamo Minsk of the KHL, according to his agent, Jay Grossman. Rinne, fresh off the ice at A-Game Sportsplex today, put the breaks on the news.Albeit squeaky breaks that barely came to a stop."I haven't signed yet," Rinne said. "But we're probably pretty close. Hopefully everything...
Carrie Underwood might have the hearts of country music fans sewn up, but she could have a tough time saying the same thing of hockey supporters. Underwood, who is married to Nashville Predators center Mike Fisher, is actually looking forward to the NHL lockout because it will allow her a little more time with her hubby. "Is it wrong for me to be a little happy [about the lockout...
Nashville Predators goaltender Pekka Rinne has signed with Dinamo Minsk of the Kontinental Hockey League in Russia during the NHL lockout. Rinne, 29, led the NHL with 43 wins last season and was a finalist for the Vezina Trophy. He posted a 43-18-8 record with a 2.39 goals-against average, .923 save percentage and five shutouts.
REGISTRATION FOR UPCOMING G.O.A.L!SESSION SET FOR TUESDAY, OCT. 2 AT 9 A.M.-Free learn-to-play series has seen more than 2000 families graduate from program-Nashville, Tenn. (September 26, 2012) – Next Tuesday, Oct. 2 at 9 a.m., the Nashville Predators will begin taking applicants for its upcoming session of Get Out And Learn! (G.O.A.L!) – held two Fridays in October (19 and...
Nashville Predators' goalie Pekka Rinne is the next National Hockey League player to go to to the Kontinental Hockey League in Russia. Rinne's agent Jay Grossman of "Puck Agency" tweeted out on his Twitter page Tuesday morning, "Pekka Rinne will re-join former Karpat goalie coach Ari Hilli with Dinamo Minsk." While playing for Dinamo in Minsk, Belarus...
NHL News

Delivered to your inbox

You'll also receive Yardbarker's daily Top 10, featuring the best sports stories from around the web. Customize your newsletter to get articles on your favorite sports and teams. And the best part? It's free!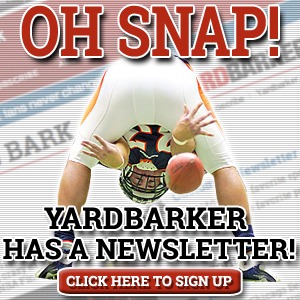 Latest Rumors
Best of Yardbarker

Today's Best Stuff

For Bloggers

Join the Yardbarker Network for more promotion, traffic, and money.

Company Info

Help

What is Yardbarker?

Yardbarker is the largest network of sports blogs and pro athlete blogs on the web. This site is the hub of the Yardbarker Network, where our editors and algorithms curate the best sports content from our network and beyond.