Found April 12, 2012 on Blue Seat Blogs:
Last week, the Senators looked like a lock for the 7th seed in the East.  So, stupid me decided to preview Craig Anderson as if the Sens weren't about to go on a three game skid and end up in 8th, and the first round opponent for the Rangers.  Since Anderson will be the guy the Rangers have to solve, we are going to give this bad boy a little bump since it doesn't seem like many of you guys saw it.  If you didn't see it the first time, that's a bad blog reader.  If you did, give it another look and let me know how intimidated you are by Anderson and his 7-3-1 record, 1.87 GAA/.941 SV% and his 2 shutouts (career numbers) against the Rangers. (here's a hint…I'm not at all intimidated).  Onto the post… The surprising Ottawa Senators, who many analysts had pegged for a lottery pick this year, find themselves pretty well locked into the 7th spot in the East and a date with the division rival Boston Bruins in the first round back in the playoffs and awaiting a date with the Rangers in the first round.   No small part of Ottawa's equation this season has been the play of goaltender Craig Anderson. Anderson has gone through plenty of ups and downs in his career, first traded by Chicago to Florida and working as a backup with the Panthers before signing a 2-year deal in Colorado.  He had a stellar first season in Denver, leading the Av's to a playoff birth.  His second season did not go nearly as well, and he found himself in Ottawa at the trade deadline last season.  He subsequently signed a 4 year/12.75 million extension last March. Let's breakdown Anderson's game, usual categories apply.  General style, strengths, weaknesses, and how the Rangers should approach the matchup. General style If you have been reading this series regularly, you know I am all about disclosing my personal feelings about each of these tenders before entering into the analysis.  So, its only fair to tell you I strongly dislike Craig Anderson's playing style.  For my money he is the worst starting goalie in the NHL.  I will try to remain as impartial as possible while breaking Anderson down, but don't say I didn't warn you. Anderson lies, stylistically speaking, somewhere between Roberto Luongo and Tim Thomas.  He is a relatively big goalie (6ft 2in, 180, with big equipment), and utilizes his size well.  His style sees a combination of a large amount of pure blocking with acrobatics and very little technical foundation.  It is a bizarre mixture for sure, and in the right defensive system can produce results. There is an unqualified concept in hockey known as the "big save" or the "momentum changing" save.  There are no modern stats (that I've been able to track down anyway) that can quantify the effect of this type of play, but it seems to be something of Anderson's forte.  He is pretty much a lock to possess a G.A.A. north of 2.50 each year, but he has a knack for making the right save at the right time. Strengths Anderson's biggest strength is how big he makes himself in the net.  He doesn't track the puck particularly well and relies on the puck hitting him more than anything.  He does a pretty decent job at this, but its when he can see through a clear lane that the circus ensues (but we will get to that later). Anderson is also an above average positional goalie.  This goes hand in hand with his blocking style, as for the puck to hit you on a consistent basis, you need to be in the right spot.  Combine this with above average shootout skills (again, he makes himself huge in the skills competition), and you have the makings for a goalie who can frustratingly shut down an offense. Weaknesses The thing about unorthodox goalies is that they have a habit of turning strengths into weaknesses and vice versa.  Anderson is a pretty strong skater, but he does not utilize this skill properly.  He can move laterally competently as well, but he utilizes it incorrectly.  He is an oxymoron with a mask on for all intents and purposes. Anderson's blocking style makes him very susceptible to rebounds, and on nights his defense isn't 100%, it's not difficult to understand why he is giving up 3-5 goals.  As previously mentioned, the real problems come when Anderson can track the puck. This is where the Tim Thomas transition comes in.  He flops and flails relentlessly on lateral moving pucks and odd-man rushes.  When the play breaks down, his technical soundness breaks down as well.  Sometimes, this can be a good thing (see the Marc-Andre Fleury post) as it can throw some unpredictability at an offense.  However, there is a point of diminishing returns. How the Rangers should approach the matchup Given my low opinion of Anderson's overall ability, I obviously feel that he can be beaten without a huge problem.  However, since he runs basically the opposing paradigm of other goalies (strong through traffic, weak out in the open), the appropriate game plan is a must.  The name of the game with Anderson is patience. When a goalie is willing to take himself out of the play by making a desperation type save, the biggest component of his success is timing.  Since gaps close incredibly quickly in the NHL, he relies on these closing windows to limit the offense's ability to wait out his shenanigans.  The key for the Rangers is to exercise patience and allow him to take himself out of the play, and feast on open nets. The Sens are a high scoring team with a competent backend, but when looking behind the numbers a little, you can see that Anderson does just about everything he can to make up the difference.  It could be confirmation bias on my part, but I seem to remember a large number of 6-4, and 5-3 wins for Ottawa throughout the course of the season.  If the Sens happen to get by Boston in the first round, the Rangers simply need to do their homework on Anderson and they should be just fine. The Rangers get their first crack at Anderson tonight at 7pm.
Original Story:
http://www.blueseatblogs.com/2012/04/...
THE BACKYARD
BEST OF MAXIM
RELATED ARTICLES
In a few interviews earlier this month, management acknowledged that the Senators were going to bring Mika Zibanejad back over to North America to play in Binghamton's final two AHL regular season games before allowing him to experience the NHL playoff atmosphere as a "Black Ace". It's funny how quickly things can change. When head coach Paul MacLean replaced Colin...
While doing a morning check up of everything Swede within the Senators' system, I noticed these two tweets from Joy Lindsay: Zibanejad will NOT play for #BSens — tonight or tomorrow. He will travel to Wilkes-Barre tonight and watch both games this weekend. #Sens — Joy Lindsay (@PSBJoyOnTheSens) April 13, 2012 And... Does not seem Zibanejad is injured, just worn...
Wayne Scanlon at the Ottawa Citizen feels the Senators have been very humble leading up to tonight's playoff opener against the Rangers..."If the Ottawa Senators were any more humble, more low-key, in the prelude to the Stanley Cup playoffs, they'd be reciting a hockey version of the Beatitudes: Blessed are the meek ... for they shall inherit the upset.Where's the...
This afternoon on the Team 1200's Healthy Scratches, Senators Assistant GM Tim Murray was on to talk to Jason York and Steve Lloyd about the playoff match up with the New York Rangers, scouting Erik Karlsson, and liking fourteen prospects in the upcoming draft. The interview itself lasts for almost twenty minutes, so I'm not going to bother transcribing all of it. It was...
The New York Rangers host the Ottawa Senators at Madison Square Garden for Game 1 of their Eastern Conference Quarterfinals match-up starting at 7:00 p.m. For a preview go to Yahoo! Sports. Rangers Game Notes TV: MSG; Radio: ESPN Radio 1050AM, XM 92Live Stream (Don't...
All week leading up to last night's Game 1, all I read from the Senators players was how they could beat the Rangers and how it was their series to win. Well, after last night's 4-2 loss to the Rangers there wasn't much talking (via Ottawa Citizen)...Head Coach Paul McLean..."We didn't play our best. We need to play better, obviously, to win. When you lose a game...
The Ottawa Senators hockey team has extra incentive to win the playoff series against the New York Rangers: a chance to humiliate America's top diplomat by making her wear their jersey. Secretary of State Hillary Rodham Clinton made a wager with Canadian Foreign Minister John Baird ahead of Thursday night's opening game in New York. If the Rangers win, Baird must wear New...
Well, the day has finally arrived. Tonight, the puck will drop at MSG for the first round of the 2012 NHL playoffs. The Rangers have the top seed, and drew the Ottawa Senators in the first round. This is a tough matchup for the Rangers, as they went 1-2-1 (essentially 1-3) against the Senators during the regular season. The Rangers were awarded the Senators after Ottawa lost their...
Two teams powered by Swedish players meet in the first round of the NHL playoffs. The Rangers, top seed in the Eastern Conference, are lead by Swedish goaltender Henrik Lundqvist, who's been their team MVP for five straight years; Ottawa, seeded eighth in the East are captained by Daniel Alfredsson and have Norris Trophy candidate Erik Karlsson on their blue line. Karlsson led...
TONIGHT'S GAME: The Rangers will face-off against the Ottawa Senators tonight at Madison Square Garden (7:00 p.m.; TV: MSG Network; Radio: 1050 ESPN Radio), in Game One of their Eastern Conference Quarterfinal matchup. On Saturday, the Blueshirts were defeated by the Washington Capitals, 4-1, in their regular season finale. New York finished with a 7-4-0 [...]
(1) New York Rangers 51-24-7    vs.    (8) Ottawa Senators 41-31-10   Game 1: April 12, 7pm- Ottawa @ New York Game 2: April 14, 7pm- Ottawa @ New York Game 3: April 16, 7:30pm New York @ Ottawa Game 4: April 18 7:30pm New York @ Ottawa Game 5: April 21 7pm Ottawa @ New York* Game 6: April 23 TBD* Game 7: April 26 TBD* *if nessecarry   This being the NHL an eight...
Ranger Nation is proud to announce a partnership with new sports social networking site Fan Junkies starting TONIGHT, April 12th for the first game of the New York Rangers vs Ottawa Senators Playoff series. Ranger Nation will be sponsoring the live chat's throughout the first round of the NHL Playoffs. The chat room will open up [...]
NHL News

Delivered to your inbox

You'll also receive Yardbarker's daily Top 10, featuring the best sports stories from around the web. Customize your newsletter to get articles on your favorite sports and teams. And the best part? It's free!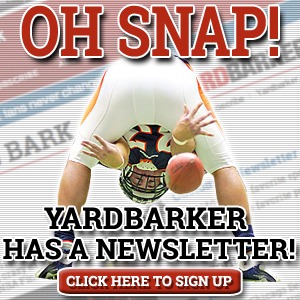 Latest Rumors
Best of Yardbarker

Today's Best Stuff

For Bloggers

Join the Yardbarker Network for more promotion, traffic, and money.

Company Info

Help

What is Yardbarker?

Yardbarker is the largest network of sports blogs and pro athlete blogs on the web. This site is the hub of the Yardbarker Network, where our editors and algorithms curate the best sports content from our network and beyond.