Found April 19, 2012 on Fox Sports Florida:
Tune into FOX Sports Florida at 7 p.m. to watch the Florida Panthers take on the New Jersey Devils. NHL Panthers territory. NEWARK, N.J. (AP) -- Sitting on the bench in the second period after his shortest stint ever in a playoff game, New Jersey Devils goaltender Martin Brodeur never worried whether coach Pete DeBoer would turn to him again in Game 4 against the Florida Panthers. Call it confidence. Call it whatever. The three-time Stanley Cup winner knows what he brings to the Devils. He is the rock at the end of the ice. He is the guy who the team can count upon when things go wrong. Brodeur also is the player that the Devils know will bounce back after a disappointing performance in Tuesday night's 4-3 loss that gave the Panthers a 2-1 lead in the best-of-7 series. Game 4 is Thursday. "I expect to play every game all the time, especially in the playoffs," Brodeur said Wednesday after the Devils held an energetic one-hour workout. "It might not happen the rest of my career. But right now, until I don't play, I expect every day I will play. "I know what I can do and what I can bring and I will try my hardest all the time." He should. After all, the 39-year-old who has played in 184 career postseason games, has won 100 of them. Brodeur had a rare off night in Game 3. The Devils staked him a 3-0 lead in the opening 6:16, and he could not hold it. The Panthers tied the game at 2:18 of the second period and DeBoer switched goaltenders, inserting Johan Hedberg. While a little miffed afterward for being pulled from a tie contest, Brodeur said Wednesday that he knew DeBoer was trying to pick up his team after blowing a three-goal lead. It was only the sixth time that he had been lifted from a playoff start. Panthers coach Kevin Dineen had lifted Jose Theodore after the Devils' early onslaught and backup Scott Clemmensen stopped all 19 New Jersey shots the rest of the game. Hedberg only gave up one goal, but Brian Campbell's power-play tally was the winner. Brodeur took everything in stride Wednesday. "Being a goalie, it's a mental game more than any other position," Brodeur said, adding that goaltenders are put under the microscope when they are pulled. The average player who has a bad game, rarely gets benched for the rest of the night. "That's part of being who I am or what a goaltender has to go through over and over," Brodeur said. "When you go back in there, it's in your head. You just have to get your feet wet again and go at it. It's a game. I know how to play it. There are days I play well. I try every day. I try as hard as I can every day, but there are days it just doesn't work. "I would love to be a guarantee. I don't think there is a goalie who can tell you they know exactly how they are going to play when they get in." Looking back on his performance in Game 3, Brodeur was satisfied. Sean Bergenheim beat him with a great shot for the first goal and the next two found their way through bodies into the net. "It's not the fact of how I played, it's the fact the puck didn't hit me," Brodeur said. "That kind of told Pete: Let's make a little change.' It's a coaching game also and I respect what they do." While DeBoer said after the game the Brodeur would start Thursday, Dineen would not say whether Clemmensen or Theodore would get the call. "For two months, Clem has been an excellent goaltender and one of the best of the league," Dineen said. "He's a hard guy to dislike. He has tremendous respect from our players and coaching staff. It's certainly a tough decision to make, whichever way I choose. Theo wasn't able to stop them early, but it all doesn't fall on Theo. He's been terrific all season." Dineen is more concerned with the Panthers' starts. In two of three games, they have fallen behind 3-0. The power play has been their salvation, converting on 6 of 10 chances against the NHL's best penalty kill. "We need to come out with more desperation and compete better from the start," Campbell said at a Panthers' availability at their hotel in Jersey City. "We have tried to work our way through some games and you can't do that in the playoffs. "We need to correct our slow starts." The Devils need to stay out of the penalty box. Three of Florida's four goals in Game 3 were on the power play. "We're a good team," Devils forward Ilya Kovalchuk said. "We have to find a way to bounce back. One game is not going to kill our confidence."
Original Story:
http://www.foxsportsflorida.com/04/19...
THE BACKYARD
BEST OF MAXIM
RELATED ARTICLES
Martin Brodeur watched the end of game three from the bench after he allowed three goals on 12 shots. Game four produced different results though. Back between the pipes, Brodeur turned aside every shot that made its way to him en route to a 4-0 Devils victory. Brodeur looked like the Marty of old, with his glove hand lightning quick and his pads ready to kick out any low shot. Brodeur's...
Martin Brodeur bounced back from his shortest postseason performance with a record-setting 24th Stanley Cup playoff shutout, leading the New Jersey Devils to a 4-0 victory over the Florida Panthers Thursday night, tying their first-round series at 2-all. Brodeur made 26 saves in taking over sole possession of the postseason shutout mark from Patrick Roy. The 39-year-old goaltender...
Martin Brodeur was looking for redemption in all the right places Thursday evening against the Florida Panthers in Game 4 of the Eastern Conference quarterfinals. When he was yanked from the crease last game, the veteran goaltender knew he needed to redeem himself for his team. His stellar performance would go on to have personal significance for the Stanley Cup Playoffs...
Is there a record that Martin Brodeur hasn't broken? As the New Jersey Devils defeated the Florida Panthers 4-0 in Newark, Brodeur earned his 24th career playoff shut out. That is one more than NHL Hall of Famer Patrick Roy and new league record. Brodeur already holds records in regular season wins, in which he surpassed Roy for back in 2009. He also is the NHL's all-time...
Martin Brodeur has always had the ability to bounce back after a bad game. This is just one of the many qualities that make the New Jersey Devils goaltender the best in NHL history. Brodeur did it again Thursday night, coming off his shortest post-season performance to being back in vintage form. Martin Brodeur made 26 saves as his New Jersey Devils blanked the Florida Panthers 4...
Martin Brodeur made 25 saves for his NHL-record 24th career playoff shutout as the host New Jersey Devils blanked the Florida Panthers 4-0 to level their Eastern Conference quarterfinal series at two games apiece. Brodeur, who got the hook 2:18 into the second period of Game 3 after allowing three goals on 12 shots, was unbeatable in Game 4 to pass retired netminder Patrick Roy...
Last night the New Jersey Devils shutout the Florida Panthers 4-0 at the Prudential Center in what was considered by many to be close to a must-win game. With the Devils picking up that win, they now head back to Florida for Game Five with the series tied at two. Here are some notes on the game. - Obviously last night's win was huge for a number of obvious reasons (tying the...
 After a crushing defeat Tuesday evening in Game 3 after going up by three goals, EARLY... the horrific display of officiating by the referee's would be the ultimate downfall of New Jersey. Florida managed to go 3/3 on the powerplay scoring 4 unanswered times to pull out the dramatic victory over the Devils. Being in attendance for the game, my first ever playoff game with my...
Martin Brodeur recorded his record breaking 24th shutout in the playoffs to lead New Jersey to a 4-0 win over Florida. Brodeur passed Patrick Roy on the playoff shutout list while stopping 26 shots. Watch the game highlights…
NEWARK, N.J. The NHL's best penalty-kill unit had its worst night of the season Tuesday, and that untimely flop when a man down may have killed its chances at a first-round playoff upset. The New Jersey Devils had everything going their way early on during their Game 3 matchup with the Florida Panthers at the Prudential Center, taking a commanding 3-0 lead before many fans...
*stats based on playoffs. Match-up - Panthers (38 wins, 94 points) @ Devils (48 wins, 102 points) Road/Home records - 17-17-7 -------------- 24-13-4 TV - TSN (HD), NHL Network (US), RDSI, MSG-Plus (HD), FS-Florida (HD) Puck drop - 7:00 PM ET Series score - Panthers lead 2-1 Projected starting goalies - Scott Clemmensen (FLA) vs. Martin Brodeur (NJ) Battle of the stats...
*stats based on playoffs. Match-up - Panthers (38 wins, 94 points) @ Devils (48 wins, 102 points) Road/Home records - 17-17-7 -------------- 24-13-4 TV - TSN (HD), NHL Network (US), RDS, MSG-Plus (HD), SUN (HD) Puck drop - 7:00 PM ET Series score - Tied at one Projected starting goalies - Jose Theodore (FLA) vs. Martin Brodeur (NJ) Battle of the stats Goals for/against...
NHL News

Delivered to your inbox

You'll also receive Yardbarker's daily Top 10, featuring the best sports stories from around the web. Customize your newsletter to get articles on your favorite sports and teams. And the best part? It's free!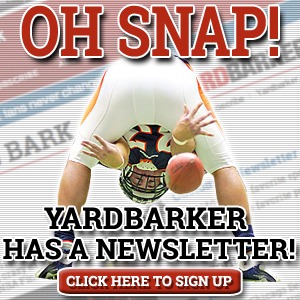 Latest Rumors
The Backyard

Today's Best Stuff

For Bloggers

Join the Yardbarker Network for more promotion, traffic, and money.

Company Info

Help

What is Yardbarker?

Yardbarker is the largest network of sports blogs and pro athlete blogs on the web. This site is the hub of the Yardbarker Network, where our editors and algorithms curate the best sports content from our network and beyond.