60 Max is expanding: We're venturing into other sports, in conjunction with our partner sites National Sports Journal (in development) and Low Brow Sports, to bring you the best in news and coverage of the entire sports world, especially now that the NFL season is over... Our special contributor, Dean Pennington of TBIV.net explores the players whose careers, and HOF hopes, have suffered the most due to lockouts. If you didn't have enough reasons to be resentful toward Gary Bettman and many of the owners around the league, I'm about to give you five more. Some tenured players, like Teemu Selanne and Martin Brodeur, have been through three lockouts and lost 10% or more of their careers. Others, like Shane Doan, may find themselves outside of the Hall of Fame due to the time lost to labor stoppages. TBIV breaks down the most notable players who have had their careers interrupted by lockouts and what that may mean for their legacies. (Note: "Projected Career" assumes retirement at 40 years old and assumes the same points-per-game throughout the players' career. It's certainly not a perfect science but will give a good estimate of what could have been. Career rank is in parentheses; defensemen are ranked against defensemen only.) Shane Doan, Winnipeg Jets/Phoenix Coyotes /* ><!*/   GP G A PTS Shane Doan, WPG/PHX Missed 116 games over two lockouts Career to date (CTD) 1198 318 470 788 Projected CTD with games missed 1314 354 524 878 Projected Career Totals 1597(10) 423 627 1050 Projected Career with games missed 1713(4) 459 681 1140(50) Doan is absolutely one of those players whose Hall eligibility may well be in jeopardy due to the missed during lockouts. Had Doan been able to play in those games, he would likely end his career in the top-5 all-time in games played. At age 36, Doan still has a few good years left to try and sneak into the top ten, and potentially the top-50 in points, but it would have been much easier and more likely had he not missed 116 games (9.4%) of his career. Fortunately for Doan, he's always been regarded as one of the best captains every to grace the ice. He's well respected by fans and teammates, and deservedly so – it wasn't easy sticking with Phoenix over the past fifteen seasons. But there he is, year after year, suiting up in maroon and white. Bonus points to the Original Jet for putting up with this horror-show of a jersey for five seasons. Teemu Selanne, WPG/SJS/ANA /* ><!*/   GS W SV SO Martin Brodeur, NJD Missed 135 starts over three lockouts Career to date (CTD) 1191 656 27312 119 Projected CTD with games missed 1326 730 30408 132 Projected Career Totals 1230 677 28206 123 Projected Career with games missed 1365 751 31302 136 The Finnish Flash straddles the line between perennial all-star and NHL legend. The best thing to come out of Finland since the sauna, Selanne probably has the best anti-Bettman case out of any player in the league (except Nicklas Lidstrom, but we'll get to that). Selanne is one of only two players in the league to have played through three lockouts, which, by the time he's finished, will have consumed over 10% of his entire career.  Sans lockouts, Selanne would probably already be in the top-5 in goals scored all-time. Instead, he sits at #12 and will struggle to crack the top-10. Assuming this is his last season, the lockouts will likely be the reason why his points total will leave him outside of the top 10. Selanne is a first-ballot, sure-fire Hall of Famer either way – but the legacy of being in the top-10 all-time was ripped away from him by work stoppages. The other player to have played through three lockouts? Martin Brodeur, NJD /* ><!*/   GS W SV SO Martin Brodeur, NJD Missed 135 starts over three lockouts Career to date (CTD) 1191 656 27312 119 Projected CTD with games missed 1326 730 30408 132 Projected Career Totals 1230 677 28206 123 Projected Career with games missed 1365 751 31302 136 Marty is, bar none, the greatest goalie to ever have played the game. And it's not even close. He broke Patrick Roy's wins record four seasons ago at age 35 and has seen something of a late-career renaissance, carrying the Devils to yet another Finals berth last season. He's the de facto team captain and a three-time Cup champion; one of only five goalies to ever win three or more rings. He's tops all time in each category above, lockouts or no lockouts. The thought of him shattering all of these records while missing 135 games makes his career even more impressive. Assuming this is his last season, which is by no means a safe assumption, Brodeur will end up with records that will likely be unattainable for a very long time. So what did the lockouts take away from him? Well, for starters, it likely will have prevented him from cracking the 700-win plateau, a mark we will probably never see anyone get close to. Based on his career pace, he'll end up with 20 more shutouts than Terry Sawchuk – a number he would have likely pushed above 30 had he not missed the equivalent of two seasons. Zdeno Chara, NYI/OTT/BOS /* ><!*/   GP G A PTS Plus-Minus PPG Zdeno Chara, NYI/OTT/BOS Missed 114 games over two lockouts Career to date (CTD) 1007 137 322 459 149 73 Projected CTD with games missed 1121 153 358 511 166 81(20) Projected Career Totals 1439 196(24) 460 656 213 104(10) Projected Career with games missed 1553 212(19) 496(28) 708(25) 230(20) 112(9) Big Z will end up in hockey's folk lore due to his size alone. On skates, Chara is a 6'11'' menace with a 106MPH slapshot and a penchant for arena-shaking hits. Armed with the fastest shot in NHL history, Chara has a reputation for being among the best power-play scorers in the league. The 2009 Norris Trophy winner (and four-time finalist), Chara's career stats are almost as large as his presence on the ice. While he likely won't be remembered for his point totals, the lockouts probably cost Chara a chance to crack the top-25 in all time points by defensemen. While he'll probably get there in goals, his career plus-minus and assist totals may not be Hall worthy. Still, due to his intimidation factor and reputation, Chara has a shot at the Hall of Fame. He's going to end up among the best ever in power-play scoring; but the lockouts could very well end up locking him out of the Hall. Nicklas Lidstrom, Detroit /* ><!*/   GP G A PTS Nicklas Lidstrom, DET Missed 114 games over two lockouts Career Totals 1564(5) 264(8) 878(6) 1142(6) Projected Career with games missed 1678(1) 283(7) 942(3) 1225(5) If Nick Lidstrom came out and blasted the NHL for taking away his chance at being the best defenseman ever, no one would blame him. Hopefully, the annals of hockey will look back at Lidstrom as being in the same class as Coffey, Bourque and Orr, but there would likely not be any debate had he not been robbed of 114 games (8.8% of his career). The greatest captain of our generation, Lidstrom developed a reputation as a genuinely nice guy and was revered by his teammates and all those who played with him. His Hall of Fame status is not in doubt, he'll be in on the first ballot, maybe unanimously. His 20 seasons speak to his longevity, but he would have easily been the all-time games played leader among defensemen (4th overall) and top-5 in points. Lidstrom was very critical of the league during the lost season of 2004-05 and rightfully so. He was likely aware of the damage the lockouts were doing to his legacy, but he probably cared more about what the lockouts were doing to the league and its fans. That's just the type of guy Lidstrom is. Lidstrom led the Wings to four Stanley Cups, won the Norris five times and was referred to admirably as "Mr. Perfect" by his teammates. If you didn't already respect him enough, this should do it for you. In game three of the 2009 Western Conference Finals against the Blackhawks, Lidstrom took the butt of a Patrick Sharp's stick right in the nuts. Doesn't sound so bad, right? Well, he finished the game with a ruptured testicle, had surgery the next day and was back three games later for the first game of the Cup finals. Remember that next time you call out of work with a cold. I know I will. Honorable mention: Jaromir Jagr Jagr is already in the top-10 in points and his career isn't even over. Had he not missed 150 games to three lockouts, Jagr would be on pace to finish his career with 1,818 points, good for fourth all-time.
Original Story:
http://www.60maxpowero.com/patriots/c...
MORE FROM YARDBARKER
Bruins News

Delivered to your inbox

You'll also receive Yardbarker's daily Top 10, featuring the best sports stories from around the web. Customize your newsletter to get articles on your favorite sports and teams. And the best part? It's free!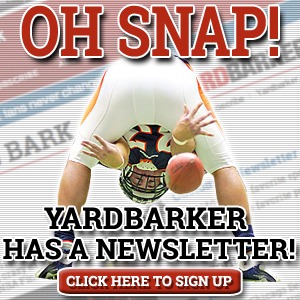 Latest Rumors
Best of Yardbarker

Today's Best Stuff

For Bloggers

Join the Yardbarker Network for more promotion, traffic, and money.

Company Info

Help

What is Yardbarker?

Yardbarker is the largest network of sports blogs and pro athlete blogs on the web. This site is the hub of the Yardbarker Network, where our editors and algorithms curate the best sports content from our network and beyond.