Found February 16, 2012 on Buzz On Broad:
Paul Holmgren spoke to the media regarding the acquisition of Nick Grossman, Jagr's status, JVR's health, and more.
Q: How does Nick Grossman help your team now?
"He is experienced, he is a bigger body and he is a good solid defensive defenseman. He can kill penalties for us and play regular shifts. He can chew up minutes. Like I said, he is a big body."
Q: He had the third highest special teams minutes in Dallas. Is that a factor too?
"Well, we have struggled in a lot of areas here lately, penalty killing is certainly one of them. Nick has been around and has developed over time in Dallas. He is still a good young player and we are excited to have him. I think he is going to give us a boost here in our own zone and get us out of our end quickly because he makes a good first pass. He is not a guy that is going to put up a lot of points, but he is a good all around defenseman."
Much more after the jump.
Q: Is he a guy that you would consider resigning?
"I think that kind of goes both ways. Nick has to see if he likes it here, too. We certainly like him. He has been a guy that we talked about over the past few weeks. We talked to Dallas about him, but they weren't prepared to move him until just recently. Like I said, we are happy to have him. We will see where it goes from here."
Q:Why today? Why not a week from now?
"Well, it gets a little hectic around that time.  We took a shot today with an offer and talked today for a little while. We ended up being able to make a deal."
Q: Is he going to be here for Saturday?
"We are trying to get him out tonight. Hopefully he can catch a flight that gets in here later tonight so he can practice with our guys tomorrow."
Q: Is this a move where you say you might have something else cooking also?
"This is a crazy time. There are a lot of converstations going on and you never know what might come up."
Q: There is a lot of talk that you guys might make a move for a star player. Is that something that is unlikely?
"I dont' know. I don't know if I would use that word [unlikely]. Probably not. Its not something we are talking about at length. I like our team, I still do. We have struggled here of late, we are trying to get it figured out. Having Nick today can help us. We will see what the next ten days or two weeks will bring."
Q:Is getting Grossman today more of an injury replacement?
"It is just adding to the depth. None of those things are long term. So, it was more of adding experience, bigger body and depth."
Q: It is tough going forward with so many rookies. You guys were playing two rookie defensemen every night.
"Those kids have done really well. It is hard to pin this on them. Marc-Andre Bourdon has been tremendous and Erik Gustafsson has been pretty good to, but not as big of a role as Marc-Andre [Bourdon]. This has nothing to do with them. We are happy with their progresss and development. They have certainly made themselves part of the mix."
Q: Can you update Jaromir Jagr?
"He is feeling better. Obviously he is not playing tonight but we hope he can practice tomorrow. We will see how he is. This is the thing that Ilya [Bryzgalov] had the same. It just kind of knocks them down for a day or two."
Q: Is [James van Riemsdyk] getting close?
"I think he is getting close. I hate to put any kind of a time frame on it because that particular injury is perplexing. I think he looks good.  I think now it just comes down to how James is feeling and when he feels ready." 
Q: Have you been surprised at how you have been pushed around in you defensive zone recently?
"Well, I think the game, since the lockout, has changed. For a defenseman, it becomes very difficult to defend in front of your net. If you do knock a guy down, you are going to the box. I would say a lot of our guys are more of containment type of defensemen. They have never really been Chris Pronger-ish, where they are whack somebody. I don't think Nick [Grossman] is a mean player, but he is a physical competetive player that will help us in that area."
Transcript courtesy of the Flyers PR.
Original Story:
http://www.buzzonbroad.com/2012/02/pa...
THE BACKYARD
BEST OF MAXIM
RELATED ARTICLES
Flyers general manager Paul Holmgren held media availability just prior to the game vs. Buffalo to discuss the trade for Dallas Stars defenseman Nicklas Grossman. Below is the full transcript... Q: How does Nick Grossman help your team now? &nbs...
Jaromir Jagr turns 40 today, and he says that his clean living is the secret to his success. He does not smoke or drink alcohol, but he did admit that he is not perfect. [NHL.com] "I like Diet Coke," he says with a laugh. "I even drink it during a game. I like Diet Coke. No vitamins, nothing ... Diet Coke."   All I can think about is the part from HBO 24/7...
The Philadelphia Flyers acquired Swedish defenseman Nicklas Grossman from the Dallas Stars on Thursday for a 2012 second-round pick and a 2013 third-round pick. The 27-year-old Grossman, 6 feet 4 and 230 pounds, has five assists in 52 games this season. He has three goals and 41 points in 333 career NHL games, all with the Stars. ''He is experienced. He is a bigger body...
Jaromir Jagr on status Saturday: "Have no players. Anybody can walk can play." Jagr has been battling the flu, but with all of the injuries the Flyers have, he basically said he is going to get over this and play. Via Delco Times.
When Jaromir Jagr burst on the NHL scene at age 18, he skated like the wind, scored at will and seemed like 80 percent of his body weight was contained in his lustrous, jet-black mullet. Twenty-two years later, the mullet is long gone, the hai...
What's allowed Philadelphia Flyers forward Jaromir Jagr to remain an effective player in the NHL as he reaches his 40th birthday? Clean living, he says -- no smoking or drinking alcohol -- but he does admit to one vice. "I like Diet Co...
Game notes: Today was Jaromir Jagr's 117th career two-goal game.  His last came on December 2 vs. Anaheim. Per the Elias Sports Bureau, the last 5-on-3 goal against the Flyers was on March 9, 1993 at NYI when Benoit Hogue scored into an empty net at 19:59 of the third period.  The last 5-on-3 goal allowed by the Flyers that was not an empty-net goal was Dec. 28, 1979 at Winnipeg...
According to Sam Carchidi of the Philadelphia Inquirer, the Flyers will have three key players returning from injury tonight when they take on the Penguins. JVR, Danny Briere, and Jaromir Jagr will all be in the lineup.
Flyers News

Delivered to your inbox

You'll also receive Yardbarker's daily Top 10, featuring the best sports stories from around the web. Customize your newsletter to get articles on your favorite sports and teams. And the best part? It's free!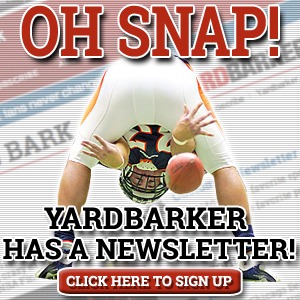 Latest Rumors
The Backyard

Today's Best Stuff

For Bloggers

Join the Yardbarker Network for more promotion, traffic, and money.

Company Info

Help

What is Yardbarker?

Yardbarker is the largest network of sports blogs and pro athlete blogs on the web. This site is the hub of the Yardbarker Network, where our editors and algorithms curate the best sports content from our network and beyond.