Found April 12, 2012 on Fox Sports West:
Without having been on Southern California soil for eight hours after a 10-day roadtrip, Dustin Penner arose early on the morning of Feburary 13, a scheduled off day, to take part in a blogger-sponsored charity event at a local IHOP. A healthy scratch the two games in two nights prior, he was freshly removed from the American Airlines Arena roadtrip finale in which a pair of rookie wingers seven years his junior had scored while he had watched from the pressbox. Dubbed "Pancakes with Penner", the event toyed with the lumbering winger's January admission that he had suffered a lower back injury when he had sat down to try his wife's "delicious pancakes." It raised money in self-referential jest, allowing the Kings fans that attended a moment of laughing together with the player that was often the focus of their frustration. He was a good sport throughout the pancake coverage and the charity event, but he had also only produced seven goals in 62 games at the time. Despite the lack of production and derision he faced, it seemed following the event that tolerance of such a frustrating player and former Cup winner had grown to a level of acceptance, even when he went scoreless in the month that followed. Fans had moved on, attention had shifted elsewhere. His limitation had become accepted as any goals and scoresheet contributions were seen as added value. It was a Post-Penner society. Nothing new of note had happened since then, at least not through the first 9:51 of Game 1 of Los Angeles' first round matchup with Vancouver. Trailing 1-0 and driving into the offensive zone on a forecheck, Penner's stick got caught in between the legs of a Canucks skater, forcing the Kings into an important penalty kill in an effort to stem the home team's momentum. The kill was successful, and following the early gaffe Penner provided a vintage glimpse into the player that was so effective around the net with the Anaheim Ducks in their 2007 run to the Stanley Cup. He hit the Canucks' defensemen behind their own net, he backchecked and got his stick on a puck to disrupt an ominous Chris Tanev scoring chance off an activation from the blueline. He also scored the game-winning goal with 3:14 remaining after Mike Richards patiently carried the puck across the run of play before offering a diagonal cross-zone pass to Jeff Carter. The redirection off his skate was buried by Penner for his second career playoff goal with L.A. "I was trying to direct it to that area, back-post somewhere," Carter told LA Kings Insider. I knew Pens was driving there, so it worked out pretty good. The stick wasn't working too well tonight, so it's a good thing the skate was." "I was more surprised it went in the net," Penner said. It is said that there are certain teams that benefit from a reset to a 0-0 record when the playoffs begin, but there are also those who benefit from a reset to zero points. Penner now has as many points that matter as Henrik Sedin, and should this series bend firmly in the Kings favor, any cushy images of Penner serving pancakes at an IHOP will be replaced by the gap-toothed grin he flashed after his game-winning goal on Wednesday. "The coaching staff, they've been on us for the last two months, and rightfully so," Penner said to LA Kings insider. "They've been mad at us, because there's a lot of potential in this group. We're not surprised that we came out and got this one, but we also expect them to play a great Game 2 and we have to be prepared for that. Luongo played great for them." One thing the Kings weren't prepared for was Vancouver's generosity. Allowing the Kings a power play tune-up with two five-on-three situations in the first period and a five minute major power play in the second, the Canucks allowed L.A. to become an opportunistic team despite Roberto Luongo's reliably excellent performance against a team he's awfully comfortable facing. His 14-9-3 record, 2.22 goals against average and .921 save percentage against the Kings are among his best career numbers against any opponent, though with 38 shots faced and backed by only two goals of support Wednesday, his window of error was practically shut. There's certainly plenty of real estate left for Kings postseason memories, and for Penner to truly emerge as an unsung Kings playoff contributor such as Todd Elik or Warren Rychel, he's going to have to repeat the performance he gave Sunday by as many games the team plays in the playoffs. "We earned this one," Penner said. "We can't rest on our laurels now. There's a lot more hockey to be played, and we know they're going to come out even better in the next game." With the optimism Kings fans are enjoying after a Game 1 win, so will Penner.
Original Story:
http://www.foxsportswest.com/04/12/12...
THE BACKYARD
BEST OF MAXIM
RELATED ARTICLES
Dustin Penner snapped a tie with 3:14 remaining in the third period as the Los Angeles Kings upset the Presidents' Trophy-winning Vancouver Canucks by a 4-2 score on Wednesday in the opener of their Western Conference quarterfinal series. Mike Richards recorded a goal and two assists, defenseman Willie Mitchell and captain Dustin Brown also scored and Jonathan Quick made 24...
Dustin Penner scored with 3:14 left in the third period to help the Los Angeles Kings beat the Vancouver Canucks 4-2 in the opener of their Western Conference quarterfinal series Wednesday night. Penner had gone the last nine games of the regular season without a goal. The winger capitalized after Mike Richards' pass went off Jeff Carter's skate, and Penner whipped the puck...
The Los Angeles Kings say they're sorry. One day after opening their playoff against the Vancouver Cancuks with a 4-2 victory, the Kings found themselves backtracking from a playful jab on Twitter. The team's official account posted a message saying: ''To everyone in Canada outside of BC, you're welcome.'' That didn't sit well with senior members...
Los Angeles Kings center Brad Richardson is out indefinitely after an appendectomy.Coach Darryl Sutter informed the media Tuesday before the team flew to Vancouver for Game 1 of the opening playoff series that begins Wednesday against the Vancouver Canucks.Richardson had an appendectomy Monday after experiencing abdominal pain over the weekend. He has five goals and three assists...
VANCOUVER, Canada -- An off-ice note before we get to the on-ice festivities leading up to the Kings' playoff opener against Vancouver on Wednesday night at Rogers Arena. The Montreal Canadiens are interested in talking to Luc Robitaille, the Kings president of business operations, and Ron Hextall, the Kings assistant general manager, about the vacant general managers job in...
We all have our roles here at The Royal Half Headquarters. I am the creative genius and driving force behind the site. Indiana Matt is the photoshop expert and in-house Midwestern Farm Boy. And the latest addition to our team, Brigitte from One Girl, One Puck, is the resident raging alcoholic. No, seriously guys... she really, really has a problem. We shouldn't make light...
The NHL Playoffs have arrived. The CS staff is pleased to present you with a preview , a couple of keys to the series, and Sean Keenan's prediction of the winner and MVP of each series.   Nucks v Kings matchup as the 1 v 8 seeds in the Western Conference. The Kings got really hot toward the end of the season, winning 6 in a row, and scoring like a normal team after trading for...
Vancouver Canucks fourth-liner Byron Bitz was whistled for a boarding major and a game misconduct for his second-period hit on Kyle Clifford of the Los Angeles Kings on Wednesday. Clifford eventually exited the contest with an upper body injury for the Kings, who stunned the top-seeded Canucks with a 4-2 victory in Game 1 of their Western Conference quarterfinal series. There was...
What is the only thing worse than losing Game 1 at home to the 8th overall seed? Losing Game 1 at home by a goal from the worst player on the 8th overall seed. I call it the Penner Pump. And it's sweeping the nation.Just like the panic over the Canucks is sweeping Canada. Dustin Penner might have scored the Game Winning Goal... but the real #1 Star tonight was the LA Kings...
Even though she's played less games than Jeff Carter, Brigitte from One Girl, One Puck has been voted best newcomer at The Royal Half... finishing a few points ahead of Dustin Penner's Sad Face. You can check out her in-depth "Know Your Opponent" series here and here. You see, Brigitte is a young woman who can't afford a therapist to work out her issues...
NHL News

Delivered to your inbox

You'll also receive Yardbarker's daily Top 10, featuring the best sports stories from around the web. Customize your newsletter to get articles on your favorite sports and teams. And the best part? It's free!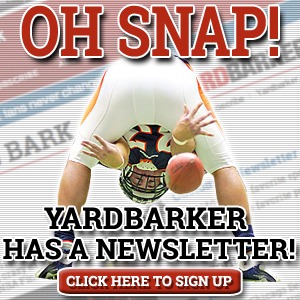 Latest Rumors
The Backyard

Today's Best Stuff

For Bloggers

Join the Yardbarker Network for more promotion, traffic, and money.

Company Info

Help

What is Yardbarker?

Yardbarker is the largest network of sports blogs and pro athlete blogs on the web. This site is the hub of the Yardbarker Network, where our editors and algorithms curate the best sports content from our network and beyond.