Found June 27, 2012 on The Rangers Tribune:
Whether the 'sophomore curse' in hockey is a form of fictional imagination or an actual disease that lingers into the games of second-year players, Derek Stepan was a victim of the curse in his 2011-12 campaign. It didn't hit him hard or substantially lower his value to the franchise by any means, but it was there and it had its effects. As just a 22-year-old, however, all of this surely is not a large concern after just two seasons at the National Hockey League level for Derek. He had his ups and downs this season, but then again, who on the Rangers didn't?
The Good: Despite falling short of the 20-goal mark this past year, which he exceeded in his freshman season, Stepan did manage to record ten more assists than he did in 2010-11, placing him fourth on the Blueshirts in scoring. Stepan showed just how great of a playmaker he can become many times this season, especially when playing alongside Ryan Callahan on the second line when that opportunity presented itself. I think it is safe to say that Stepan did find the type of player he wishes to become as his career progresses. 
Plus, he's versatile in the sense that head coach John Tortorella can use Steps on the powerplay, on the penalty-kill, he can take faceoffs, he's very discipline for the most part and appears to be an extremely quick learner. The traits are there for Derek Stepan to become a fantastic player in this League, but now it is just a matter of piecing them all together to form the perfect package. 
The Bad: After a very successful rookie year, expectations were set high for Stepan coming into 2011-12. When analyzing a player, I weigh in expectations probably more than anything else, which is why Derek ended up with a grade of a 'C' when I did the team report cards several weeks ago. Personally, I expected a lot more out of Derek than what we saw this season, as did management and even himself. Stepan is a much better player than the one that was noticeable two out of four weeks in the month. He's a better player than the one who played nervous in the postseason and was pretty much invisible. 
Now this is not to say Stepan took steps backward this season, but it is just that he did not take any forward, which is a bummer after a highlight rookie year.
Highlight of the Year:
Overall Assessment: Stepan's best hockey is ahead of him, and as I said above, he's yet to piece together the puzzle. Once he does that he will become the player that he and the Rangers had hoped. I'm aware there was some talk of Steps possibly being traded earlier in the offseason, but I think that is a load of rubbish if you ask me. The Rangers have not given up on this young man - they have no reason to. Allow him to play out the final year of his entry-level deal and then make judgements from there. 
Report Card Grade: C
Original Story:
http://www.rangerstribune.com/the-ran...
THE BACKYARD
BEST OF MAXIM
RELATED ARTICLES
It's a pretty good problem to have when one of the key reasons a stud defensive prospect could be hesitant to join your team is because he's afraid he wouldn't be able to supplant the club's current top-four defensemen and play significant minutes. But the Rangers are so stacked with Dan Girardi, Ryan McDonagh, Marc Staal and Michael Del Zotto that coveted 21-year-old unrestricted...
Stu Bickel was not expected to remain with the New York Rangers long after being recalled by the team in December of 2011. However, it turns out that he would go on to play 51 regular season games in addition to 18 postseason contests before the end of the 2011-12 campaign. Who once was intended to be a temporary spot-filler suddenly molded into a permanent skater on the blue-line...
Mike Rupp's first season with the New York Rangers was an adventurous one that left fans with mixed emotions when it comes to the big number 71. He has his positives and negatives, as every player does, but when you analyze his game as a whole, the negatives far outweigh the positives. But is that how an enforcer should be judged? Should he be compared to himself? That's...
STATEMENT FROM HOWARD BALDWIN, SR. Hartford, CT, June 26, 2012 - Howard Baldwin, Sr. confirms that he and the New York Rangers have agreed to end their existing marketing agreement for the AHL Connecticut Whale at this time and transition operational responsibilities back to MSG. Baldwin's partnership, Hartford Hockey Club LLC, re-invigorated the local hockey market in 2010...
Though we suggested Shane Doan as a possible free agent target for the Rangers, no one really believed the team had a shot at signing him. That's because the consensus for months, even years, was that Doan was a life-long Coyote, solely loyal to the Phoenix/Winnipeg squad that originally drafted him back in 1995. But in a surprising turn of events, Phoenix GM Don Maloney admitted...
from Larry Brooks of the NY Post, While the Rangers will join tomorrow in the courtship of 21-year-old University of Wisconsin free agent defenseman Justin Schultz, the club will continue negotiations with Martin Biron aimed at keeping the backup netminder on Broadway and off the free agent market. "We have had several positive discussions with the Rangers that are hopefully headed...
Courtesy of: Blueshirts United
We've already covered some of the more intriguing players that will be available via free agency, but it doesn't appear likely that the big-ticket guys like Zach Parise and Ryan Suter will end up in New York.  The 2012 free agent class is extremely thin, but at the draft last weekend GM Glen Sather confidently stated the team would still be "fairly aggressive" in free agency...
from RIA, TThe Russia-based KHL is to challenge the NHL on its home territory for the first time by playing two regular-season games in New York, league vice-president Vladimir Shalaev said Tuesday. Reigning champion Dynamo Moscow will face off against big-spending SKA St. Petersburg at the newly built Barclays Center in Brooklyn on January 19 and 20. The Barclays Center easily...
For a while in early December it seemed like realignment was a done deal and the NHL landscape would look dramatically different for the 2012-2013 season. The players ended up vetoing a plan passed by the owners that would have reshaped the league, but realignment will again be a topic of discussion as collective bargaining negotiations get underway. It's a good bet that the previously...
Rangers News

Delivered to your inbox

You'll also receive Yardbarker's daily Top 10, featuring the best sports stories from around the web. Customize your newsletter to get articles on your favorite sports and teams. And the best part? It's free!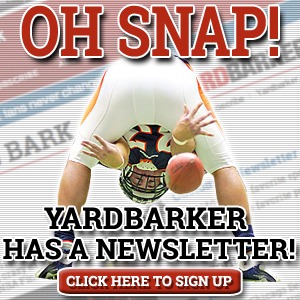 Latest Rumors
Best of Yardbarker

Today's Best Stuff

For Bloggers

Join the Yardbarker Network for more promotion, traffic, and money.

Company Info

Help

What is Yardbarker?

Yardbarker is the largest network of sports blogs and pro athlete blogs on the web. This site is the hub of the Yardbarker Network, where our editors and algorithms curate the best sports content from our network and beyond.