Found April 13, 2012 on Around The Rink:
Two teams powered by Swedish players meet in the first round of the NHL playoffs. The Rangers, top seed in the Eastern Conference, are lead by Swedish goaltender Henrik Lundqvist, who's been their team MVP for five straight years; Ottawa, seeded eighth in the East are captained by Daniel Alfredsson and have Norris Trophy candidate Erik Karlsson on their blue line. Karlsson led all NHL defensemen in points this year with 78. Statistical Leaders
New York Rangers
Goals: Marian Gaborik (41)
Points: Marian Gaborik (76)
Goaltending: Henrik Lundqvist (62 starts, 39 wins, eight shutouts, 1.97 GAA, .930 Save %) Ottawa Senators
Goals: Milan Michalek (35)
Points: Jason Spezza (84)
Goaltending: Craig Anderson (60 starts, 33 wins, three shutouts, 2.84 GAA, .914 Save %) 2011-12 Head-to-head Matchup: The Senators dominated the season series between these two, winning three of the four matchups while outscoring the Rangers 14-8.
Advantage: Ottawa Offense: The Senators had the fifth-ranked offense in the NHL during the 2011-12 season, notching 249 goals (2.96/game). Their offense was lead by center Jason Spezza (34 goals, 84 points), defenseman Erik Karlsson (19 goals, 78 points), and Milan Michalek (35 goals, 60 points). The Rangers, meanwhile, ranked 13th in the NHL with 226 goals per game (2.71/game). They were led by 40-goal scorer Marian Gaborik, as well as Brad Richard (25 goals, 66 points) and Ryan Callahan (29 goals, 54 points). It's close, but the Rangers can't match the Senator's raw offensive ability (at least on paper).
Advantage: Ottawa Defense: The strength of Ottawa's defensive corps is Erik Karlsson, who is known more for his offensive ability than his ability to actually play defense. As a whole, Ottawa allowed the seventh-highest goal total (240) in the NHL (the highest total of any playoff team this year), while allowing an average of 32 shots on goal per game, second worst in the NHL. The Rangers, on the other hand, had the sixth-best shots-allowed average (27.6/game), while allowing only 187 goals (third best in the NHL).
Advantage: New York Goaltending: This one's not even close. Craig Anderson is a solid, serviceable goaltender, and Ben Bishop (Anderson's backup in Ottawa) has a bright future, but that tandem pales in comparison to the All-Star, Olympic Gold Medal winning, Vezina and Hart Trophy candidate Henrik Lundqvist of the New York Rangers.
Advantage: New York Rangers Special Teams: Ottawa has the better power play unit; the Senators ranked 11th in the NHL with a 18.6 conversion percentage, while the Rangers came in 23rd with a 15.7% conversion rate. That makes sense; Ottawa had a better offense than New York during the regular season as well, why wouldn't they be better with the man advantage. Similarly, the Rangers were a better defensive team, and are a much better penalty-killing team than the Senators. New York's penalty kill was the fifth-best in the NHL with an 86.2% kill rate, while Ottawa's ranked 20th in the NHL with an 81.6% kill rate. This is a tough category to judge, but when it comes to what these two teams to better, the Rangers have the edge. Ottawa's power play unit was only 11th in the NHL; but the Rangers' strength, their penalty kill, was in the top five.
Advantage: New York Prediction: While the Rangers are a better team on paper, and came in first in the Eastern Conference for a reason,Ottawa did beat them three out of four times during the regular season this year. This will likely be a close series, and the eighth seeded Senators will give New York all they can handle. Still, it's tough to see a well-rested Lundqvist allowing the Rangers to go down in the first round, especially after all they accomplished during the regular season.
Forecast: New York in six. By Arun Morace
Original Story:
http://sports-kings.com/aroundtherink...
THE BACKYARD
BEST OF MAXIM
RELATED ARTICLES
Jake Emen at Yahoo! Sports has Barry Melrose's less than complimentary comments regarding Henrik Lundqvist on ESPN's Pardon the Interruption on Wednesday..."They've been in the playoffs five times with Henrik Lundqvist, they've only won two rounds in those five tries. So it's not like Henrik Lundqivst is money come playoff time. He hasn't had great playoffs...
He was on the cover of Sports Illustrated, now it's time to get Henrik Lundqvist on the cover of NHL13.After defeating teammate Brad Richards in the first round of voting, Lundqvist moved on to the round of 32 in which only 16 will make it to the next round.To vote for Lundqvist, click here.Remember to follow me on Twitter & Facebook or e-mail me at ...
DOUBLE TROUBLE
During the second period of game 2 on Saturday night between the New York Rangers and Ottawa Senators, the cameras zoomed in on an odd shape that was laying behind the goal heavily guarded by Henrik Lundqvist on the outside of the net. Shortly after the zooming, it became known by the announcers that the small black shape was actually a puck. The problem, which was immediatly discovered...
… Henrik looks so disappointed, rightfully so. He was very solid but unfortunately the tying goal that went through was out of his hands. Poor defense on that sequence in my book.  The momentum easily shifted towards Ottawa on that tying goal and the Rangers didn't look right since that point.  Brian Boyle has been [...]
Henrik Lundqvist leads top-seeded Rangers into action vs. Sens
The New York Rangers successfully accomplished their main goal on Thursday night, and that was to jump out to a 1-0 series lead against the Ottawa Senators in front of their home crowd at Madison Square Garden. While at times they completely dominated that contest, there were others in which they were clearly on their heels and allowing the Senators to press. It was not close to...
A couple of months ago I announced The Rangers Tribune's partnership with The Hockey Network, and promised some good things to come from the two of us. Well, with the Stanley Cup Playoffs in full force, we have a free New York Rangers playoff t-shirt from Madison Square Garden and we want to give it away to a lucky reader here on the blog.  I wanted to come up with a creative...
The Conference Quarterfinals of the NHL playoffs continue this week on FOX Sports. This has been one of the most exciting seasons in history and a number of teams have looked dominating at times. The resurgent New York Rangers are chief among those teams. After just squeaking in to the playoffs last year as the 8th seed in the East, this year the Rangers should be a solid #1 giving...
Ryan Callahan got it started with an early goal and Henrik Lundqvist brought it home with 30 saves as the New York Rangers jumped out to a big lead and held off the visiting Ottawa Senators 4-2 to take Game 1. Marian Gaborik, Brian Boyle and Brad Richards each added a goal and Artem Anisimov recorded a pair of assists for the top-seeded Rangers, who had dropped three of four to...
I'll be previewing Game 1 of the Rangers/Senators Eastern Conference Quarterfinals match-up on the Hockey This Week Radio Show at 6:15 p.m.To listen click here.To listen to John Tortorella and Henrik Lundqvist on the radio yesterday, click the "Read More" tab below. Yesterday, John Tortorella was a guest on the Michael Kay Show (ESPN Radio 1050AM) to discuss Chris...
As a playoff series progresses, each game grows in importance. This especially holds true for the top seeded club when trying to go up two games to none on home ice. The New York Rangers had to be happy with the outcome of Thursday's series opener, as they took down the Senators, 4-2, but the battle they will have to fight in Game 2 tonight will likely be tougher than that of Game...
Series: Rangers up 1-0. NYR Leading Scorer: Marian Gaborik (41-35-76) OTT Leading Scorer: Jason Spezza (34-50-84) NYR Goaltender: Henrik Lundqvist (62 GS, 1.97 GAA, .931 SV%) OTT Goaltender:  Craig Anderson (60 GS, 2.83 GAA, .910 SV%) Rangers Lines (probable): Carl Hagelin-Brad Richards-Marian Gaborik Artem Anisimov-Derek Stepan- Ryan Callahan Brandon Dubinsky-Brian Boyle-Ruslan...
NHL News

Delivered to your inbox

You'll also receive Yardbarker's daily Top 10, featuring the best sports stories from around the web. Customize your newsletter to get articles on your favorite sports and teams. And the best part? It's free!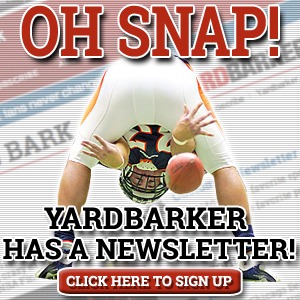 Latest Rumors
Best of Yardbarker

Today's Best Stuff

For Bloggers

Join the Yardbarker Network for more promotion, traffic, and money.

Company Info

Help

What is Yardbarker?

Yardbarker is the largest network of sports blogs and pro athlete blogs on the web. This site is the hub of the Yardbarker Network, where our editors and algorithms curate the best sports content from our network and beyond.