The start of the 2nd Round of the NHL Playoffs are getting closer and closer for the Los Angeles Kings. And that can only mean one thing! An in-depth look at the Kings opponent by Brigitte from One Girl, One Puck. Now, the 2nd Round is definitely uncharted territory for the LA Kings... and Brigitte has decided to take her team previews into the one aspect she hasn't featured in any of her past Know Your Opponent features... bestiality! Click Here to Check Out "Know Your Opponent" for the Kings vs Blues 2nd Round Series!!! Can you believe it? I mean seriously can you ******* believe it? That's right folks I'm alive, and unlike Brad Richardson I made it through the first round with all my internal organs still properly functioning. Now it's time to bring on the Blues! I didn't know a lot about the Blues before the playoffs started, but during my very extensive research I have learned some rather interesting things about them. The Blues are a mix of young inexperienced players like TJ Oshie and Alex Pieterangelo, and senior citizens like Jason Arnott and Jamie Langenbrunner. They have two crazy amazing goalies, and they are led by Santa Claus's grumpy brother Ken Hitchcock.  
The Blues are similar to the Kings in structure on-ice and in some of the teams off-ice activities as well. The Blues players really like to party. I mean what do you expect? They're young, rich, and they have their pick of the three attractive women in St. Louis. They're just living the dream. David Backes (on the far right) likes to cross-dress in his free time. Oh yea saddle up baby! Even Jonathan Toews thinks TJ Oshie has a drinking problem... and he's friends with Patrick Kane. Hot damn, look at those two! Now these guys know how to party! The Blues are a very close knit team, they have a great bond with one another and aren't afraid to show it. They often lovingly chirp each other on Twitter, it's quite sweet actually. They also all share a common love of wieners. These guys just can't get enough wieners, seriously. "Ask me about my wiener!" You know someone really loves wieners when he's willing to show his on national TV. What? They even gave Alex Steen a wiener themed nickname?
Damn that's some real wiener bonding. Man look at that loving graze over Kevin Shattenkirk's wiener. That's real love right there. The Blues don't just share a love of wieners, they also share a love of animals. Patrik Berglund loves tiny *******. "I like turtles." That's nice TJ, good for you. Team captain David Backes loves animals so much he spent the all-star break rescuing dogs. That's a really nice thing to do, but I wonder about David's intentions. Look I'm not saying David Backes is sexually attracted to dogs or anything, he just really loves them. That's a really romantic picture, they kind of look like a couple. I don't like where David's hand is going, and that dog behind him looks terrified. You know what maybe just step away from the dog David. OK maybe I'm saying David Backes is sexually attracted to dogs. Screw that guy, what a ******* creep! I just hope he doesn't try and hump any of the Kings players like he did to that poor dog. OMG! Seriously guys don't turn your back on him, he'll try and mount you! OK, the Blues are a bunch of creeps! Come on Kings do you really want to let a bunch of wiener-loving animal ******* beat you? No you don't! **** the Blues! Go Kings Go!
Original Story:
http://www.theroyalhalf.com/2012-arti...
MORE FROM YARDBARKER
NHL News

Delivered to your inbox

You'll also receive Yardbarker's daily Top 10, featuring the best sports stories from around the web. Customize your newsletter to get articles on your favorite sports and teams. And the best part? It's free!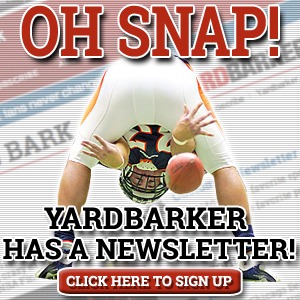 Latest Rumors
Best of Yardbarker

Today's Best Stuff

For Bloggers

Join the Yardbarker Network for more promotion, traffic, and money.

Company Info

Help

What is Yardbarker?

Yardbarker is the largest network of sports blogs and pro athlete blogs on the web. This site is the hub of the Yardbarker Network, where our editors and algorithms curate the best sports content from our network and beyond.