Found April 27, 2012 on Around The Rink:
PLAYERS:
Andy McDonald
,
Brian Elliott
,
Jaroslav Halak
,
Dustin Brown
,
Jonathan Quick
,
David Backes
,
T.J. Oshie
,
David Perron
,
Anze Kopitar
,
Justin Williams
,
Mike Richards
,
Jeff Carter
,
Alex Pietrangelo
,
Carlo Colaiacovo
,
Kevin Shattenkirk
,
Roman Polak
,
Kris Russell
,
Justin Braun
,
Rob Scuderi
,
Drew Doughty
,
Willie Mitchell
,
Matt Greene
,
Henrik Lundqvist
TEAMS:
St. Louis Blues
,
Los Angeles Kings
,
New York Rangers
,
San Jose Sharks
We have two teams with Defense on their minds as they prepare to meet each other. Both have great goaltenders. St Louis just happens to have two of them, Elliott and Halak. But Quick is as good as having two goalies. This will be a big defensive battle. This will also be a low scoring series. The Kings surprised the hockey world by defeating Vancouver in 3 out of 4 games. St Louis isn't going to be so easy. The Blues are constantly moving always, always being at the puck, grinding, grinding, never tiring, never getting sidetracked. It's guaranteed to tire opponents who are not prepared. The Kings rely on the Hit and Run play, with feistiness, picking out a weaker opponent and hitting that player with force, which is what destroyed the Canucks. It is not an easy way to play against the hard blue line of St. Louis. It will be a test of Grit vs Structure, Rogue vs Hard Line. We will see which one conquers in the end in this Second Round. It is guaranteed to be exciting as these powerhouses are set against each other.
Statistical Leaders (Playoffs)
St Louis
Goals: Andy McDonald (4)
Points: Most of the Blues players have 5 points, so it would be a very long list to include them all here.
Goaltending: Brian Elliott (4 starts, 4 wins, 1.37 GAA, .949 Save %)
Jaroslav Halak (2 starts, 1 win, 1.73 GAA, .935 Save %)
Los Angeles
Goals: Dustin Brown (4)
Points: Like the Blues players, most have 5 points, so it would be too many names to mention
Goaltending: Jonathan Quick (5 starts, 4 wins, 1.59 GAA, .953 Save %)
2011-12 Head-to-head Matchup: The Kings beat the Blues in three out of four games in the regular season. One of those was a shootout. Aside from one at the very beginning of the season, which was a blowout of 5-0 Kings, all were decided by one point, so these will be close games. Both teams won Round One of the Playoffs decisively, so their adrenaline is pumped, ready for action. Quick vs. Halak or Elliott, take your pick. Quick may be nominated for the Vezina, but both of the Blues goalminders are amazing as well.
Advantage: Even
Offense: St Louis' Second Line provided much of the damage against San Jose in the First Round. Andy McDonald is the Blues star, making 4 goals, rising above even those in the First line: David Backes, T.J. Oshie and David Perron. Combined with Patrick Berglund, no slouch himself at 3 goals and Steen, the three have 8 goals among them. On the Kings, Dustin Brown, Anze Kopitar and Justin Williams are their best line. Brown has made 4 goals, Kopitar 1 goal, three assists and Williams four assists. LA's Second Line has Mike Richards and Jeff Carter, who's back from a foot injury. If they start to heat up, it could spell trouble. Jarrett Stoll also has a pair of goals. But others in the LA line-ups have to start producing to make it to the next level.
Advantage: St Louis
Defense: This is where it gets interesting. St Louis' Defense also produces in the Offensive end. Alex Pietrangelo and Carlo Colaiacovo are the top pair of Blues Defensemen with Pietrangelo plus-3 rating and three assists. Second team Kevin Shattenkirk and Barrett Jackman and Third team Roman Polak with Kris Russell makes an intimidating Defense for the Blues. Polak especially can be brutal when angered. Just ask Justin Braun of the San Jose Sharks, whom he pelted in the First Round of the Playoffs. Los Angeles' lines list Rob Scuderi and Drew Doughty in the First line. Doughty takes up the most ice time and receives the fewest penalties for the Defensive players of LA. Willie Mitchell and Matt Greene are also on the Kings Defense, but Greene is more prone to be physical when necessary. The Blues get the advantage here; their puck protection equal to none.
Advantage: St Louis
Goaltending: There's no question that the goaltenders are incredible for both teams. I give the edge to LA's Quick however, just because he's in the top two goaltenders in the NHL (along with Henrik Lundqvist of the New York Rangers). Both StL's Elliott and Halak (who was injured for most of the First Round) would be great enough for any game anywhere, Quick is just slightly better.
Advantage: Los Angeles
Special Teams: In the First Round, the Blues were able to beat the Sharks by killing their Power Play. The Sharks had the second best PP in the league in regular season and the Blues utterly destroyed it. Their Power Play was 33.3%, scoring 6 out of 18. The Kings Power Play only contributed three goals, but two of those goals are what led to Alberto Luongo's exit of the Canuck's net in Game 2.
Advantage: St Louis
Prediction: Both teams are tough on Defense, this is true. Both teams have incredible goaltenders, this is also true. But, then the changes begin. St Louis practices even skating, like the bees of a hive, they work together, swarming, buzzing, constantly moving, following the puck like nectar, they will not stop. Los Angeles, are more maverick. Their opponent may not necessarily know where they'll strike, but you can be certain, they will. Dustin Brown & company have tenacity and never want to hear "won't" or "can't", for they have always felt otherwise.
Forecast: St Louis in Six
Original Story:
http://sports-kings.com/aroundtherink...
THE BACKYARD
BEST OF MAXIM
RELATED ARTICLES
ST. LOUIS -- A few weeks ago, before the Kings began their playoff journey, center Jarret Stoll said that as a young player with Edmonton in 2006, he and his No. 8-seeded Oilers teammates gained a lot of confidence from upsetting the No. 1-seeded Detroit Red Wings. Those Oilers went on to the Stanley Cup finals that spring, losing in seven games to Carolina. Now that the No. 8-seeded...
If there was ever a simple formula towards winning a playoff series, Darryl Sutter could write a book about it. "Sutter's Law" would be the shortest book ever written. "Goaltenders, special teams, top players, unsung heroes and discipline," he revealed in a memorable, pithy quote last week. "Write it down and don't forget it." The Kings are...
ST. LOUIS The National Hockey League has announced the Blues schedule for the Western Conference Semifinal match-up against the Los Angeles Kings. The Blues will face off against the Kings at Scottrade Center for game one of round two at 6:30 p.m. on Saturday, April 28. This will be the third time (1969 and 1998) in franchise history that St. Louis and Los Angeles will face one...
If you want in-depth analysis of the upcoming 2nd Round NHL Playoff Series between the Los Angeles Kings and the St. Louis Blues... then you should really check out RudyKelly's preview over at Battle of California. But if you want to hear myself, Podcaster General Jesse Cohen and Brad Lee from St. Louis Game Time talk nonsense about the upcoming battle between two teams...
The LA Kings continued to play a tight, defensive game and it lead to a 3-1 win over the St. Louis Blues tonight. Defenseman Matt Greene had the game-winning goal, as he joined Dustin Brown on a shorthanded rush and was left alone in front of the next after the original shot was stopped by Brian Elliott.
I continue my analysis of the 2nd round Stanley Cup playoff series by analyzing the playoff series between the St. Louis Blues and the Los Angeles (LA) Kings. Both teams won their opening-round series in five games.  While the Blues erased their 10-year series-winning playoff drought in impressive fashion by dispatching the San Jose Sharks, the 8th-seeded Kings pulled off the Stanley...
  Here is the blunt version of this evening's preview of the St. Louis Blues versus the Los Angeles Kings.  There are a lot of crazy things that could be expected in this series.  This is one that could be more entertaining than the block party between the New York Rangers and Washington Capitals.  It is one of those to keep an eye on because of the goaltending...
Game #1 LA KINGS 40-27-1595 pts, 8th in Western Conference, 13th in NHLvsST. LOUIS BLUES49-22-11109 pts, 2nd in Western Conference, 3rd in NHL Kings Won Regular Season Series 3-1 4:30pm, Scottrade CenterSt. Louis, MONBC SN  BEST PLAYER TO WEAR BOTH COLORS: I mean... does Gretzky look ridiculous in that jersey or what? BEST OPPOSITION BLOGS:St. Louis Game TimeThrashing...
Dwight King received 2 for boarding for this hit on Alex Pietrangelo who did not return to the game.
One thing that is as certain as the teams that will be moving on to the second round of the playoffs in the Western Conference, is that each team is lead by a suffocating defense and anchored by exceptional goal-tending. Jonathan Quick of the Los Angeles Kings, Mike Smith of the Phoenix Coyotes, Pekka Rinne of the Nashville Predators, and Jaroslav Halak and Brian Elliott of the...
#2 St. Louis Blues vs. #8 Los Angeles KingsRegular Season Series: Kings win 3-1The Lead Up:The Los Angeles Kings are coming into the series after disposing of the Presidents' Trophy winning Vancouver Canucks in five games. While the St. Louis Blues handled the San Jose Sharks in just as many games.Both teams have been successful thanks to great play between the pipes. The Kings...
NHL News

Delivered to your inbox

You'll also receive Yardbarker's daily Top 10, featuring the best sports stories from around the web. Customize your newsletter to get articles on your favorite sports and teams. And the best part? It's free!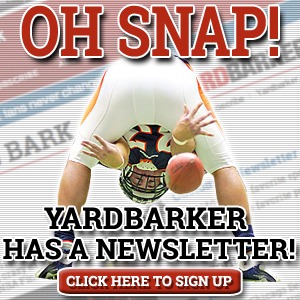 Latest Rumors
Best of Yardbarker

Today's Best Stuff

For Bloggers

Join the Yardbarker Network for more promotion, traffic, and money.

Company Info

Help

What is Yardbarker?

Yardbarker is the largest network of sports blogs and pro athlete blogs on the web. This site is the hub of the Yardbarker Network, where our editors and algorithms curate the best sports content from our network and beyond.