Found January 21, 2012 on The Rangers Tribune:
PLAYERS:
John Tortorella
,
Henrik Lundqvist
,
Tuukka Rask
,
Ryan Callahan
,
Brandon Prust
,
David Krejci
,
Andrew Ference
,
Shawn Thornton
,
Marian Gaborik
,
Brian Boyle
,
Ryan McDonagh
,
Dan Girardi
,
Zdeno Chara
,
Marc Staal
,
Derek Stepan
,
Carl Hagelin
,
Michael Del Zotto
TEAMS:
New York Rangers
,
Boston Bruins
Thankfully I do these postgames via blogs and not video/audio, because I have no voice whatsoever after what I think was the most exciting New York Rangers game of the entire 2011-12 season so far. There were loads of anticipation and excitement leading up to this match between the two top teams in the Eastern Conference this afternoon at TD Garden, and everyone watching couldn't have asked for anything more to get their hockey fill for the weekend. It had a playoff atmosphere and feel to it, and for Rangers fans, it ended the way we had hoped it would. New York weathered an early storm to begin the game when the Bruins were firing from all cylinders. For a good five minutes, Boston was in complete control of this game and had the Rangers pinned in their own zone for so long that head coach John Tortorella was only able to change the offensive lines once in a four-minute span. Henrik Lundqvist, as well as the defense, held in there strong and would finally gain some momentum after killing off a Dubinsky roughing penalty at 5:46. The Rangers then started to put some shots on Tuukka Rask and force the Bruins' defensemen to handle the puck with persistent forechecking. They would end up catching the B's in shots with the first period ending with each goaltender making eight saves to keep the tilt scoreless. To begin the second period, the Rangers had to kill-off a carry-over tripping minor on Ryan Callahan, but would find Cally streaking out of the box to set-up the game's first goal. The play actually began in the Rangers' end, where Henrik Lundqvist made an excellent save with his pad. The puck came out to Brandon Prust, who pushed it up to Callahan and Ryan took it all the way in and beat Rask with a wicked wrist shot from the circle. Boston would respond not long after when David Krejci found Andrew Ference jumping into the slot from defense, and Ference sent a backhander over Lundqvist to tie the game at 1. This play came after Mike Rupp and Shawn Thornton dropped the gloves, which many claimed was a poor decision by Rupp considering his team had the momentum at the time. I don't know how true that statement actually is considering Rupp won the fight by a mile, but it's possible it gave the Bruins a bit of a spark.   Anyway, at 14:30 of the second, Marian Gaborik gave his club a 2-1 lead when he connected with a bouncing puck to fire a rocket past Rask from the slot. Once again, it was the Hagelin-Stepan-Gaborik line making things happen for the Rangers and this time they actually were able to cash in on the play. The lead was short-lived, though, as Adam McQuaid had luck on his side in the final minute of the period when his slap shot ramped off the stick of Brian Boyle and top-shelf over Lundqvist to tie the game going into the third. In the third period, we saw possibly the most horrendous display of officiating all year long. I don't have an official count, but I listed all of the missed calls that should've been against Boston in the period on Twitter, and they were accumulating rapidly. Eventually, late in the period, the Rangers finally were given two powerplays on blatant penalties on Boston that the refs basically had no other choice but to call, but New York ineffective with the man advantage as usual. Because of this, the game would head to overtime. We saw some wild back-and-forth play in the extra period, which was perfect considering the pace that this game had for the previous three minutes. However, the air would be taken out of the building at 1:50 when Andrew Ference applied as dirty of a hit as you will see on Ryan McDonagh behind the Ranger net. A defenseless McDonagh, with his back facing Ference, was attempting to play the puck, but was then sent into the boards by Ference, who trucked Ryan from behind. Obviously Ference would be ejected from the game and given a five-minute major as well, and McDonagh would immediately leave the ice after staying down for quite some time. There's no doubt Ference will face a suspension after that hit. So the Rangers found themselves with over three minutes of powerplay time to finish off the period, and for a while there, it looked as if it would all go to waste. Their passes were off the mark, no one was moving, shots were not getting through to Rask and the Bruins did a nice job of penalty-killing. However, with just four seconds remaining before the buzzer sounded, Marian Gaborik found a third rebound in a scrum in front of the net and roofed it to win the game, 3-2, for the elated Rangers. An appropriate finish to a thrilling game, I would say. As expected, Henrik Lundqvist had a tremendous afternoon in goal for the Rangers. He finished the day with 32 saves on 34 shots and at many times kept his team in the game. The Rangers never trailed in the tilt, but there were several surges where the Bruins possibly could have scored two or three goals if it were not for the spectacular play of Lundqvist between the pipes.  Again, when the Rangers need Lundqvist most, he is always there. This is why many see him as a competitor for the Hart Trophy (MVP) this season. In front of Lundqvist, we saw some solid defense at times, and some horrendous defense at other times. One thing the Rangers were consistent with, though, was their shot-blocking. Dan Girardi went down to block two Zdeno Chara slapshots in one shift during the third period. That's guts right there, but it's also why this team is so effective. Nothing puts them in a state of fear – not even a 100+ mph slapper. I thought Michael Del Zotto played well on defense, but his offense was just atrocious. It was not his night on the powerplay, but then again, it wasn't the entire team's night on the powerplay. Looking back at it, though, his defensive play was probably more important when all was said in done. The same goes for Marc Staal, who may have been the club's top defenseman in this one. After a rough game against Pittsburgh, Marc rebounded very nicely. As far as the forwards go, Marian Gaborik is obviously the name that stands out. He buried two very import goals for the Rangers today – one being the game-winner - to finally break out of the miniature slump he was going through these past two weeks or so. He was using his speed and quick release a lot tonight, and was complimented nicely with some strong play from linemates Derek Stepan and Carl Hagelin. That line was the Rangers' best this afternoon.  I also believe that Brandon Prust and Ryan Callahan deserve major shoutouts for their efforts today. They were both absolute warriors out there on both ends of the rink. MSG Network showed a great clip of Prust trying to walk-off a Chara shot-block in the runway leading to the locker room, and just collapsing to the ground in pain. He'd tough it out and return, which left me speechless.  "Toughing it out" is how the entire Rangers team has went about their season this year, and it's why they are able to win games like they did this afternoon in Boston. The Blueshirts had all of the odds against them in this one, especially with the one-sided officiating.  They beat those odds and overcame much adversity to make a huge statement by defeating the defending Stanley Cup Champions. They're still number one. 
Original Story:
http://www.rangerstribune.com/the-ran...
THE BACKYARD
BEST OF MAXIM
RELATED ARTICLES
BOSTON -- For the second time this month, a huge Saturday matinee matchup for the Bruins was decided by a major penalty after a controversial hit. The two goals Vancouver scored on Brad Marchand's clipping major proved the difference in a 4-3 victory over the Bruins two weeks ago, and on Saturday, the Rangers converted on another major penalty in the closing seconds of overtime...
Katie Strang at ESPN NY reports that Bruins D Andrew Ference has phone hearing scheduled for this morning regarding his hit from behind on Ryan McDonagh hit. Because it's a phone hearing Ference can't be suspended more than 5 games....did Ference intentionally try to injure McD? Of course not, but it was a very reckless play and until the NHL sends a real message that this...
PHILADELPHIA--Andrew Ference has received a three-game suspension for his hit on the New York Rangers' Ryan McDonagh. He will sit out today's game against the Flyers, Tuesday's game in Washington and the January 31 game against Ottawa at home. He'll be eligible to play again ...
(How is that dude in the hat in front of Ference not expressing any emotion after that hit? No anger or excitement. Nothing. Mitt Romney, that you?)Andrew Ference might be hanging with Hamill in the press box after this hit.BOOM.This hit looked a lot worse live than it does in the video replay. Not saying it was a good hit by any means. Ference came in too fast. He's not a dirty...
The Bruins get right back to work Sunday, traveling to Philadelphia looking to put Saturday's overtime loss to the Rangers behind them. They'll do it without defenseman Andrew Ference, however. Bruins coach Claude Julien stated that Ference has been suspended by the league for his hit from behind on Rangers defenseman Ryan McDonagh. That earned Ference a five-minute major...
… say what you want, but this was a reckless play from Andrew Ference and he deserves to be suspended.  For the people who are defending this "play", I have nothing but pity for you. Was it malicious? I believe so. If you come in with that type of speed up to a player who [...]
NHL.com -- Boston Bruins defenseman Andrew Ference will have a telephone hearing Sunday morning with the NHL Department of Player Safety regarding his hit against Rangers defenseman Ryan McDonagh in overtime of Saturday's game.\ Ference was ass...
Follow @thenyrangers Share Rangers goaltender Henrik Lundqvist can look forward to having head coach John Tortorella as his NHL All-Star Game coach now that he has been named Daniel Alfredsson's assistant captain for...
Oh, what a difference a year could make! It seems like just yesterday, Toronto's Joffrey Lupul was on the recieving end of a hilarious Twitter prank, which saw the 28-year old forward being shipped to Alcatraz Long Island in a deadline deal. Luckily for Lupul, he wasn't sent to the Nassau Mausoleum where careers go to die, and was kept north of the border to spend more time...
NEW YORK / TORONTO (January 21, 2012) -- Goaltender Henrik Lundqvist of the New York Rangers and forward Joffrey Lupul of the Toronto Maple Leafs have been named Assistant Captains for the 20...
Pre-game notes from the Rangers: NEW YORK RANGERS vs. BOSTON BRUINS Saturday, Jan. 21, 1:00 p.m. TD Garden – Boston, MA Rangers: 29-12-4 (62 pts) Bruins: 30-13-1 (61 pts) * All information through NHL games on Jan. 19 TODAY'S GAME: The Rangers will face-off against the Boston Bruins at TD Garden (1:00 p.m.; TV: MSG; Radio: 1050 ESPN Radio), in an Original Six matinee match...
NHL News

Delivered to your inbox

You'll also receive Yardbarker's daily Top 10, featuring the best sports stories from around the web. Customize your newsletter to get articles on your favorite sports and teams. And the best part? It's free!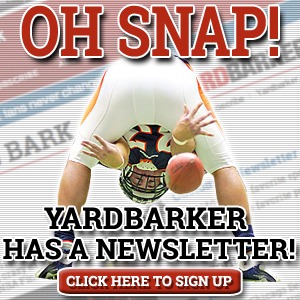 Latest Rumors
Best of Yardbarker

Today's Best Stuff

For Bloggers

Join the Yardbarker Network for more promotion, traffic, and money.

Company Info

Help

What is Yardbarker?

Yardbarker is the largest network of sports blogs and pro athlete blogs on the web. This site is the hub of the Yardbarker Network, where our editors and algorithms curate the best sports content from our network and beyond.