Found March 05, 2012 on centericechat.com:
PLAYERS:
Ryan Miller
,
Corey Crawford
,
James Reimer
,
Ray Emery
,
Joel Quenneville
,
Kari Lehtonen
,
Marc-Andre Fleury
,
Mathieu Garon
,
Steve Yzerman
,
Dwayne Roloson
TEAMS:
Buffalo Sabres
,
Chicago Blackhawks
,
Toronto Maple Leafs
,
Ottawa Senators
,
Detroit Red Wings
,
Dallas Stars
,
Calgary Flames
,
Pittsburgh Penguins
,
Colorado Avalanche
,
Tampa Bay Lightning
,
Winnipeg Jets
,
Vancouver Canucks
Welcome to Center Ice Chat's Top 5, an irregular series featuring the best — and worst — rankings around the league. As the season winds down, we take a look at the top 5 players by position. We present you with the top 5 goalies of the past week: The last week featured a backtrack of starting goalies losing stock from Corey Crawford of the Chicago Blackhawks to James Reimer of the Toronto Maple Leafs. Dark horses — the backups, if you will — have stormed out of the gates. Meanwhile, others — franchise starters, specifically — have made a comeback. Ryan Miller is your leader, here's who else is hot: 5. Ray Emery, Chicago Blackhawks Ray Emery made a couple of triumphant starts between the pipes for the Chicago Blackhawks, who have had a roller coaster six weeks. Crawford showed poise, but coach Joel Quenneville appears to not be sold on giving the sophomore goalie the starting gig for better or for worse. Quenneville brought in Emery to help save a game against the Toronto Maple Leafs on Feb. 29, and came back for back-to-back 2-1 wins against the Ottawa Senators and the Detroit Red Wings. 4. Kari Lehtonen, Dallas Stars Kari Lehtonen may be under the radar, but that goes saying with the Dallas Stars, too. He's gone 2-0-1 to help the Stars stay competitive, going to the seventh seed. The competition has been soft as of late for the Stars, but Lehtonen gets good marks this week because of his clutch performance against the Calgary Flames on Sunday with the 3-2 overtime win. Lehtonen came through holding his own for a 3-for-3 save against the Flames' power play overall, and the Stars held up on an overtime penalty kill. 3. Marc-Andre Fleury, Pittsburgh Penguins The Penguins are on a five-game streak, and Fleury's two-win performance last week has helped considerably, stopping 35 in the 5-1 win over the Colorado Avalanche and denying the Dallas Stars of two points the game prior with a shootout win. The Penguins aren't letting injuries damper potential, yet again. And Fleury is showing exactly why great teams perform to their potential from their own zone, and forward. 2. Mathieu Garon, Tampa Bay Lightning Just when the Tampa Bay Lightning looked to be at its lowest point since Steve Yzerman has shaped his team, a GMs call is answered. Not before the trade deadline, but during, and after. And that's the relief of not having to go out and get a new goalie. When Dwayne Roloson not being able to recapture last year's magic, Garon inevitably had to stand up. And he did, eventually. He's won six of his last seven, and stopped 64 of last 71 in past three wins. As a result, Tampa (10th) is just one win out of the eighth seed, behind the Winnipeg Jets. 1. Ryan Miller, Buffalo Sabres Back-to-back shutouts against the Ducks and Sharks isn't a bad way to start the week. Follow that by taking your shutout streak to 155 minutes, and Ryan Miller is in pretty good graces these days. He followed the loss of his shutout streak with a 5-3 win over the Vancouver Canucks. That's 114 saves in 117. He's the NHL First Star of the Week with good reason. And the Sabres are now 11th in the Eastern Conference, looking to build upon that for a chance to get back in the playoffs. His 6-0-1 stretch makes him one of the hottest goalies with Garon. Miller's stats of this week gives him the edge, however. Can the bulk of these goalies help carry their respected teams through the playoffs — or into the playoffs, for that matter? Matthew Wilson is editor of Center Ice Chat. Follow him on Twitter @Mattjw24. Be sure to also Like us on Facebook and to Follow our Tumblr page. If you'd like to contribute, or appear as a guest columnist, please email us at CenterIceChat@gmail.com.
Original Story:
http://www.centericechat.com/2012/03/...
THE BACKYARD
BEST OF MAXIM
RELATED ARTICLES
'SILVER MEDAL'
Is there any doubt that the people of Winnipeg are glad to have professional hockey back? The Jets fans have quickly become some of the best in hockey, and the team is 21-10-4 at home as a result. They are fighting for the 8th playoff spot in the Eastern Conference and are one of the teams that you could easily envision playing spoiler for a top seed. Jets fans don't just want...
Ryan Miller of the Buffalo Sabres had a shutout near the end of the second period in the Sabres game against the San Jose Sharks on Thursday. CSN Bay Area announcers Randy Hahn and Drew Remenda then break ANNOUNCER CODE (GASP!) and start talking about jinxing shutouts, a tenet that is also revered in the MLB during no-hitters. What do they segue their talk about jinxes into? An...
It's time for some Sabres trivia.  Which of the following players, over his past 30 games, has scored the fewest points: Ville Leino, Thomas Vanek, Tyler Myers, Derek Roy or Drew Stafford? Give yourself a stick tap if you said Vanek. Buffalo's most talented and highest paid forward is slumping.  The Sabres are on an 11-3-3 surge that has elevated them into the playoff hunt...
Buffalo Sabres goaltender Ryan Miller was named the NHL's First Star of the Week on Monday. Miller recorded back-to-back shutouts en route to winning all three of his starts last week. He stopped all 43 shots in a 2-0 win over Anaheim on Wednesday and denied 39 chances in a 1-0 victory over San Jose. He capped his week by besting Vancouver on Saturday. Detroit Red Wings defenseman...
Ten points. That's how far back the Buffalo Sabres were from the eighth and final playoff spot after a 4-3 shootout loss to the Montreal Canadians on February 17th. However, just 16 days later Buffalo climbed from 15th place and ten points back to a tie for 10th place and sit just two points back of eighth place Winnipeg entering Sunday. Just think about that for a moment. On the...
Puck drop was 7:05, NOT 7:10! The Buffalo Sabres broke out to an early lead on Saturday, taking advantage of a pair of point shots to allow Ville Leino to snap home his fifth and sixth of the season only minutes into the hockey game. The Vancouver Canucks couldn't keep the puck out of their own end in the first five minutes on Saturday, resulting in long night on the bench for...
Wolfgang Amadeus Gragnani Quick what happened last Monday? I can't actually hear you but I'm assuming you said the Canucks traded Cody Hodgson for Zack Kassian, though you should never assume because it makes an ass out of you, especially when you got the trade wrong. Alex Sulzer, who you forgot existed until 3:30 pm Monday, was also shipped out in the deal for Marc-Andre Gragnani...
So, when Buffalowins.com's head honcho, Joe, and I were talking about what my upcoming column would be about, the topic turned to Ryan Miller. Right now, Miller is the central cog behind the Sabres' current push to the playoffs. Our consensus was that it's so strange/interesting/kind of sad how Miller went from being the poster boy of USA hockey after the Vancouver games in...
    When elite players go into extended funks, what do or can you do?  Imagine a world where Tim Thomas and Ryan Miller are not Top 5 goaltenders in the league.  Miller is playing more like it to be honest but Thomas has cracked this year kind of like he did two years ago.  It is funny how these "sustained runs" can sometimes peter out unexpectedly.  Even Ilya...
NEW YORK (March 5, 2012) – Buffalo Sabres goaltender Ryan Miller, Detroit Red Wings defenseman Niklas Kronwall and Chicago Blackhawks goaltender Ray Emery have been named the NHL's 'Three Stars' for the week ending March 4. Continue reading "Stars Of The Week"
Ville Leino scored twice in the first 3:44 and Ryan Miller made 32 saves to help the Buffalo Sabres beat the NHL-leading Vancouver Canucks 5-3 on Saturday night, spoiling Zack Kassian's first games against his former teammates. Kassian, dealt to Vancouver along with Marc-Andre Gragnani in exchange for Cody Hodgson and Alexander Sulzer at the trade deadline Monday, scored his...
With the trade deadline having come and gone, it is now time to focus on the NHL stretch run. It is at this time, you will see players and teams take their games to new levels while at the same time, see clubs fall out of the race to get into the Stanley Cup Playoffs.With that in mind, let's get rolling with our "The Week Ahead" segment here at RLD Hockey.Three Stars...
NHL News

Delivered to your inbox

You'll also receive Yardbarker's daily Top 10, featuring the best sports stories from around the web. Customize your newsletter to get articles on your favorite sports and teams. And the best part? It's free!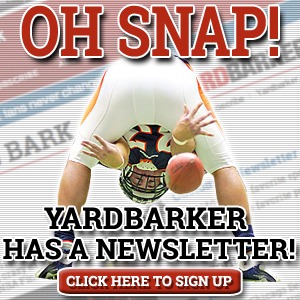 Latest Rumors
Best of Yardbarker

Today's Best Stuff

For Bloggers

Join the Yardbarker Network for more promotion, traffic, and money.

Company Info

Help

What is Yardbarker?

Yardbarker is the largest network of sports blogs and pro athlete blogs on the web. This site is the hub of the Yardbarker Network, where our editors and algorithms curate the best sports content from our network and beyond.