Found January 12, 2012 on Fox Sports Tennessee:
PLAYERS:
Bobby Ryan
,
Ryan Suter
,
Shea Weber
,
Ryan Ellis
,
Ryan Getzlaf
,
Corey Perry
,
Teemu Selanne
,
Daniel Sedin
,
Ryan Kesler
,
Marian Hossa
,
David Poile
TEAMS:
Anaheim Ducks
,
Dallas Stars
,
Nashville Predators
,
Vancouver Canucks
,
Chicago Blackhawks
,
San Jose Sharks
NASHVILLE, Tenn. -- Anaheim Ducks forward Bobby Ryan said it in December. Dallas Stars coach Glen Gulutzan made a reference in the same regard last week. What had been casually thrown around for much of the season, if not before -- that the Predators' defense tandem of Ryan Suter and Shea Weber is the best in the NHL -- might have received a semi-official stamp of approval on Thursday when both were named to the NHL All-Star team. Suter, a first-time selection, and Weber, a three-time selection, are the only defensemen from the same team named to the Jan. 29 game in Ottawa. Suter ranks second in the NHL in time-on-ice-per-game at 27:00, has five goals and 20 assists (fifth on the team) and is plus-8. Weber, who was a finalist for the Norris Trophy last season as the NHL's top defenseman and could be the favorite to win the award this season, is fourth in average ice time and leads Nashville in points (30) and in plusminus (plus-13 rating). Underscoring the pair's importance to the team is the fact that only one other defenseman on the roster does not have a negative rating -- rookie Ryan Ellis, who has only played in six games. Because of his scoring ability from the blue line -- he has averaged 18.3 goals each of the past three seasons -- and his ability to dole out big hits, Weber stands out to the fans. Suter's game is much more subtle, but perhaps almost equally effective. Coach Barry Trotz re-iterated something on Thursday that he often has said in the past, that he thinks both players will win a Norris during their careers and he also said that while fans might not be as aware of Suter's worth, hockey people are. Trotz said Suter's coming-out party started with the 2010 Olympics, when Suter helped the United States to win a silver medal. Trotz heard first-hand from the U.S. coach, Ron Wilson, currently Toronto's coach but who had coached against Suter when he was head man for the San Jose Sharks for several seasons. "When I talked to Ronnie, he couldn't believe how good of a player Ryan was," Trotz said. "He didn't realize he was that good. Then, obviously, with the playoffs, he's been matching up against the top people and people have taken notice. I think maybe (Suter)'s under the radar a little bit in terms of the general public, but if you're talking to hockey people who are around the game a lot and who have a good eye for the game, they know he's not under the radar, he's one of the top defensemen in the National Hockey League." Last year, the pair matched up in the first-round with what was widely regarded as the league's top line during the regular season, Anaheim's Bobby Ryan, Ryan Getzlaf and Corey Perry and helped to neutralize them. The trio combined for 103 goals during the regular season and Perry won the Hart Trophy as the league's MVP. Yet during the six-game series, Perry and Getzlaf were held to two goals apiece and Ryan three while it was Teemu Selanne, who played on a different line and avoided the Weber-Suter pairing, who did the damage offensively with six goals in six games. In the second round, Weber and Suter helped to keep Henrik and Daniel Sedin -- two of the League's top regular season point earners -- in check for much of the six-game series, while they had a harder time defending Vancouver's wily Ryan Kesler. Weber, who has received his share of accolades, said the honor was recognition for Suter. "Yeah, without a doubt," he said. "We all know how good he is here. It's nice to see and, obviously, the whole hockey world's realizing how good he is." While he said he was excited, Suter seemed somewhat blas about the honor. At one point, he said he did not want to participate in the SuperSkills competition for fear that he might fall down. Asked about being the second generation of his family to play in an All-Star Game -- his uncle Gary also did it -- he did not answer directly. "It's exciting," Suter said. "I'm obviously very excited about it, but at the same time I know we have to do a job here and win here and that's the most important thing." As smart as Suter is, perhaps one aspect he is not looking forward to is the amount of media attention he will receive. Somewhat reclusive, he will be hounded about his contract status -- especially with the game being played in a Canadian city, which could bring with it much more media than last year's game in Raleigh. In 2008 when Atlanta's Marian Hossa -- another player who does not exactly seek the limelight -- was in a similar situation, he was forced to answer one question after another during his media availability and looked visibly uncomfortable doing so. A few weeks later, Hossa was gone, shipped to Pittsburgh when he wouldn't sign a contract extension. Like Hossa in '08, Suter will be an unrestricted free agent as of July 1. Predators general manager David Poile said last Friday on Nashville radio that what was holding up an agreement was Suter's willingness to sign. If Suter -- and then Weber, a restricted free agent as of July 1 -- re-up, fans might know for years that Nashville is the capital not only of country music, but also the NHL's best defense pair. The alternative is something the Preds or their fans don't want to have to think about. For now, they both can enjoy the game -- and the honor.
Original Story:
http://www.foxsportstennessee.com/01/...
THE BACKYARD
BEST OF MAXIM
RELATED ARTICLES
Pierre LeBrun at ESPN.com reports that the Rangers are looking to trade for either a top-six forward and/or a power-play defenseman with a good shot.LeBrun adds the Blueshirts are keeping a close eye on what the Predators are going to do with either Ryan Suter (UFA July 1, $3.5 million this year) or Shea Weber (RFA July 1, $7.5 million this year), who are two players they would covet...
It's the last thing Predators fans want to think about, but it's the reality of the situation.We all know Ryan Suter is an unrestricted free agent after the season. The NHL trade deadline is also six weeks away. If Suter is not signed by February 27th, what does GM David Poile do? Does he trade Suter and make sure he doesn't walk away for nothing in the summer? Or does...
Nashville Predators team officials announced that three Preds will participate in the Tim Horton's All-Star Weekend activities in Ottawa from January 26-29 with the centerpiece being the game itself on Sunday Jan 29 at 3 p.m. CST (NBC Sports Network).Shea Weber and Ryan Suter were named to the primary Roster while Craig Smith was placed on the Rookie roster, primarily to participate...
We all know Nashville Predators defenseman Ryan Suter is an unrestricted free agent after the season. The NHL trade deadline is also six weeks away. If Suter is not signed by February 27th, what does GM David Poile do? Does he trade Suter and make sure he doesn't walk away for nothing in the summer? Or does Poile keep Suter to enhance the team's chances at a playoff run?...
Nashville had not scored a power-play goal since their Dec. 23 loss in Dallas. That was also the game that saw team captain Shea Weber sustain a concussion that would sideline him for the next four games. Weber returned Thursday night, but it was in Saturday's 5-2 victory at home against Carolina that Weber and the Predators' power play found their stride. Right wing Patric...
SHEA WEBERRYAN SUTERCRAIG SMITHBARRY TROTZ
It was mid-November when I picked Shea Weber of the Nashville Predators as the top defenceman so far this year.  He played so well that about a month later he became my pick for MVP.  Then he missed a few games with a concussion and lost his momentum.  I am now picking Zdeno Chara of the Boston Bruins as the top defenceman so far this year. Chara won the 2009 Norris Trophy...
On today's podcast, we spoke with CSN Philadelphia's Sarah Baicker about the Flyers, Winter Classic and Ilya Bryzgalov's antics. Buddy Oakes and I also discussed Thursday's win over Colorado and the conundrum that Predators GM David Poile finds himself in, in relation to Ryan Suter.You can listen to it all here...Listen to internet radio with SmashvilleOnTheGlass on Blog Talk Radio
Photo Credit: Mark Humphrey / AP The Predators will have a few more representative at the NHL All-Star Game in Ottawa this year as Shea Weber and Ryan Suter were selected for the All-Star Game and rookie Craig Smith was one of twelve selected for the rookie skills competition. Having arguably the best 1st pair defensemen in the NHL is one of the many assests that the Nashville...
Sarah Baicker from CSN Philly joined Ryan and Buddy on this weeks Smashville on the Glass radio show to preview Saturday's game between the Predators and the Flyers. She also gave plenty on inside insight to all things Winter Classic, HBO's 24/7, as well as looking in to the psyche of Flyers goalie, Ilya Bryzgalov.The show also includes a discussion of the Predators recent...
NHL News

Delivered to your inbox

You'll also receive Yardbarker's daily Top 10, featuring the best sports stories from around the web. Customize your newsletter to get articles on your favorite sports and teams. And the best part? It's free!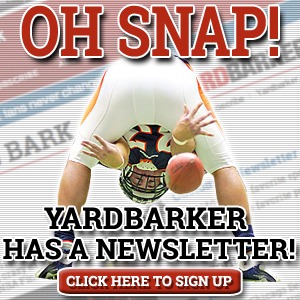 Latest Rumors
The Backyard

Today's Best Stuff

For Bloggers

Join the Yardbarker Network for more promotion, traffic, and money.

Company Info

Help

What is Yardbarker?

Yardbarker is the largest network of sports blogs and pro athlete blogs on the web. This site is the hub of the Yardbarker Network, where our editors and algorithms curate the best sports content from our network and beyond.