Found March 29, 2012 on Fox Sports Tennessee:
Nashville Predators coach Barry Trotz has said that almost as soon as his team was eliminated in the second round of last year's playoffs, he realized how close his team was. The Predators scored 11 goals in the series; Vancouver scored 13 on Nashville goalie Pekka Rinne a two-goal differential over six games between advancing and elimination. Vancouver, of course, went on as far as Game 7 of the Stanley Cup final, finishing as runner-up to Boston. On Thursday, the Preds clinched a playoff berth for the seventh time in the last eight seasons, giving them another opportunity this spring, only this time with a fortified lineup that includes three late-season acquisitions: defenseman Hal Gill, checking center Paul Gaustad and scoring wing Andrei Kostitsyn. Yet the most notable one is wing Alexander Radulov. He is the wildcard, the game-breaker that the Predators hope, along with the numerous other moves they have made, can make the difference this season. "I think there's no question about it, we have more weapons up front than we had last year at this time," Preds general manager David Poile said, "and that bodes well for us. Now, we've just got to see if it translates into the game and into success in the playoffs." In the very small sample size thus far of four games, the two-time scoring champion of Russia's KHL seems to be living up to expectations. While Radulov was gone for four seasons, abandoning his NHL contract to play in his native country, the Predators kept up with their 2004 first-round pick by tracking his statistics on the Internet, watching his games on television, getting reports from his agent and their European-based scouts and also by watching him in person at the IIHF World Championships and at the 2010 Olympics. "I think he's a better version of what he was both as a player and as a person," Poile said of the 25-year-old, who scored 26 goals in the NHL in 2007-08. "We talk all the time about your younger players, as they get older and have more experiences, I think they know how to play more effectively, more successfully and I think they understand the team concept a lot better." For now, the picture is only a small part complete. It's often said that one's internal clock needs one day to adjust for each hour of time zone travel. That means with Radulov flying from Moscow to Nashville on March 20 and the 10-hour time difference, he ought to be fully adjusted by the Preds' game on Friday in Detroit. Regardless, by totaling a goal and two assists in his first three games his production in the interim was impressive. Last Saturday prior to making his home debut, Radulov said he was mentally tired after his first game last Thursday, though he scored a goal in a 5-1 defeat against Pittsburgh. "Well, first period was a little bit hard because you get into the game and small ice and game was a little bit different," he said, "but when you get on, the game feel much better. Still, you know, need some time to adjust. Like I said before, times change. It's almost ten hours difference, so it's a little bit hard. Not looking for any excuses." On Saturday in Nashville's 3-1 win over Winnipeg, Radulov drew two defenders to him during a 2-on-2, making a pass through only the slightest bit of space to send in teammate Matt Halischuk in alone for a goal. "The play on Halischuk's goal, that was pretty sweet," Nashville coach Barry Trotz said after the game. "You know, what can you say? He's got great vision, he's got great hands. Some of the things he did created a lot of chances and that's what Rad does, but he's still really good defensively, too. "He manages the game way better than he did four years ago and that's the maturity of just time and understanding the game and I'm excited. I know the guys are excited as we go on here. Rads will continue to be more comfortable and do his thing so that was a real step forward for us in that he's getting in game shape." The only game in which Radulov has failed to land on the scoresheet thus far was the Preds' 3-0 loss at NHL co-leader St. Louis on Tuesday. In speaking to the Nashville media the next day, Trotz noted that Radulov hasn't seen anything like the Blues' tight-checking system on the KHL's larger ice surfaces. In that game, Trotz played Radulov 22:50 about 2:30 more than the average of the Preds' leader in time on ice among forwards, Mike Fisher. Trotz said he is trying to get Radulov accustomed to the league and the team's system as quickly as possible. Nonetheless, the early indications are that Radulov's skills translate to the NHL and at a high level. While some forwards who have played in Europe work on the perimeter, avoiding contact, Radulov has shown that he goes to the hard scoring areas near the net and that he also is able to protect the puck from defenders. Trotz has tried Radulov on a couple of different lines, at first pairing him with center David Legwand and right wing Patric Hornqvist, another energetic player, causing Trotz to nickname the trio the "espresso" line. So now it's understandable as to why the Predators' front office showed the patience it did in trying to get Radulov back. One of the reasons the effort took so much time was that both sides were operating from opposing viewpoints. "I truly believe he thought he never did anything wrong," Poile said. "Thus, he was in one place and we were in another place during this whole situation. Understanding of law and contracts it doesn't really matter anymore -- but I don't think he ever thought he was doing anything wrong." That meant that if Nashville wanted to keep him, instead of dealing his rights, the front office had to, to an extent, come to grips with the situation or forgive Radulov for violating the terms of his NHL contract. "Probably, we needed to get past that," Poile said, pausing, "which we did." Now, the Preds stand to reap the benefits. "I think it's gone very well," Poile said of the early results. "I think it's only going to get better. In addition to the Radulov situation we made three other acquisitions at the trade deadline. For a team that was playing well, we've made more changes than anybody in the league, I think. From that standpoint, we have a lot of adjustments to make. Lines have been changed, roles have been changed, ice time has been changed "We really need these last five games to prepare for the playoffs. Compared to last year, the Preds will have a lot more weapons in their arsenal.
Original Story:
http://www.foxsportstennessee.com/03/...
THE BACKYARD
BEST OF MAXIM
RELATED ARTICLES
Gabriel Bourque and Francis Bouillon scored in the second period and Pekka Rinne made 31 saves Friday night to help the Nashville Predators beat the Detroit Red Wings 4-1 for coach Barry Trotz's 500th victory with the franchise. Nashville moved a point ahead of Detroit with four games left in the regular season to be the fourth-seeded team with home-ice advantage in the first...
The Nashville Predators announced Monday that 2012 Stanley Cup Playoff tickets go on sale this Saturday at 10:00 AM Central Time. Tickets should be sold out very quickly, so you should try to buy tickets on Ticketmaster that day, or go to the tickets tab above. The tab will direct you to the best deals possible. It is still unknown who the Predators will play in the playoffs, but...
DETROIT -- Things could change, but the Red Wings are looking at a first-round playoff matchup against the Nashville Predators, quite possibly without home ice advantage. If you're looking at Friday night's 4-1 loss to those same Predators, you wouldn't necessarily prefer that matchup. Why? Pekka Rinne. No, the Wings didn't lay the proverbial egg as they did in...
This Friday will be Predator Pride day in Middle Tennessee with hockey fans being encouraged to turn everything into a Predator theme. Don gear bearing the likeness of your favorite Saber Toothed Tiger. Decorate your cube. Pred your ride. Paint your face. Show off that pre-playoff beard. Nothing is off limits in Smashville!One of the highlights will be the placement around the area...
The Nashville Predators start a three game home stand against the Chicago Blackhawks on a Saturday night at Bridgestone Arena. The Nashville Predators' record this season is 45-25-8 with 98 points and ranked 4th in the Western Conference. The Chicago Blackhawks' record this season is 43-26-9 with 95 points and ranked 6th in the Western Conference. Puck drops at 7:08 PM CT...
The Nashville Predators clinched a postseason berth without even taking the ice on Wednesday. Nashville (44-25-8) secured its seventh playoff berth in eight seasons after the Anaheim Ducks posted a 3-1 triumph over the San Jose Sharks. The Predators became the fourth Western Conference team to qualify for the playoffs, joining St. Louis, Vancouver and Detroit. Teemu Selanne broke...
Season Series Chicago Blackhawks 43-26-9 Nashville Predators  45-25-8 Radulov has five points in five games for the Predators this season. The Nashville Predators reclaimed fourth spot in the Western Conference standings with their 4-1 win over Detroit on Friday night. Now, just shy of 24 hours later, the Predators will try to put some distance between themselves and their Central...
My favorite TV show of all time, the Liam Lynch sock puppet spectacular that was Sifl n Olly, had a fake infomercial skit, and the tagline for Precious Roy's cheap product of the night was, "Well, you know the problems I've had with X" by Sifl, answered with, "Yeah, you've got some serious-ass X problems!" from Olly. The Detroit Red Wings ended a lost month's worth...
In November I first picked Shea Weber as the Norris Trophy leader.  When Weber lost a bit of time with a concussion my new pick was Zdeno Chara.  By early February I had Weber back in the lead.  Now that we are into the stretch drive of the season, I think Chara is back in the lead. Zdeno Chara has the top +/- rating among all defencemen in the NHL at +29.  His 49 points...
Photo by Dave Reginek/NHLI via Getty Images The Nashville Predators and Detroit Red Wings went into tonight's game with a chip on their shoulders. Both were outgunned in their last outing and looking for some revenge, especially against the team that is in the mix of playoff home-ice positioning. But it was the Nashville Predators that would come out of Motown with the two points...
By Seth Lake In what was likely a meeting between two teams facing each other in the first round of the Stanley Cup playoffs beginning in a little over a week from now, the Nashville Predators and Detroit Red Wings each came into Friday night's meeting at Joe Louis Arena coming off of losses to divisional opponents. Both teams were looking to right the ship as they battle for the...
Predators News

Delivered to your inbox

You'll also receive Yardbarker's daily Top 10, featuring the best sports stories from around the web. Customize your newsletter to get articles on your favorite sports and teams. And the best part? It's free!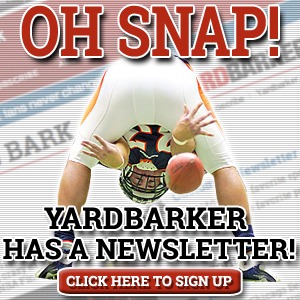 Latest Rumors
The Backyard

Today's Best Stuff

For Bloggers

Join the Yardbarker Network for more promotion, traffic, and money.

Company Info

Help

What is Yardbarker?

Yardbarker is the largest network of sports blogs and pro athlete blogs on the web. This site is the hub of the Yardbarker Network, where our editors and algorithms curate the best sports content from our network and beyond.