Found August 23, 2012 on Boston's Bettah:
Just as the NHL was recovering from the great hockey massacre of 2004-2005, the NHL is approaching a second lock-out. After yesterday's planned roundtable talks were cancelled so that top executives from each side could meet in private, the odds of a season starting on time look grim.
For the Boston Bruins, the similarities between the 2004 lockout and the potential 2012 lockout are eerie. Both teams were coming off seasons where they took the second seed in the conference and were one of the favorites to at least advance to the Eastern Conference Finals. Both times, they were eliminated by a plucky upstart that got the hot goalie and ended in a game 7 at home in the Fleet Center/TD Garden. The only difference is that the current iteration of the Boston Bruins has recently won the Stanley Cup and the other one was still sitting on a long win-less streak.
Other than that?
Young up and coming potential star (Patrice Bergeron in '04/ Tyler Seguin in '12) who is likely going to have to go continue to hone his skills in Providence.
A young goalie with promise (Andrew Raycroft/Tuukka Rask) that really doesn't have a lot of experience and is an unknown commodity whenever hockey restarts.
A fan favorite (Joe Thornton/Milan Lucic) who is coming off an incredibly disappointing playoff run where they may or may not have been injured.
Brian Rolston was on bother rosters.
I'm s0mone who always believes that history repeats itself, so excuse me for being pessimistic about the start of the season. Even worse, the Bruins that came out of the lockout 8 years ago was in terrible shape with terrible management and with no idea how to approach the league in the new CBA. The Boston Bruins have a much smarter top brass now, but it's just worrisome to someone like me even though I have nothing to really be worried about.
So how to cope? There is no AHL team within an hour of where I live in Washington D.C so I can't go see Tyler Seguin tear it up, nor is there legitimate college hockey to watch. Basically, for the hockey fan that is me, I'm pretty SOL which is why I have a two pronged system to make sure I don't go crazy.
1.) Watch a ton of NHL network.
They have been pretty good right now in not showing anything to do with the impending lockout unlike what NFL network was doing last season in prepping for the worst. In fact, the NHL is scheduling reruns of all their NHL 36 shows as well as classic playoff games from the past three seasons. Instead of reminding us about how much its going to suck come October 11th (opening night for the Boston Bruins) they are just showing us hockey. Well played.
2.) Play a lot of NHL 13
I already have the demo and have played it to death. I'm in a league run by the guys from Day's of Yorr and we have our fraternity round robin league we always. Needless to say, I will be able to get my hockey fix.
Still, at the end of the day, nothing replaces real hockey. Nothing is going to replace getting a ticket for Bruins at Capitals, running on down to the Verizon Center and starting numerous "Let's go Bruins" chants in whatever terrible seat in the Verizon Center that I get, just hoping and praying that the Bruins can return to the promised land once again.
God, I miss hockey already.
Original Story:
http://www.bostonsbettah.com/?p=4982
THE BACKYARD
BEST OF MAXIM
RELATED ARTICLES
ESPN Boston- In a radio interview Monday on WEEI, Bruins principal and alternate governor Charlie Jacobs weighed in on goalie Tim Thomas, whose decision to forgo his final season of his contract and leave the Bruins hanging with a $5 million cap hit remains a hot topic. Jacobs, the son of owner Jeremy Jacobs, expressed confidence that the Bruins will be able to unload Thomas...
Bruins defenseman Dennis Seidenberg wants to play hockey this season. If he has to go home to do so, he sounds more than willing to make that happen. The Boston Globe reports that Seidenberg is toying with the idea of returning to Germany to play this fall if the NHL suffers another lockout. "It would be nice to play with him if it gets to that point," Seidenberg told the...
via Our Sports Central, Kamloops, BC - Former Western Hockey League and Canadian Hockey League player Mark Recchi, a three-time NHL Stanley Cup Champion and member of the Kamloops Blazers Ownership Group, together with owners Tom Gaglardi and former players Jarome Iginla, Shane Doan and Darryl Sydor, provided the following statement: "I can assure you my partners and I would not...
                      Seguin is only 20 years old and hopefully has long career ahead of him as a Bruin. Taylor Hall signed a seven year deal with the Edmonton Oilers today which is worth over $40 million.  This deal must have had Bruins management throwing up in their mouths because they all know that this is the kind of deal that they are going to give Tyler Seguin...
The primary narrative leading up to and into the 2010 NHL entry draft was the fact that Taylor Hall and Tyler Seguin would be linked throughout their entire careers. They had battled each other through the junior ranks and were the consensus Nos. 1 and 2 picks in the draft. Things went exactly that way on draft night in Los Angeles, with Hall going first to Edmonton and Seguin landing...
UCLA's games against California and Utah will have noon PDT kickoffs, with both games televised on a Fox Sports channel to be determined. The Bruins play at California on Oct. 13. UCLA has not won in Berkeley since a 28-16 victory in 1998, losing the last six. The Utah game, which will be played in the Rose Bowl, is a key Pac-12 South matchup between teams hoping to challenge...
NHL News

Delivered to your inbox

You'll also receive Yardbarker's daily Top 10, featuring the best sports stories from around the web. Customize your newsletter to get articles on your favorite sports and teams. And the best part? It's free!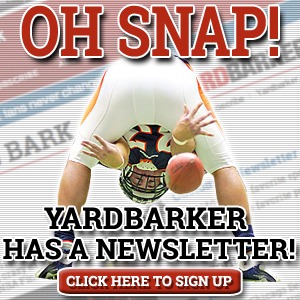 Latest Rumors
Best of Yardbarker

Today's Best Stuff

For Bloggers

Join the Yardbarker Network for more promotion, traffic, and money.

Company Info

Help

What is Yardbarker?

Yardbarker is the largest network of sports blogs and pro athlete blogs on the web. This site is the hub of the Yardbarker Network, where our editors and algorithms curate the best sports content from our network and beyond.