Found September 16, 2013 on The PensNation:
PLAYERS:
Beau Bennett
,
Chuck Kobasew
,
James Neal
,
Scott Harrington
,
Andrew Ebbett
,
Dustin Jeffrey
,
Brian Dumoulin
,
Philip Samuelsson
,
R.J. Umberger
,
Marc-Andre Fleury
,
Evgeni Malkin
,
Tanner Glass
,
Pierre-Luc Letourneau-Leblond
,
Bobby Farnham
TEAMS:
Columbus Blue Jackets
,
Pittsburgh Penguins
Welcome back Pens fans! If you're new or have forgotten what I do in the post-game thoughts, here's a quick introduction and/or recap. Speaking of, don't expect recaps. It's purely thoughts and analysis of specific plays and players. I hate +/-, so I do my own goal assessments and award a "+" if a player contributes to a goal for and a "-" if a player is at fault for a goal against (or is in the penalty box for one). I ignore PP and PK situations. There will be a running tally throughout the regular season. Also, I'm going to try to add something new this season and evaluate penalties as well. The plan is to judge them as a good penalty to take (necessary to negate a prime scoring chance), bad/unnecessary, inconsequential (coincidental minors and such), or a bad call by the ref. I'll keep a tally on those as well through the season. If you have any thoughts, comments, or ideas, feel free to let me know.  (Also, I'm not adding pictures during preseason due to laziness.) By: Meesh Shanmugam (@HockeyMeesh) Preseason Game 1: Blue Jackets 5  Pens 4 (OT) Goals Neal (1) from Bennett Kobasew (1) from Kuhnhackl, Ebbett Jeffrey (1) (PP) from Dumoulin, Ebbett Kobasew (2) (PP) from Kuhnhackl, Jeffrey There would normally be a Stat Leaders section and a Video Recap here, but neither are available.  Both will return during the regular season. Goal Assessment 1st Goal For (Neal): + for Bennett – intercepts the outlet pass from Columbus before it clears the zone, then intercepts a pass inside the zone and passes the puck over to Neal Malkin – backchecks from the behind the offensive zone net to force Columbus to keep the puck in the zone instead of moving it out Neal – takes Bennett's pass and scores five-hole 1st Goal Against (Anisimov): – for Vitale – in the penalty box for hooking Niskanen – has crease coverage, but moves away from Fleury/Anisimov so he doesn't screen Fleury – allows Anisimov to get in position to screen Fleury and tip the puck into the net 2nd Goal For (Kobasew): + for Ebbett – passes the puck towards the net Kuhnhackl – draws a defenseman to the crease and away from Kobasew while creating traffic in the area Kobasew – scores on his own rebound on the crease 2nd Goal Against (Wisniewski): – for Lablond – just getting out of the penalty box after a boarding penalty, but not in the play yet Glass – in the penalty box for slashing *Note – Fleury looks like he overcommits to the right side, taking him off of his angle from where Wisniewski takes the shot 3rd Goal For (Jeffrey): + for Ebbett – retrieves his rebound and passes the puck to Jeffrey from behind the net Dumoulin – receives a pass from Jeffrey at the point and sends it back to him Kuhnhackl – provides a slight screen/distraction on the crease for Dansk in net Jeffrey – waits patiently for a shooting lane to open and fires a wrist shot into the net 3rd Goal Against (Letestu): – for Vitale – turns the puck over into the middle of the defensive zone Pouliot – overcommits to the breakout and leaves a Columbus forward behind him Glass – sweeps the puck towards/into the net 4th Goal Against (Atkinson): – for Scuderi – gives Atkinson the middle of the ice as he has to back off due to Columbus entering the zone with speed 4th Goal For (Kobasew): + for Ebbett – retrieves the puck on the boards and passes back to Jeffrey at the point Jeffrey – fires a low wrist shot at the net that goes off of a Columbus player and also off of the goalie Kuhnhackl – runs through the crease, creating free space around the puck Kobasew – follows Kuhnhackl in and slides the puck into the net 5th Goal Against (Murray): – for Malkin – turns the puck over in offensive zone, can't get back to cover Murray Neal – ends up closest to Murray but doesn't take the strides to get to him Penalty Assessment No clue what I'm doing with this, bear with me as it changes game by game during the preseason.  Not all minors will end up being bad. Vitale – Hooking:  Bad, in the offensive zone. Leblond – Boarding:  Bad, hit a player in the back after the puck was already moved away. Glass – Slashing:  Bad, excessive slash while on the penalty kill. Malkin – Hooking:  Bad, in the offensive zone and was too late to prevent a clear anyways. Payerl – Fighting:  Inconsequential, just a younger player making a name for himself. Malkin – Closing Hand on Puck:  Bad, though he was certainly taking some shots to the head, he knows the rules better than this. Vitale – Fighting:  Inconsequential, not that Vitale needs to fight during the preseason. Malkin – Slashing:  Bad, a two-handed slash in the defensive zone that knocked the opponent's stick out of his hands. Player Assessment These will be relatively brief for each player during the preseason.  I'll elaborate much more on assessments during the regular season. Good Beau Bennett – Bennett certainly looks bigger and ready to engage in a physical style of play. He threw some big hits, broke up a couple of passes, drew a penalty, and assisted on Neal's goal. The second line looks like a great place for him. Chuck Kobasew – Even if he doesn't get a contract in Pittsburgh, Kobasew drew attention to get a contract somewhere in the NHL. He had 2 goals and showed a knack for finding the puck around the crease when no one else could. Tom Kuhnhackl – Kuhnhackl displayed something the Penguins have been lacking with a presence on the crease to cause chaos. He drew a penalty around the net and looked his best standing on the crease during powerplays. James Neal – Neal looks like he's in the best shape of his life and is ready for the regular season to start. His skating/speed was impressive, he drew a penalty, and he scored. He may benefit the most from having Bennett on the 2nd line to draw attention. Scott Harrington – Harrington showed some very sound defensive qualities and was quietly strong during the game. He had several great poke checks and looked especially good during the penalty kill. Andrew Ebbett – Ebbett looked solid in all three zones against Columbus.  He had the second assist on two goals, looked comfortable providing help deep in the defensive zone (even causing a turnover off of a hit), and intercepted a pass in the neutral zone. Noteworthy Dustin Jeffrey – Though he didn't look his best at 5 on 5, Jeffrey looked like he could lead the 2nd powerplay from the point all day with Brian Dumoulin. He showed good vision in the offensive zone in general throughout the game. Philip Samuelsson – Samuelsson looks like he put some of his AHL woes from last season away for good with his positioning in this game. Though he did get beat to the net by RJ Umberger at one point, most of his game was sound and he showed surprisingly good lateral movement to keep pace with forwards in the defensive zone. Marc-Andre Fleury – MAF stopped 10 of 12 shots, allowing 2 powerplay goals. The first goal wasn't necessarily on him, but he could have made a better effort on the 2nd goal (even if it was basically 5 on 3 still). His positioning and the efficiency of his movements will be something to watch, especially with shorter leg pads. Bad Evgeni Malkin – Three penalties and a turnover that led to the game-winning goal for Columbus…good thing it's preseason and Malkin is Malkin. Tanner Glass – Not that Glass was a fan favorite to begin with, but he didn't help his cause with a slashing penalty and basically assisting on Letestu's goal. I'm hoping to see a bigger physical game from Glass; the Pens will need it this year. Pierre-Luc Letourneau-Leblond – While I want him sent down for the length of his name alone, "PL3" looked shaky overall. He missed the chance to help a clearing attempt out of the zone an may just be getting used to the system though. Misc Thoughts Injuries – Bobby Farnham and Brian Dumoulin both ended up in the locker room early due to injuries. Let's hope there isn't too much of that this preseason. Hybrid Icing – Personally, I am not a fan of hybrid icing. I don't like the linesmen having too much discretion when it comes to plays like that. However, I am actually a fan of automatic icing. After watching KHL games for four months last season, I learned to appreciate how much game time it can save. Automatic icing was especially awesome at the end of close games, where players wouldn't have to retrieve the puck and there would be more time for a crazy last minute of hockey. Overall, I'm all for either touch-up icing or automatic icing, but we'll see how hybrid icing goes as preseason continues. Shallow Nets – With the nets being shallower (more skating room behind the net now), expect to see more wrap-around attempts and some different passing angles from behind the net. Also, it will be much easier for groups of players to get around the net during scrums. At one point in this game, 4 players skated behind the net smoothly, which was a rarity before. It will probably create slight increases in offense, excitement, and headaches for goalies. Shorter Pads – Goalies will be working with smaller leg pads now, all to varying degrees depending on what each one used to use. Fleury is losing 4 inches of padding and Vokoun is losing 2 inches. This change shouldn't affect Fleury as badly as many goalies due to his flexibility and athleticism. That all depends on which Fleury shows up though. Thanks for reading! Next preseason game is Monday, 9/16 vs. Detroit!
Original Story:
http://thepensnation.com/tpn/metropol...
THE BACKYARD
BEST OF MAXIM
RELATED ARTICLES
The Pittsburgh Penguins made their first round of cuts for the preseason this morning as they re-assigned 11 players today.  Matt Murray, Tristan Jarry, Jean-Sebastien Dea and Matia Marcantuoni were sent back to their respective junior teams. Paul Thompson, Tom Kostopoulos, Brian Gibbons and Dominik Uher, Clark Seymour, Reid McNeill and Nick D'Agostino were sent to Wilkes-Barre...
I know  the topic that I chose to write about this week has been talked about to do death, so I'm hoping to bring something new to the conversation. Pittsburgh Penguins' starting goaltender Marc-Andre Fleury is approaching the most important year of his career this season with a thousand question marks surrounding his future. Fleury, 28, is entering the second to...
We're happy to bring you our 2013-14 NHL Draft Ranks just in time for hockey draft season. Four of our experts weigh in on each of the position, and our consensus rankings should help give you the edge in your upcoming drafts. Questions, comments, insights about the ranks? Feel free to ask them directly on the rankings page and our team will find an answer in an effort to help...
Within a few weeks of their loss to Boston in the Eastern Conference final earlier this year the Penguins signed forwards Evgeni Malkin and Chris Kunitz and defenseman Kris Letang to contract extensions a year before their current deals expire. Another seemingly logical player for such negotiations was defenseman Brooks Orpik their longest-tenured player. Instead? Crickets. Orpik...
From Journeyman to Superman  Picture an NHL player who was undrafted and then finally makes it to the NHL. He shows flashes of greatness, but hits a rough patch and shuffles between four different teams in a two-year period. Most of us would probably guess this story would result in the player's career coming to a quiet end, perhaps meddling in the minor leagues for its...
Welcome back Pens fans! If you're new or have forgotten what I do in the postgame thoughts, here's a quick introduction/recap. Speaking of, don't expect recaps. It's purely thoughts and analysis of specific plays and players. I hate +/-, so I do my own goal assessments and award a "+" if a player contributes to a goal for and a "-" if a player is at fault for a goal...
PITTSBURGH (AP) -- Adam Almquist scored two power-play goals in the second period and Tomas Tatar had a goal and assist to lead the Detroit Red Wings past the Pittsburgh Penguins 4-1 on Monday night in a preseason game. Paval Datsyuk also scored for Detroit, netting a second-period, unassisted goal. Almquist scored at 6:10 and 11:50 with shots from the point to put the Red Wings...
Is Marion Gaborik poised for a big year? Hockey Season is back! Well not fully back, but preseason hockey is now underway. For the Blue Jackets, it started with a 5-4 overtime win against the Pittsburgh Penguins, with Ryan Murray tallying the winning goal.  Now this is only one preseason game, but it looks as if the Jackets can keep up the winning ways that were around last year...
from Michael Arace of the Columbus Dispatch, He remains the quiet type, but not as painfully so. His English is improved, which is important to a man who strives to be perfectly understood. All in all, he comes across as … what? There is something different in his bearing, in his eyes. It has something to do with the Vezina. "It inspires me more," Bobrovsky said...
NHL News

Delivered to your inbox

You'll also receive Yardbarker's daily Top 10, featuring the best sports stories from around the web. Customize your newsletter to get articles on your favorite sports and teams. And the best part? It's free!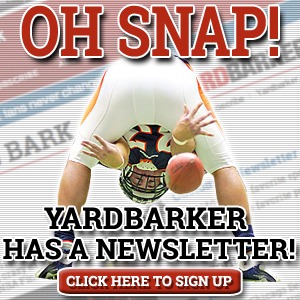 Latest Rumors
Best of Yardbarker

Today's Best Stuff

For Bloggers

Join the Yardbarker Network for more promotion, traffic, and money.

Company Info

Help

What is Yardbarker?

Yardbarker is the largest network of sports blogs and pro athlete blogs on the web. This site is the hub of the Yardbarker Network, where our editors and algorithms curate the best sports content from our network and beyond.