Found October 24, 2012 on The Prospect Park:
Andrey Pedan (OHL Images) It was a pretty quiet week for the prospects of the New York Rangers and New York Islanders so quiet that only an Islander prospect got the nod for prospect of the week. A couple of Ranger prospects had good games but one has to play well in all of their games to earn consideration. Defenseman Andrey Pedan (NYI 2011 3rd) is a prospect that I admit at times frustrates the heck out of me. There is no question that Pedan has the talent to make it to the next level but talent is just one part of the equation. It is his lack of on ice discipline that keeps me from believing he will become a solid NHL player. 40 PIMs in 12 games (and that is not counting misconducts) is too much and only hurts your own development but risk your team's chances at winning. But giving credit to where it is due, Pedan had a strong 3 game in 3 night week to help his Guelph Storm go undefeated last week and improve the team's unbeaten in regulation streak to 8-0-0-1 and an overall record of 9-2-0-1. Pedan had a quiet start to his week on Friday recording a power play goal (4th goal overall) of the season as part of Guelph's 6-3 win over the Sarnia Sting. It wasn't a perfect game as Pedan was in the box (along with a teammate creating a 2 man advantage) when Saginaw scored their first goal of the game. On Saturday, Pedan had 2 primary assists on the power play against the Saginaw Spirit as Guelph won 8-5. Defensively Pedan was a -2 but his assists helped the Storm put away the Spirit so they get forgiven. Sunday in the 3rd game in 3 nights was Pedan's best effort of the season as he earned the game's first star as the Guelph Storm made it a clean sweep of the week winning 7-1 over the Sault Ste. Marie Greyhounds. Pedan scored his 3rd power play goal of the season, added a primary assist on a shorthanded goal and finished his week off with a secondary power play assist. It was Pedan's best effort of the season as he finishes the week off with a 2-4-6 stat. For the season Pedan is 4-6-10 (10th among OHL defenders), +3, 40 PIMs (3rd overall in the OHL) and right now playing like he wants that Islander contract. Now if he could find a way to cut down on all the penalties he takes then his potential to make the NHL increases. As for the New York Rangers; Michael St. Croix (NYR 2011 4th) had a hat trick last Friday evening against Moose Jaw and Cristoval Nieves set up his 2nd game winning goal in 3 games also on Friday. If they had either played a second game (Nieves) or a decent one (St. Croix) then one of them would have earned the nod. The standards for being the prospect has to start with what did you do to help your team win during the week. One game or even a individual performance can't be enough. Brendan Kichton (Spokane Chiefs) Game Action Just one prospect saw action on Tuesday evening as the Spokane Chiefs traveled to Prince George for back to back games against the Prince George Cougars. The Spokane Chiefs took game 1 with a 6-1 win. Brendan Kichton (NYI 2011 5th) earned the game's 2nd star with a 3 assist, +3 effort as Spokane blew the game wide open with a 5 goal 3rd period. With Spokane trailing 1-0; Kichton got his evening going when he set up Todd Fiddler for the game tying goal at 18:51 of the 2nd period. In the 3rd period, Kichton earned his 2nd assist of the night (a secondary one) as the Chiefs cashed in a power play goal for a 3-1 at 5:21. Kichton added a 2nd secondary assist on Spokane's 5th goal of the game at 12:35 of the same period. Kichton's 3 assists helped Spokane win their 3rd straight game to improve their record to 9-3 on the season. Kichton is now 3-12-15 which puts him 3rd in the WHL among defensemen scoring. Congrats on Making Team OHL The OHL announced their rosters for the annual Subway Super Series which pits all-star teams made up of Canadian born junior players against those from Russia. The games will be held first in Guelph on November 8 and the second one in Sarnia on November 12. Playing in both games with be Ryan Strome (NYI 2011 1st) of the Niagara IceDogs. Playing just in the game in Sarnia will be defenseman Adam Pelech (NYI 2012 3rd) Hockey Canada uses these games as part of their process in naming those players who will be given the chance to play for Canada in the 2013 World Under-20 Championships. This year's event will be held in Russia beginning on December 26th. No Ranger or Islander prospect was invited to play for Canada in the QMJHL portion of the series. Griffin Reinhart (Islanders) is expected to be named to Team WHL and Michael St. Croix (Rangers) might be the only Ranger invited but with Hockey Canada one can never be too sure.
Original Story:
http://feedproxy.google.com/~r/ThePro...
THE BACKYARD
BEST OF MAXIM
RELATED ARTICLES
Larry Brooks of the New York Post recently caught up with New York Rangers bence boss John Tortorella to discuss a few things about his team. With the NHL Lockout reaches its 38th day, Torts has a few concerns about the Blueshirts. On how the Lockout could affect the team whenever it ends... "To be quite honest, it worries me," Tortorella said. "When our guys report...
(New York Rangers) It must be frustrating for those New York Ranger fans not having the NHL because of the lockout. And it may be even more frustrating for those who normally would be talking about the Rangers on their blogs or website. I can understand that up to a point because when the NHL resumes play then most won't even bother talking about the Ranger prospects where...
The Rangers organization has assigned goalie Scott Stajcer to the Greenville Road Warriors of the ECHL. This move isn't a surprise, Stajcer struggled in his two Whale games, going 0-2 with a 4.32 GAA and a .841 SV%. Stajcer, the Rangers 5th round pick in 2009, was destined for the ECHL once Cam Talbot returned from injury. Currently Stajcer sits behind Talbot and Jason Missiaen...
By Kristin Tullo (@KToools) John Woike The season looked like it was off to a good start when the Connecticut Whale outscored the Bridgeport Sound Tigers 2-0, including a shorthanded goal by Kyle Jean in the first period of the season opener. But it was short lived though. The Sound Tigers scored five of their own goals in the second period, extending a lead that was too much for...
You'd be hard pressed to find someone who fawns over Nassau Coliseum in its current condition. It's old, it smells funny, it leaks – it needs to be renovated from the top to the bottom and back up again. Islanders owner Charles Wang should move the team to a new building that's deserving of a modern NHL franchise. What was good in the 70s and 80s isn't good in the 2010s...
The Barclays Center is about to have a new tenant.  The multi-billion dollar arena, which opened last month is set to host hockey in 2015.  The NHL's New York Islanders will be moving to Brooklyn according to a statement released by the team today.  The Isles have been attempting to secure a new stadium for years -- Nassau Coliseum was built in 1972 and was expanded once,...
Carl Hagelin scores twice in Södertälje's 3-1 win over Mora. Hagelin is 4-5-9 in 5 games with Södertälje, all wins for them. #NYR — Alex Nunn (@aj_ranger) October 23, 2012 For video of the goals, click the below picture (00:43 mark)... ...WOW!!!! What a move on that first goal! Man I miss that speed. In other Rangers overseas news, Rick Nash picked...
NEW YORK -- NHL Commissioner Gary Bettman says it looks like a full-82 game schedule "is not going to be a reality," as the lockout nears its seventh week. Speaking at a press conference Wednesday announcing the New York Islanders' move from Nassau Coliseum to Brooklyn's Barclays Center in 2015, Bettman seemed resigned to looking at a shortened season with the...
#NYR G prospect Scott Stajcer has been assigned from the #CTWhale to its ECHL affiliate, the Greenville Road Warriors. — Laurie Carr (@byndblueshirts) October 24, 2012 ...guess that means Talbot is ready to return from injury. ...a Talbot return would be huge for the Whale as Stajcer and fellow rookie netminder Missiaen have struggled this early season. ...btw,...
NEW YORK (AP) -- NHL Commissioner Gary Bettman says it looks like a full-82 game schedule "is not going to be a reality," as the lockout nears its seventh week. Speaking at a press conference Wednesday announcing the New York Islanders' move from Nassau Coliseum to Brooklyn's Barclays Center in 2015, Bettman seemed resigned to looking at a shortened season with...
(courtesy SC.EDU) Funny I seem to recall that Gary Bettman back in April had ruled the Barclay Center out as a future home for the New York Islanders. Why the NHL Commissioner said at the time that he did not believe that the Islander fans would follow the team from Uniondale to Brooklyn. Never mind that the Barclay Center is served by 11 different NYC subway lines, the LIRR...
NHL News

Delivered to your inbox

You'll also receive Yardbarker's daily Top 10, featuring the best sports stories from around the web. Customize your newsletter to get articles on your favorite sports and teams. And the best part? It's free!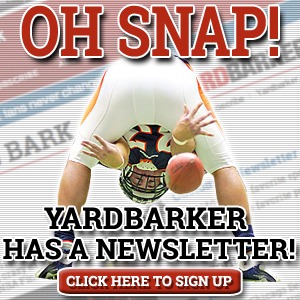 Latest Rumors
The Backyard

Today's Best Stuff

For Bloggers

Join the Yardbarker Network for more promotion, traffic, and money.

Company Info

Help

What is Yardbarker?

Yardbarker is the largest network of sports blogs and pro athlete blogs on the web. This site is the hub of the Yardbarker Network, where our editors and algorithms curate the best sports content from our network and beyond.